Brother Binh Nguyen, SVD, is taking missionary life for a test drive in Thailand through the Cross-cultural Training Program (CTP). The DWC graduate is teaching English among other duties in Nongbua Lamphu, where a group of Divine Word Missionaries work among the poor and those afflicted with various diseases including HIV-AIDS.
Lasting from one to three years, depending on the need to learn a new language, CTP offers a real-life experience to help men in formation make sure missionary life is for them.
"I had no expectations going into the country, just taking one day at a time, one experience at a time," Bro. Binh said. "I have often found myself on my own, which has helped me grow as a person, to be more independent and take more initiative."
Born of Vietnamese parents in Thailand, Binh graduated from DWC in 2012 and professed First Vows in 2013. Earning a master's degree in Relational Communications at DePaul University in 2015, he left for Southeast Asia, arriving in Bangkok that September to study Thai.
To speed up his learning, Binh took walks…to get lost.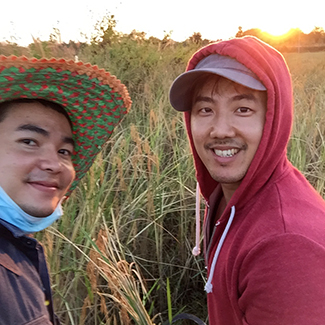 "I did it every day for an hour or two, for six months," he said. "I'd go out among the people and asked for directions, so I got to hear the conversational language."
In May 2016, he headed to Nongbua Lamphu. His primary duty is teaching English to 250, eighth to twelfth grade students—twelve classes a week, 25-30 students per class. Wrapped around that five-day schedule, he transports two young girls—both abandoned by their families—to school and medical appointments, and helps in the parish staffed by Divine Word Missionaries.
Bro. Binh had a break earlier this year to attend a workshop in Australia. Now back in Thailand, he will complete his CTP at the end of May and return to the USA. In August, he begins studies in theology at CTU, which he hopes to complete in 2019.