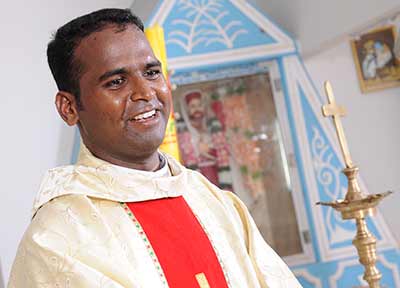 In tragedy, he heard god's call:
"Everything in our life has meaning and has God's purpose," he said. "The death of my sister was not to test me but it strengthened my vocation."
Fr. Francis Rayappan, SVD
Vocation Director
frayappan@dwci.edu
---
Sitting on a hill meditating, trying to understand why his sister was taken from this life, Francis Xavier Rayappan felt drawn to a lush green spot in the dry and desolate valley below. Struggling down the hill, he made his way to a small stream bordered by trees whose roots touched its water.
"Suddenly I heard a voice, 'Like these roots, if you are connecting with me, your life with me will prosper. I am preparing you for greater mission,'" he recalled. "I had a real 'God Experience,' a total transformation in my life, and I completely wanted to give my life to God."
Going on to serve some of the most desperate and impoverished people in his native India, Father Francis Xavier Rayappan, SVD, has come to the U.S. to be a vocation director and connect with young men who may have heard God's call in a different way, but also want to dedicate their lives to His people.
Born in 1983 into a loving and tightly knit family in Tamil Nadu—a predominantly Catholic state in southeastern India—Fr. Francis was educated in Catholic schools and entered the minor seminary in 2001. Deciding to continue with the SVD, he had only been in the novitiate for ten days when his sister, a nurse, was senselessly killed in a workplace struggle. It was a crisis in his life, but that life-changing "God Experience" led him to continue with the SVD.
He professed his First Vows in 2008. Before he was ordained, Fr. Francis worked for a year in Bhopal as a seminarian-missionary among "rag pickers"—desperately poor people who go through roadside garbage for anything of value.
"There are many families, they live together in the slums and in the morning they take a sack, pick through the garbage along road sides for anything that can be resold to buy drugs, food, or drink," he said. "The children just do what their parents do."
SVDs and local leaders organized a program to collect trash directly from households for a small fee. Deposited in individual bank accounts, the money helps each person with medical costs and to improve their quality life. The SVDs also are also trying to break the rag picker's cycle of poverty through awareness programs, medical camps and by educating the children.
Returning to complete his studies, Fr. Francis professed his Final Vows in January 2, 2014. Serving his diaconate at St. Theresa church in Mumbai, he worked overtime to get to know his parishners.
"Every day I made sure I met five families in their homes to listen to them about their lives," he said. "In six-months, I got to know 70-to-80-percent of the parishioners by name. I knew their families, where they lived and what they were going through."
First Assignment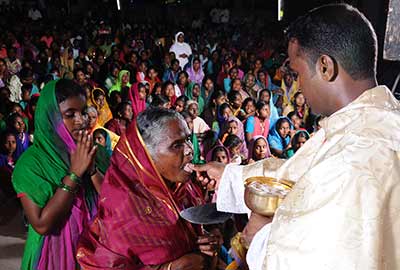 Ordained on April 30, 2015, he was appointed to the U.S. While his paperwork was processed, he worked at St. Michael parish, one of the largest parishes in Mumbai, where every Wednesday more than 50,000 people came for special novenas and confessions could last an entire day. Caring for so many gave him an even deeper sense of what it meant to be a pastor and always available for the people.
Arriving in the U.S. on January 19, 2016, Fr. Francis continued with his much-loved parish work, this time at St. Joseph the Worker Church, in Wheeling, Illinois. Within a short time, he was asked to consider vocation work, and in September 2018, he arrived at Divine Word College to begin that ministry.
A young priest who has known deep sorrow, seen desperate poverty and discovered the joy of serving people, Fr. Francis says he is proud to be an SVD and glad he chose it for his life, though it was a call borne out of tragedy.
"Everything in our life has meaning and has God's purpose," he said. "The death of my sister was not to test me but it strengthened my vocation."