Fraternal bond fulfilling for religious brother
---
In 1980, a young man named Alfonso J. Berger was nearing the end of his academic year at a secondary school in Argentina. Sitting at Mass each Sunday with his family, he found himself attracted to the readings and developed a desire to better understand the Bible.
Alfonso's parish priest, Fr. Martin Weichs, SVD demonstrated a missionary zeal and gentle way with people that intrigued the student. Occasionally, the priest leant his pupil books about spiritual readings based on the Bible. One day, Fr. Weichs, who also worked at the school ministering to the students' Christian formation, approached Alfonso and asked if he ever considered becoming a missionary priest.
"I felt surprised by his question because at that moment, priesthood was not in my possible choices for the future," he recalls. "Nevertheless, after that, I started a personal process of vocation discernment. Was God calling me to that vocation?"
Alfonso started attending vocation camps and one night at home, he dreamed that he was asking the Lord whether he should join the seminary. God answered him, "come and see." For the next few weeks, Alfonso continued to ponder his future.
"One day, while eating oranges in the garden at home, I decided to make the choice, which I formulated in a short prayer that I still remember today. 'Lord, I will start this way, I don't know how far I may go, but I trust in You.'"
Alfonso decided to enter seminary in Fátima, located in Misiones, Argentina, and soon stumbled upon a Bible passage about Abraham in Genesis that really spoke to him. Alfonso felt that he could relate to this biblical figure who was being called by God to leave his hometown and serve where he was needed.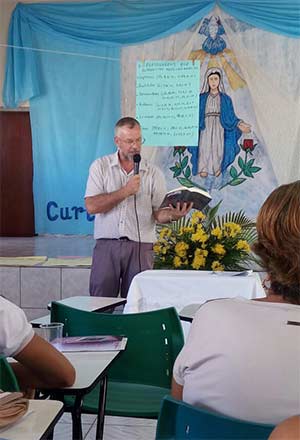 He spent three months at the seminary reading Church documents and Bible commentaries. With his secondary education already complete, he didn't need to take classes but joined the community of students for prayer, house cleaning, sports and pastoral activities. In 1983, Alfonso entered the postulancy program in Cordoba, Argentina and had his first intercultural experience with students from a variety of backgrounds. After briefly exploring the concept of becoming a priest, he and his classmates heard from two SVD brothers who visited the formation house. Their life experiences, as brothers, were meaningful for Alfonso.
"As soon as I discovered the brother vocation, I felt a stronger attraction for that way of living out the missionary vocation," he said. "I appreciate the closeness of brothers to the people, being simple and fraternal, just like Jesus was with people."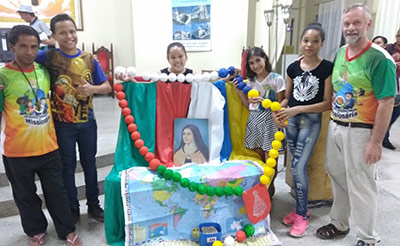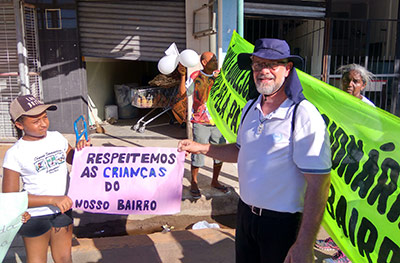 After a year in novitiate, he spent three years doing professional studies in Buenos Aires and graduated with a degree in religious sciences. Then, he started teaching catechism in schools and parish settings. In 1989, Alfonso moved to São Paulo, Brazil where he participated in biblical studies, which prepared him to organize Bible formation for laity in coming years.
While religious brothers can serve in a wide variety of professions, the SVD Constitutions provide some basic guidelines to assist candidates as they decide which field they will pursue. In their professional discernment, brother candidates consider their personal capabilities as well as the missionary challenges that the society is trying to answer through its work.
"I felt a strong desire to work in Bible ministry because I saw the need of the people, but also based on my skills to organize popular Bible reading for the Catholic communities."
As his formation progressed, Alfonso said his identification with the vocation grew stronger and in 1992, he professed his final vows as an SVD brother.
His first assignment was in Togo, Africa where he lived and worked for four years. In 2000, Bro. Alfonso was elected general councilor and started working in Rome, Italy where he lived for 12 years. In 2013, he moved back to Brazil and organized biblical inputs while also working as a formator in the BRN province. From 2016 to 2019, he worked in the northeast part of Brazil organizing biblical seminaries. He also started his commitment to the Missionary Childhood Association, a group that encourages children to support other kids spiritually and through fundraising that aids young people in need.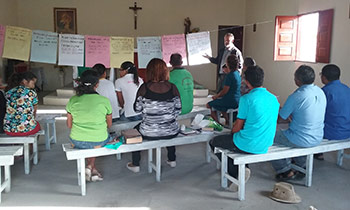 "It was demanding, but at the same time, a valuable missionary experience there!" he said.
Today, Bro. Alfonso serves as provincial councilor, provincial secretary and president of an association that's engaged in social work in Belo Horizonte. His schedule keeps him busy but he still finds time during Lent and Easter to provide a few biblical commentaries, which he shares through WhatsApp.
"As a brother, I follow Jesus by living out fraternal relationships with people and by giving my professional or personal contribution wherever the Society requires it," he said.