The World Day of Prayer for Vocations will be observed Sunday, May 8, 2022. Please pray that young men and women hear and respond generously to the Lord's call to the priesthood, diaconate, religious life, societies of apostolic life or secular institutes.
So what exactly is a vocation?
Well, it's not just something reserved for religious. Everyone is called to a vocation. Simply put, a vocation is a calling from God on how best to serve God's people in the world. For some people, that calling is to married or single life. Others are called to serve God as a religious sister, deacon, religious brother or priest.
"My best advice to young people as they look ahead to what God is calling them to do is to start with the understanding that God calls everyone to something," said Vocation Director Fr. Adam MacDonald, SVD. "Our faith teaches that all of us are called to holiness and that all of us are called to put our gifts and talents to use in glorifying God and serving the needs of our sisters and brothers, so it's not a matter of asking whether God is calling us so much as determining the particular state in life (married, single, religious life, etc.) to which we are being called as our personal path to holiness and fulfillment."
How do I know if I'm being called to a religious vocation?
If you're being called to a religious vocation, you'll get an invitation. Don't bother checking your mailbox…it's not there. If you're ever felt a call within your heart to explore religious life, that may be the invitation. If people who know you well have ever told you that you'd make a good priest, brother or sister, that may be the invitation. If you've ever met a person who dedicated their life to a religious vocation and you felt inexplicably connected to them and their way of life, that may be the invitation.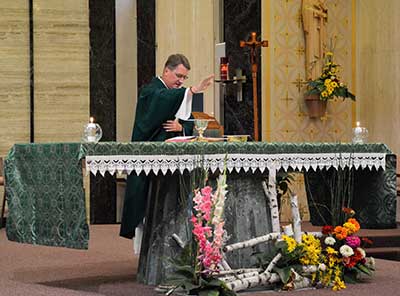 "I believe it's important for us to take the time to really consider all options and listen to the invitation that God is extending to us because there are so many possible paths we could follow in life, and we need to be open to the possibility that God may "surprise" us by calling us to a path that doesn't at first appeal to us but which may, in fact, become that which ultimately leads us to true and lasting peace and fulfillment," said Fr. Adam. "Sometimes we can quickly make up our minds about the path we're called to follow, and by sticking to "our plan," we can unknowingly close ourselves to other possibilities that may be even more life-giving for us."
I think I'm being called to a religious vocation. Now what?
Don't panic. Pray. This is the beginning of a process called "discernment." Men and women considering life as a religious will spend a lot of time talking to God (praying) as they explore whether this is, indeed, the path God intends for them. Some also find it helpful to talk about it with someone they trust, like a family member, friend, priest or vocation director.
"I encourage young men who are unsure of whether they're being called to a religious vocation to at least be open to the possibility of learning about priesthood and religious life," said Fr. Adam. "Too often, young men overlook or quickly bypass the very consideration of a religious vocation in favor of other options, and thus they make a vocational choice not fully informed of what they're choosing and what they're saying 'no' to. If a young man is feeling strongly that he's being called to religious life, I would encourage him to do some research online to read and learn about the similarities and differences that exist between the diocesan priesthood and religious life, as well as the wide diversity of religious communities that exist in today's world, each with its unique history, spirituality, and mission," Fr. Adam advised. "I would likewise encourage him to consider contacting and speaking with the vocation director of his local diocese or of any religious communities which attract him so that the vocation director can assist him in getting a better sense of whether he meets the criteria to apply for formation."
Want to know more?
Check out the Top 10 Questions About Vocations that Divine Word Missionary vocation directors get and hear how they respond.
Prayer for Families and Vocations
God our Father,
in baptism you called me by name,
and made me a member of your people, the Church.
I praise you for your goodness,
I thank you for your gifts.
Father, bless your Church with love.
Raise up in our communities good and holy families,
loving husbands and wives,
devoted parents and children.
Raise up from our families and friends,
dedicated and generous leaders
who will serve as Sisters and Brothers,
priests and deacons, missionaries and lay ministers.
Send your Spirit to guide and strengthen me,
that I may serve your people,
following the example of your Son, Jesus Christ,
in whose name I offer this prayer
Amen.
(1981 Jamaica)