by Andrea Dean
---
Yes, in my heart I know that this mission trip to Kingston Jamaica was "Meant-to-be" for me. A large part of my life I heard, "all things happen in Christ time." Well, this mission trip with the Divine Word Missionaries' Vocation Office definitely happened in His time. He aligned everything; I listened and followed intently.
To share in my excitement, I informed two of my friends about the mission trip. It did not take long for both to get onboard as well. I could only think that for nine days we were all going to do our best to make a difference in the lives of the folks of Kingston, Jamaica.
Before we knew it, it was time to depart. Edwina, Devin and I flew from Louisiana to Miami to meet the second half of our group: Fr. Emilio Reyes, SVD (a vocation director with the Divine Word Missionaries), Josua (Florida) and Dylan (Illinois) where we all flew the last leg of our trip together.
We arrived in Kingston, Jamaica to our larger than life host Bro. Bernie Spitzley, SVD and another mission team member, Omar (Jamaica). Bro. Bernie was all smiles and full of energy as we traveled the bumpy road to Holy Rosary Parish, and we were grateful to have made the trip safely.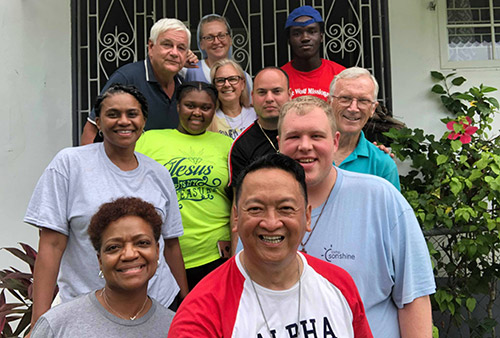 The streets were exactly as I expected: Not too busy for a Sunday, but there were still folks out and about. There were cars hurrying about their way, children and adults walking around. The wood and tin stores/businesses along the road were all boarded up and closed for the day.
After eating a meal that was prepared for us with lots of love, the evening was filled with great gospel music as the annual Holy Rosary fundraiser took place. Deacon Arthur Taylor, his guitarist and drummer were the opening performers for the evening, which concluded with Feluke as the main entertainer. Fleuke has a voice like an angel. He is a tall, slim man with dreads that were down his back. Songs like Israel and Show Me the Way were perfect for the setting. His gospel songs were inspirational and uplifting. The sounds of this band were the right beginning to my "Meant-to-be" mission. I would be remised if I didn't mention that we setup the one and only Bro. Bernie popcorn machine. I understand that Bro. Bernie is famous for his popcorn, and sometimes it serves as his dinner!
Holy Rosary Parish is a beautiful place of worship filled with bright yellow and blue colors on the walls and ceiling. The ceilings are high, fans mounted on the walls because there is no air conditioning, and the iron shutters on all of the windows are open to allow what little breeze there may be into the church. The most beautiful white marble floor helps to support the sacred Altar. The space is so peaceful for prayer and worship.
Construction day arrived and we traveled Kingston's winding streets where we saw school children in their different uniforms heading to school and adults hurrying along to different places. We passed lots of areas alongside the road that were considered homes for folks. One "home" is engraved in my mind forever. There were several sofas next to each other, a table that looked like it would tumble over any moment, one chair, and a blue tarp over the entire setup, with two toddlers (a boy and girl approximately 3 or 4 years old) and an older man sitting in the chair. The toddlers were playing in their pajamas on the sofa, as if there was absolutely nothing wrong with the situation. They appeared to be happy just being children. This entire scene was at the corner of a major intersection; a place two children and an older man called home. This is something I will never wipe out of my mind and question as to why they have to live this way.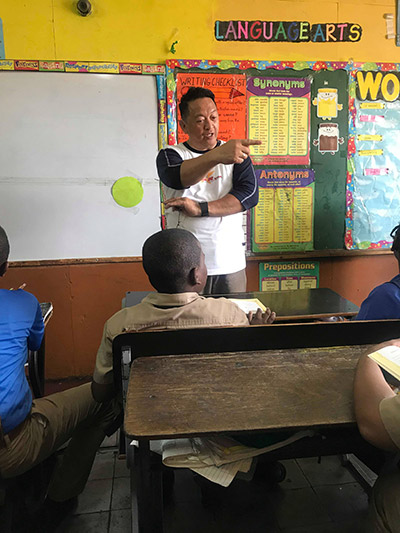 As we prepared to help build a home for a gentleman with an organization called Food for the Poor, I really didn't know what to expect. I wondered how he would receive us. Would he think we were just some spoiled Americans that were trying to make ourselves feel good or would he be open to receiving the kindness I knew we wanted to offer? It was all pretty unnerving at first. But once we met the gentleman, the Food for the Poor construction team and neighbors, my nerves settled. I met open-hearted and warm people. People who were grateful for the help and elated to have people they have never met care for them.
At some point, I stepped back to take in the work: Devin was working on putting windows together, Fr. Emilio, Fr. Fidelis (another Divine Word Missionary working in Jamaica) & Omar were nailing boards together to form the frame of the house and Josua was still bringing in needed supplies. The construction team was getting electricity to the area so the power tools worked and all I heard was the sound of boards being dropped, hammers hitting nails and laughter to the jokes being told. Oddly enough, everyone smiled and laughed during the entire time we were working. We enjoyed what we were doing. The local Jamaicans with us were giving back to the community. We were all helping those in need—we were all making a difference.
Time passed quickly and the heat came on even quicker. Before our eyes in exactly four hours there appeared the cutest house—painted blue, with a red porch and red foundation, lilac window blinds and a sparkling tin roof. Food for the Poor had done it again; helped another person feel pride in a place he could call home.
As we all gathered in front of the house taking pictures, I offered a blessing and turned over the keys to the newest Kingston, Jamaica homeowner. I couldn't help but feel a sense of giving and love. I prayed at that moment that Food for the Poor and Bro. Bernie would be able to continue helping in this manner for many years to come.