Each year on February 2, the Catholic community celebrates the World Day for Consecrated Life. Established in 1997 by Pope St. John Paul II, the day coincides with the Feast of the Presentation of the Lord. Each year on this day, we're invited to recognize the impact of the men and women who have dedicated their lives to Christ through consecrated life.
In honor of this year's celebration, we asked three people in religious life to shed some light on their own personal experiences. One of them is a priest, one is a religious brother and one is a religious sister. They all made one thing clear – they're human. Their lives are not perfect and they experience challenges, doubt and difficulties. In spite of those occasional concerns, they each reported finding great fulfillment in consecrated life and deep satisfaction in their roles as missionaries serving God's people.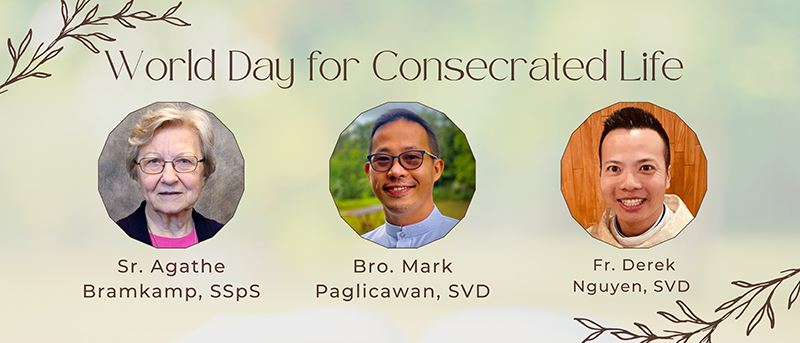 A life of mystery
Sr. Agathe Bramkamp, SSpS, says she started on the road to religious life when she was rather young. Back then, she didn't understand clearly what the path would hold for her. Thankfully, she says God was with her when she found herself searching for meaning and purpose from time to time. He was by her side through moments of doubt and frustration, too. "Now, after more than 50 years in vowed life as a religious sister, I marvel at the many turns the road has taken me on, and at God's faithfulness, above all, of being on that journey with me," she said.
While consecrated life is not something that all Catholics are deeply familiar with, it is a vital part of the Church.
"More than a cross to be picked up everyday (Luke 9:23), I wish and pray that people will see consecrated life as an opportunity to be a servant that the Father will honor (John 12:26)," said Bro. Mark Paglicawan, SVD.
Fueled by faith
While men and women spend many years discerning their call to a religious vocation, that doesn't mean that they'll never face doubt after taking their vows. "I believe that I cannot be fully certain that consecrated life is what God really intended for me," said Bro. Mark. "What I only know and what consoles me is that I find meaning in everything I do as a Divine Word Missionary Religious Brother."
Sr. Agathe agrees, saying there's no way to know for sure that her response to God's call is the perfect answer. She pointed to the words of Thomas Merton, a Trappist monk, to better explain her personal feelings on the matter. Merton said, "The fact that I think I am following your will does not mean that I am actually doing so. But I believe that the desire to please you does in fact please you." Even during tough times, Sr. Agathe says she felt guided by the Spirit and felt renewed in her acceptance of her vocation. Those hard-won insights and moments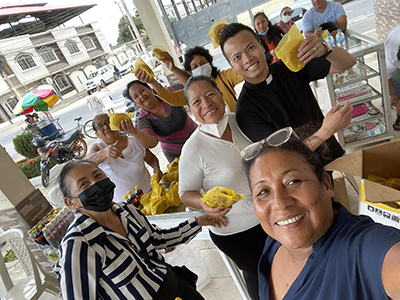 of recalibration have helped reaffirm her vocation and decision to dedicate her life to missionary service.
Newly ordained priest Fr. Derek Nguyen, SVD is currently serving in Ecuador. For him, the idea of certainty in his religious life is very simple. He believes that God wants everyone to be happy. "It is only when we are happy that we can share the gifts and talents that God has given to us to share with the people," he said. "And I am truly happy with the path that God has put me on. I am able to serve the people with the gifts and talents that God has given to me."
Facing challenges
People from all walks of life and all vocations face difficulties. Men and women in consecrated life are no exception. For Bro. Mark, all aspects can be difficult at times but he says with God's grace, those challenges become blessings.
Sr. Agathe said for her, the biggest challenge is being open to the surprises that God offers, as well as the ones He still has in store for her. She tries not to let fear or doubt hold her back. Instead, Sr. Agathe strives to recognize these experiences as challenges and opportunities for witnessing God's abiding love.
A rewarding life
Despite the inherent difficulties that are presented in consecrated life, the experience is also one of great satisfaction.
For Fr. Derek, the most rewarding aspect is knowing that he's on a path that God has chosen for him. "Living a life consecrated to Christ allows me to humbly walk and journey with the people through whom I am called to serve," he said.
The missionary aspect of consecrated life is the most fulfilling for Bro. Mark, as well. "The most rewarding part is that I get to live my life focused on the service of the Church and on my expressions of love for God."
Sr. Agathe pointed out that everyone has a purpose and a vocation, not just those in consecrated life. "We are all the beloved children of God, and we are all called to follow the invitation to become, more and more, friends of God," she said. "How we allow that to happen and how we profess our friendship with God is our 'vocation' in life."
This year, on the World Day for Consecrated Life, please join us in praying for all those who have made commitments in the consecrated life and thank them if you have the opportunity.