The overall number of men in religious formation in the United States is holding fairly steady, according to a study that was recently released. The 2020 report titled "Recent Vocations to Religious Life: A Report for the National Religious Vocation Conference" was conducted by the Center for Applied Research in the Apostolate (CARA) for the National Religious Vocation Conference (NRVC).
According to the study, superiors reported a total of 1,386 men in initial formation, which represents a decline of less than 1 percent since the study was last conducted in 2009. The study also showed that nearly three fourths of those in initial formation are Millennials, meaning they were born from 1982 to 1996.
This year, the Chicago Province of the Society of the Divine Word has 60 men in various stages of the formation process.
18 are in early stages of formation or "pre-novitiate" at Divine Word College in Epworth, Iowa
8 are in temporary vows and studying at Divine Word College
5 are in the Novitiate program at Techny (near Chicago)
15 are in temporary vows and studying at Divine Word Theologate in Chicago
9 are on location for their Cross-Cultural Training Program (CTP) in various ministry sites in the USA and abroad
5 are in perpetual vows and were recently ordained transitional deacons
Five new SVD candidates joined the SVD formation program and enrolled in classes at Divine Word College in Epworth this academic year. Among them was 19-year-old Bao Nguyen, a Texas native who learned about the Divine Word Missionaries from his uncle who discerned with the community for a period of time. Last year, Bao was studying engineering at Texas A&M, but he's been considering the possibility of religious life for a while. He explored a few religious communities before enrolling at Divine Word College and starting classes in August. "I think I'm off to a strong start," he said.
As the formation program unfolds, Bao said he's most eager to dive deeper into the ministry aspect of the program. Currently, he is serving at a ministry site in Davenport, Iowa where he helps children from the parish learn about the Bible and also tutors them on Vietnamese grammar. While the encounters can be challenging at times as a result of the kids' youthful exuberance, Bao said he enjoys it because he remembers having a similar experience when he was a child attending church.
The CARA/NRVC study found that nine in ten respondents to the survey were raised Catholic and 73 percent attended a Catholic school for at least part of their education.
Pictured here: SVD Candidates Peter Burngardt
and Bao Nguyen.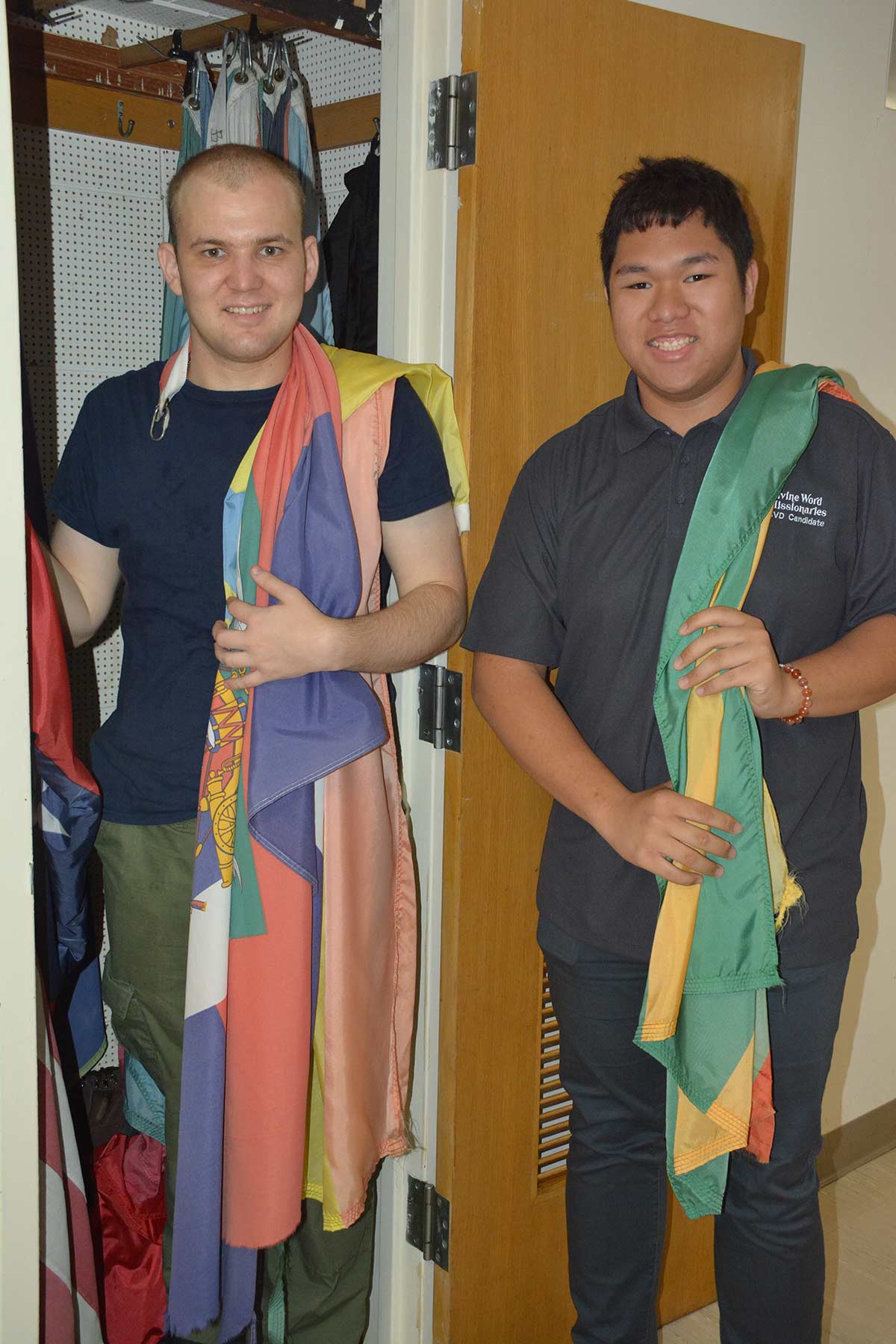 For most men who enter religious life as a Divine Word Missionary Priest or Brother, the formation process takes between 8 and 13 years, depending on a variety of factors. For students like Bao, the religious formation program and discernment process is a long and personal journey, but it begins with saying "yes" to considering God's call.
"Being here for a few weeks, I've had a taste of everything now and I really enjoy it," Bao said. "I find myself very comfortable. This is a place that I think I can really be happy."
The NRVC/CARA report presents findings from a study of recent vocations to religious life in the United States that was conducted by the Center for Applied Research in the Apostolate (CARA) for the National Religious Vocation Conference (NRVC). The study is based on surveys of religious institutes as well as surveys and focus groups with recent vocations to religious life. The study was designed to replicate and extend similar research conducted by NRVC and CARA in 2009, so as to identify and understand the characteristics, attitudes, and experiences of the men and women who have entered religious life in recent years.