In June, SVD Vocation Director Fr. Tuan Hoang, SVD led an 8-day service trip to Jamaica. He was accompanied by three young adults who volunteered their time to help serve parishes and people in need on the island.
"I am not an 'office person,'" Fr. Tuan said. "I like to be with and work with the poor. This missionary experience gave me an opportunity to get out of my chair and do something I like to do."
The group stayed at the St. Patrick Parish Rectory during the trip and met up with Bro. Bernie Spitzley, SVD, who has been living and serving in Jamaica for more than 20 years.
During their time in Jamaica, the group visited the homebound, worked with children at an elementary school and visited Divine Word Missionary communities on the island. They also helped repair some of the parish buildings by painting the church and pitching in with a variety of maintenance projects.
Those who participated in the mission experience included Bailee Germer and Mabel Langel, two recent high school graduates who learned about the opportunity from their parish. The third was a young man named Peter Brungardt who is discerning a call to religious life with the Society of the Divine Word. He hoped to get a unique perspective on missionary life during the trip. Peter shared his thoughts on his experience in Jamaica.
Peter's travel log
Our work started almost as soon as we touched down. When we arrived in Kingston, we met our host, Bro. Bernie Spitzley SVD, hopped on a minibus and received our schedule. It was during our drive from the airport to the rectory that I was truly struck and humbled by the vast difference between the lives of the people living in Kingston and the lives of people in the Atlanta suburb where I am from.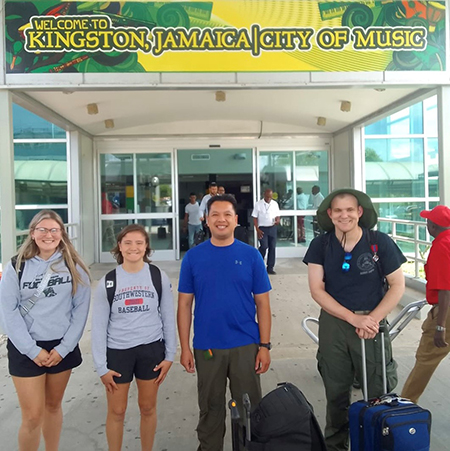 School Work
First, we went to St. Patrick Catholic Church and then to the parish's school. Our group did a small craft with the kids to help them learn about Christ's Ascension into Heaven. I was caught off guard by the amount of respect and discipline the students had at St Patrick's. The elementary students were very polite, friendly, and eager to learn—much more than I was at their ages! In time, we noticed that the students at the other schools we visited were equally as polite, calling us "sir" or "ma'am."
After school, students taught us about netball, which is a women's sport that's similar to basketball. We played basketball, netball, soccer and tag with the kids when we had time, but just like full-time missionaries, our experience at the school wasn't all fun and games. There was a fair amount of work that needed to be accomplished. We painted the guardhouse at one school, along with some of the walls at St Patrick's. Much to my delight, we didn't work alone. Some of the children helped with the project. I gave them candy and used a short break to have an impromptu Bible study session before we continued to paint. I also helped repair pews and kneelers inside the church. Before we left, a few students gave us handwritten thank you notes.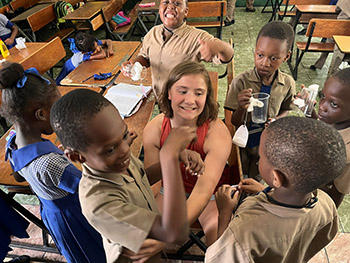 Faith, Hope, Charity
In addition to our time with the students, we distributed meals to people in need alongside workers from a group called Food for the Poor. We assisted Fr. Bernard Latus, SVD at the Church of Reconciliation by helping him move and distribute boxes and bags of food. Some of them weighed upwards of 80 pounds. We toured the church and learned about its history. Then we made our way to another school where we helped paint a guardhouse and spent more time with the children. We took a drive to Morant Bay, which is about an hour east of Kingston. There, we met Sr. Barbra Miensopust, SSpS, of the Holy Spirit Missionary Sisters and Fr. Frank Power, SVD. After meeting some of the students and teachers, Sr. Barbra took us with her to help distribute wheelchairs. As we made our way to our destination, I was touched by how many people recognized Sr. Barbra. They waved and gave her friendly shout outs by name. I was also touched and humbled by visiting a homeless friend of Sr. Barbra who, despite having next to nothing, seemed to be happier than your average passerby in the United States.