Did you know that Ukraine is one of the 79 countries around the world where Divine Word Missionaries are serving? The Ukrainian SVD District belongs to the Polish Province. Divine Word Missionaries have been serving there since 1992.
While millions of people have been fleeing Ukraine since Russian troops invaded on February 24, several members of the Arnoldus Family remain steadfast in their mission to serve in the war-torn country. Three Divine Word Missionary priests are reportedly staying to be with and help the people of Ukraine. In addition, Holy Spirit Missionary Sisters (SSpS) who are in the country are also looking for ways to ease the sorrows and burdens of their fellow Ukrainians. Like the Society of the Divine Word (SVD), the SSpS were founded by St. Arnold Janssen.
Update from Ukraine
Fr. Wojciech Żółty, SVD, is a parish priest and district superior in Verboviec in Ukraine. He shared an update in early March, saying the region where he's located was tense but relatively stable. Rooms that are normally used for children's summer camps were quickly modified to accommodate people in need of urgent lodging. While the refugees who found shelter with the church community had access to basic supplies, Fr. Żółty reported that he'd never witnessed so much pain and sadness in his life. The refugees were desperately searching for loved ones who were missing or unaccounted for without any relief. Fr. Żółty did what he could to ease their sorrows, praying with them and meeting daily for Mass.
Fr. Adam Kruczynski, SVD, works at a parish in Struga. In early March, he reported that there was no fighting taking place in his parish. However, the territorial defense asked that the church bells only be used if there was a threat of shooting. Daily Mass attendance increased and the parishioners expressed appreciation for Fr. Kruczynski's willingness to stay.
Sr. Lucyna Grząśko, SSpS, is in Kiev. She's been working for the past 10 years as a journalist. She said initially after the war broke out, some people encouraged her to leave but she felt strongly that she could provide comfort to her radio audience during this difficult time. She reported that the city was quiet and curfews were in effect. Some stores were already running out of food, but fortunately Sr. Grząśko reported that people were helping one another get by.
"I have been in Ukraine for 30 years and that is why as a missionary I could not leave people in need. They are in my heart," she wrote.
On March 23, the three Divine Word Missionaries serving at three parishes in the western part of Ukraine reported that they were helping refugees from other parts of the country who were seeking shelter, food and medicine.
At that time, Fr. Żółty's converted summer camp continued to provide shelter for refugees. SSpS sisters who have a convent nearby helped at the shelter, which was housing 37 refugees.
On March 28, Ukrainian soldiers arrived via ambulance at the SVD parish in Verboviec to collect donations of medicine and bandages, which are especially valuable during this perilous time. The parish is receiving and distributing gifts of humanitarian aid daily. The supplies are donated by organizations like Caritas. Father Jerzy Czarnecki, SVD and Fr. Kruczyński were there to collect supplies for their own parishes in western Ukraine. In addition, the mayor of the district visited and thanked the Divine Word Missionaries and their benefactors in Poland for their help.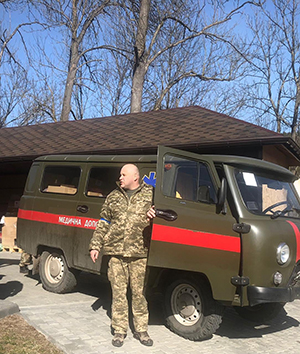 Update from Poland
Father Jacek Gniadek, SVD, director of the Fu ShenFu Migrant Center in Warsaw, Poland, reported in early March that many people fail to acknowledge the foreign students fleeing Ukraine to Poland as victims of war. He visited railway stations in communities that border Ukraine to offer aid to African refugees who were living or studying in Ukraine. Fr. Gniadek was able to communicate with several of them and arrange transportation and lodging. He said he thinks some people at the railway station approached him because he was wearing his clerical collar.
*Information for this storied was gathered from the SVD Poland Province website, Divine Word Missionaries Facebook page and the SVD Poland Facebook Page.
Want to know more? Click HERE to watch a video of Sr. Tetiana Bogoslavets, SSpS describing the conditions in Ukraine.