In honor of Religious Brother's Day on May 1, we asked a few of the Divine Word Missionary Brothers to tell us why they feel called to this important religious vocation.
Religious brothers work WITH the people
Bro. Bernie Spitzley, SVD
Born in Michigan, Bro. Bernie professed his first vows as a Divine Word Missionary Brother in 1975 and his perpetual vows in 1981. Through the years, he served as a college instructor, dean of students at a seminary, director of a formation house and was involved with the Catholic Social Justice Lobby. "I have spent over 46 years as a brother and 18 of those years were in formation where it was an honor and a privilege to walk with young people to help them discern what God's calling them to be," he said.
Each of his early roles were important, but Bro. Bernie's greatest fulfillment as a brother came in 1999 when he started his mission in what he calls "God's country" – Jamaica. For years, he labored side-by-side with the Jamaican people constructing buildings that would become the homes and lifeblood of the communities. Today, he continues to serve in Jamaica by working in a parish.
"This little boy who grew up on a farm in Michigan and wanted to go overseas and help poor people with plantations got to get his hands dirty by building houses, got his hands dirty by having Bible groups, got his hands dirty by now serving as an administrator of a parish where I sit and work with people by counseling them," he said.
In general, Bro. Bernie said he thinks most people don't fully understand or appreciate the brotherhood vocation. A brother can serve God's people in almost any profession imaginable – as a teacher, information technology specialist, medical professional or mechanic to name a few. With so many options, some people struggle to understand what it is that unites religious brothers and sets them apart from other religious. Bro. Bernie says it's actually quite simple.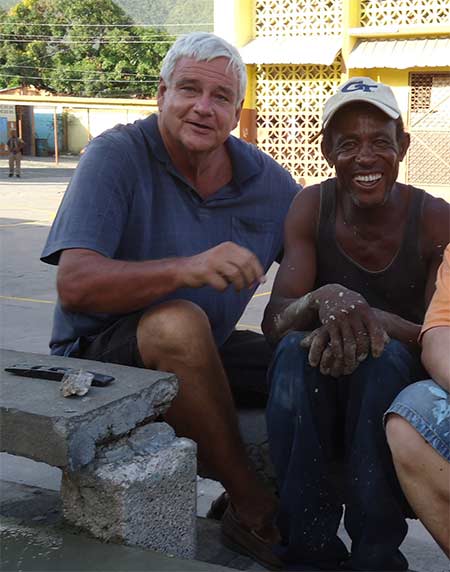 "What does it mean to be a brother? For me, it's to be an equal," he said. "And what I love the most about it, is that I work with people, not for people." For example, in Jamaica, Bro. Bernie built the foundations for houses alongside a man named Max Smith for 12 years. There was no hierarchy between them, no one in charge of the other. It was just two men collaborating each day for a common mission. For Bro. Bernie, that is the definition of a brother.
Men in temporary vows and initial formation with the Society of the Divine Word as religious brothers
Bro. Vincent Nguyen, SVD
"I feel called to be a brother for two reasons. First, it is because I believe that God calls me to religious life and to the brotherhood vocation. And second, it is because I have a gift of music that I want to develop and use wherever the Church or the Society of the Divine Word (SVD) needs."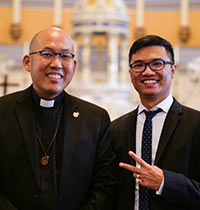 Bro. Wisvel Joseph, SVD
"I choose the brotherhood life to fully dedicate myself to God, community life and service of others. The life of a brother also allows me to feel that I can live an authentic and ordinary religious lifestyle, which makes me closer to those I am serving. I can become a direct example and brother to whomever I am ministering. Therefore, I can be more flexible and available to help those in need and get involved in the community and special ministries, especially in health, education, administration, Justice Peace and Integrity of Creation, social activities, religious formation and intercultural mission."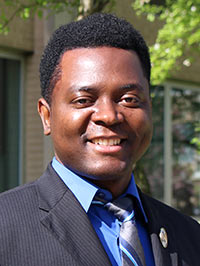 Bro. Joubert Felix, SVD
"Since I was growing up in Haiti, my inspiration has been to be in religious life. It has been my calling from God. I grew up in a Christian Catholic family. Based on my formation from two different Catholic high schools run by religious sisters and priests, my vocation started at an early age and has been strengthened while growing up. My initial idea was to become a priest. After studying business administration and computers in Haiti, I worked as an IT technician in a Catholic school run by religious sisters. I developed a good relationship with a few religious brothers from the Sacred Heart who used to teach in that school. The desire to become a religious brother came from my experience of working with other religious brothers. Later, SVD National Vocation Director Len Uhal gave me some information about Divine Word Missionaries and I did additional research. When he came to my hometown to visit my family and parish, my first interview was to become a religious SVD brother and I have stayed with it throughout my discernment. Now I am solid with my vocation and I am one of the first to start this new program with two years of theology. I am working toward a master of arts in Ministry with an intercultural concentration, so I am learning a lot. After that, I am looking forward to specializing in another field beneficial to the Society of the Divine Word. In the future, I hope we will have more religious brothers. Interestingly, it is an open program to become professionals in different areas to serve in the Society of the Divine Word worldwide as a religious missionary."