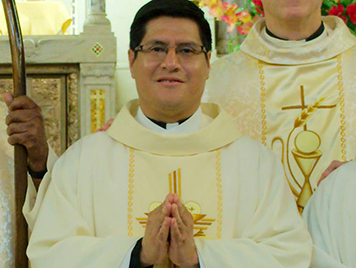 On discerning his vocation:
"I couldn't imagine myself out of the church. I want to give myself completely to God."
Fr. Jesus Mata Martinez, SVD
Vocation Director
jesusmata@gmail.com
---
At the age of 24, and without being able to speak a word of English, Fr. Jesus Mata Martinez, SVD, arrived at Divine Word College in Epworth, Iowa not knowing what he was getting into. In fact, he thought DWC was a monastery, where he would need to take a vow of silence—not the best fit for a person with an outgoing personality.
"I thought I was going to be a monk. I am an extrovert!" he said. "But when I got here, I saw it was not a monastery at all."
As he got to know the members of the Society of the Divine Word (SVD), especially the late Fr. Paul LaForge, SVD, and the many students from different cultures, he found that the college community was a very good fit for his engaging personality.

"Fr. Paul included me from the very beginning, even though I didn't know a word of English, and he told me to be patient," he said. "After a while, I began to think, and sometimes write down, 'In mind and in heart, I am an SVD.'"

Ordained in 2014, today Fr. Jesus is a Vocation Director who will share his story, and lively personality, with young men who are trying to decide if religious life is for them.

Born on March 13, 1980, he grew up in the small village of Tierra Nueva, San Luis Potosi, in southern Mexico. One day, when he was still a small boy, his parents were away. He put on one of his mother's black dresses and pretended to be a priest. Setting up a table with books and a glass for a chalice, he said Mass. For a congregation, he tied several dogs to chairs. For communion, he fed them some of his mother's tortillas.

"It's a good thing that my mom didn't know that I did that," he said. "That was the first sign of vocation, but at that time I didn't think about becoming a priest."

When he was ten, his family moved to Matamoros, Tamaulipas, in northern Mexico, across the border from Brownsville, Texas. As he grew older, he became increasingly involved in his parish. He joined the choir, learned to play the guitar and eventually directed choirs as well as lead youth groups. Along the way, he began to think more seriously about the priesthood.

"I asked myself, 'If I cannot do this work anymore, what would happen?'" he said. "I answered my question. I couldn't imagine myself out of the church. I want to give myself completely to God."

After earning a degree in accounting at a university in Matamoros, he got a job as an accountant, but his call to the priesthood seemed to get stronger and stronger. Finally, his godfather, Fr. Jesus Zamarripa, SVD, put him in touch with the Vocation Office, at Divine Word College. In 2004, he traveled to Epworth, thinking he was headed to a monastery, but wanting to be a diocesan priest.

His whole life changed when he realized that being part of a religious community was something special.

"As a religious person, you are in a community," he said. "Everybody was so caring. Even though I had not professed vows and was not actually an SVD at the time, I felt that I was included in the community."

Because he had already earned a degree, Fr. Jesus was in the Associate Program at Divine Word. After three semesters studying English followed by three semesters studying philosophy, he entered the novitiate at Techny in 2007 and professed his First Vows the next year. Then it was on to further studies at Catholic Theological Union (CTU), and a year in the Cross-cultural Training Program (CTP), which he spent in two parishes in Argentina. He returned to complete his studies and was ordained in May 24, 2014. His first assignment was to the SVD parish in Fort Wayne, Indiana, St. Patrick, where he performed sacramental duties and met with couples prior to their marriage.

Now, as a Vocation Director, he will share his story with young men who are discerning their path to the SVD.

"I always say that God is leading me," he said. "I am looking forward to this ministry."