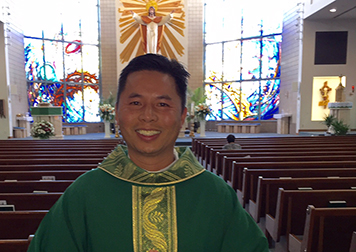 On his ministry as a vocation director:
"I'm one of the tools of the Holy Spirit to carry out the mission of God," he said. "Wherever He leads me, I will go."
Fr. Anthony Cong Nguyen, SVD
Vocation Director
acnguyensvd@yahoo.com
---
Fr. Anthony Cong Nguyen, SVD, has taken a long road back to his alma mater, Divine Word College (DWC), returning as a vocation director after many years on mission in Africa. His new duties mean that he will continue to travel, but primarily in the Western U.S., meeting with young men who are contemplating religious life as a member of the Society of the Divine Word (SVD). With his experience as a Divine Word Missionary, and as a student who overcame personal struggles, he can readily relate to the young men who are trying to make choices about their own future.
"I'm one of the tools of the Holy Spirit to carry out the mission of God," he said. "Wherever He leads me, I will go."

Born in Cam Ranh Bay, Vietnam, he moved to New Orleans with his family in 1992, at the age of 21. While leaving church one day, he saw an SVD magazine, which related stories of Divine Word Missionaries around the world and it struck a chord.

"I remembered when I was a little boy," he said, "I wanted to be a missionary priest and help people."

Shy by nature, it took him several months to build up the courage to contact the SVD. After a Come-and-See visit in 1993, he enrolled in the fall of 1994. Looking back, he realized that his shyness, which was born out of poor self esteem, held him back. He also struggled with English, which worsened his self image. His personal struggle also kept many people from realizing his potential. Fr. Ken Anich, SVD, was an exception.

"He helped me to build up my self esteem," he said. "He encouraged me and helped me realize that I do have the capacity to handle courses like philosophy and theology, so I could be a priest."

After graduation in May of 2001, he entered novitiate and professed his First Vows in 2002. During his studies, he experienced missionary life through the Cross-cultural Training Program (CTP), spending two years in Botswana. Ordained in May 2008, he was then assigned to Mozambique, which is also located in southern Africa, where he spent six years working in a parish, which included 29 outstations in sometimes-distant villages, with two other SVDs.

Always good with his hands, Fr. Anthony's duties ranged far beyond his sacramental work. Besides presiding at Mass, baptisms, weddings and funerals and organizing Bible study groups, he also was the local go-to guy for fixing just about anything. From cars to carpentry, plumbing to electrical work and even computer repair, when something didn't work, Fr. Anthony was the first one to contact.

But perhaps his most powerful ministry was providing food for the poorest of the poor in his impoverished parish. There were an estimated 6000 parishioners, 80-percent of whom were unemployed. Every month he raised perhaps $100 through local contributions, along with another $100 contribution from the SVD, to provide food to 80 people.

"They are single men or women, some are crippled or blind, who have no one to take care of them and no way to survive, so they receive these things," he said. "For example, we provided them with two kilos of rice, two kilos of sugar, two kilos of corn starch, one kilo of salt, one liter of oil, two packs of chicken broth powder, two bars of soap, five boxes of matches, as well as donated clothing."

What was moving was the generosity of the people. They did not have much, but they contributed what they could, whether it was used clothes or a few pennies on Sunday.

"It was very hard because we had so many applications for the food because most of them are poor," he said. "But we can only choose special cases because we only had so much to take care of so many."

When he was notified of his new assignment as a vocation director, he was afraid to tell his parishioners. Those gentle people, who are so approachable and kind, feel an obligation to offer food to visitors or special guests. If they have nothing, they go to a neighbor and borrow food to cook so they can offer something. The guest is always served first and if nothing is leftover, they do not eat. As impoverished as they are, that is the way they show their hospitality. He was concerned that if they knew he was leaving, they would want to throw a party.

"They would have to take food from their house to cook something for me but I didn't want to do that, so after the last Mass, I said goodbye," he said. "I told them not to worry, that God will send someone to look after them."

It was a long road back to DWC to assume his new duties, but among all the insights and experiences he can share with the young men he will meet, perhaps the most powerful is the lesson he learned from the poor people to whom he ministered in Mozambique.

"What I learned was, be with the people, be friendly, be a loving person and receive love back from the people," he said. "Love and you will be loved."