Almost Heaven: SVD's Serve the Poor in West Virginia
---
by Guy Vaccaro
John Denver got it right when he described West Virginia as "almost heaven" in his song, "Country Roads." I cannot keep from humming the tune as Father Thien Duc Nguyen drives me from the airport in Clarksburg to St. Thomas Church in Gassaway where he serves as the pastor. The hills rise from the road in all directions and are covered with an impenetrable layer of trees. What a welcome relief from the glacier-scraped flat lands of Illinois where I live! And yet I am visiting the parishes in Braxton County staffed by the Society of Divine Word missionaries knowing that all is not well in this neck of the woods. The beauty of the flora and fauna belie economic and social challenges. More than twenty percent of the people in the county live below the federal poverty level due in no small measure to the declining fortunes of the coal industry.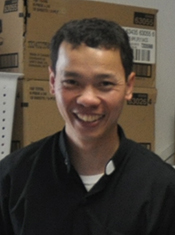 For years, lower priced natural gas has been displacing it in the generation of power. As if this was not enough, the state has the highest opioid overdose death rate in the nation. A recent CBS 60 Minutes report laid much of the blame at the feet of the drug distribution industry for shipping hundreds of millions of pills to rogue pharmacies and clinics.
Priests from the Society of the Divine Word, or SVDs as they are known, did not arrive in Gassaway by accident. In 1973, they came to fulfill their mission to serve the poor and marginalized and, forty-five years later, Fr. Thien continues to fulfill their mission on a daily basis.
I am visiting on a Thursday, the day that the parish food pantry is open every week, and there is a long line at the door. The parish provides food to all who come, Catholic and non-Catholic alike. Elden is in his fifties and this morning he is accompanied by his granddaughter, Elizabeth, who is eight. He is raising three of his grandchildren and, on this particular morning, there has been a horrible accident in the family. His daughter, Elizabeth's mother, was in a head on collision that totaled her vehicle. Somehow, she managed to walk away without a scratch. Fr. Thien is on hand and gives Elizabeth a backpack that he has filled with school supplies. He then invites her to select a few toys donated by parishioners. Elizabeth cannot hide her delight.
On another morning, I am driven up into one of the hollows, or "hollers" as they call them here, a valley between two ridges, on one of John Denver's country roads. We have left the asphalt roads far behind and are traveling on dirt roads sprinkled with a little gravel and lots of pot holes that make for a bone jarring ride. Along the way, we pass old house trailers surrounded by broken down cars and tractors.
We are on our way to visit Kay, a parishioner who has had more than her fair share of setbacks. After major neck and shoulder surgeries, Kay's house burned to the ground. We arrive at her place and she emerges from her house trailer to greet us. After her house burned down, she had no insurance, and nowhere to live. She turned to Fr. Thien and he and his parishioners went to work. They provided wood fuel for her stove, food, costly prescription medication, and, finally, a used FEMA trailer for her and her husband. "If it wasn't for St. Thomas parish, we would be living in our Jeep. I thank God every day. I think they are a miracle."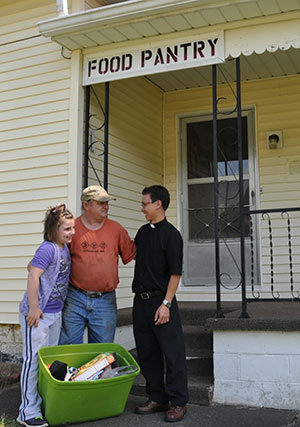 It is a tribute to the faith and resilience of the people who live here that, even in the midst of tragedy, they never overlook the needs of their neighbor, who may be worse off than they are. Retired emergency room physician and surgeon, Mac Bailes, an active parish volunteer whose family has lived here since 1750, tells the story of one such family. After the devastating floods that made national news in 2016, he packed a truck full of food and supplies and went to bring relief to the stricken. "We found a family living beside a creek in two tents and gave them food and clothing. The house that they had been working on for five years and into which they were ready to move, was now just a pile of rubble.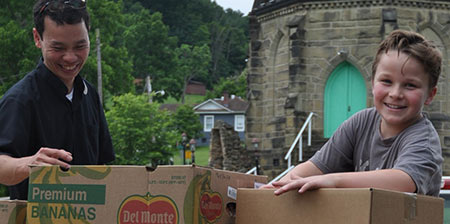 Their house trailer had been washed away. But they weren't complaining. After I listened to his story, I tried to give him more food, but he refused. He said their neighbors up the way would need the food more than they did. To me, that is total selflessness."
In the "State of the Society" presentation during the recent general chapter meeting of the SVDs in Rome, Superior General Father Heinz Kuluke, said, "Our time is short, so we must spend it with the people; not structures. The world's poor are the future of the Church. . . . the Christ-centered task is putting the last first." Fr. Thien and his team of volunteers have clearly heeded his call in this community, a community as rich in natural resources as it is in economic and social challenges. In spite of the challenges, John Denver git it right, it is almost heaven.
Guy Vaccaro, Ph.D. is the Executive Director of Development for the Society of the Divine Word, Chicago Province.