St. Arnold Janssen Kalinga Center
Making a Difference
---
What do we do about all the poverty in our world? How can we alleviate this pressing, and seemingly endlessly-growing, global crisis? We all yearn in our hearts to see an end somewhere, to see the last, the lost and the least find hope, dignity, and completion in their lives—and of course, it is all too tempting to despair at how impossible that goal seems.
Yet it is just this goal that drove Fr. Flaviano Villanueva, SVD, to establish the St. Arnold Janssen Kalinga Center on the streets of Tayuman, in Metro Manila, Philippines. Since July 2015 this center has been offering the homeless of the area the chance to find their dignity, and create their own self-worth.
For Fr. Flavie, this holistic healing and sense of completion in oneself is the most important vision of the center.It is not simply "another hot meal." Serving the destitute and forgotten means offering a chance for people to experience themselves as dignified, worthy humans, who are all loved equally by our Creator.
This goal is accomplished in three stages at Kalinga: first, recreating the patrons' self image through self-care basics like a hot meal, shower, clothing, and community prayer.Second is restoring self-respect through education—providing those who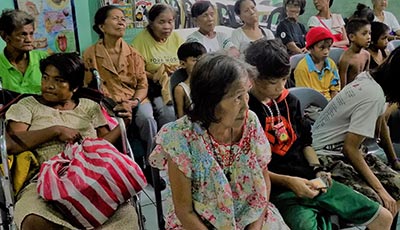 never finished either primary or secondary school the opportunity to graduate high school through the Alternative Learning System program. Finally, beneficiaries reclaim their self-worth through livelihood projects: they learn job skills and receive training to become fully-functioning, self-reliant members of society. They are then "set up" to provide for themselves, and then return back to others on the streets.
How does this process at Kalinga alleviate the often crushing burden of poverty—to "bring glad tidings to the poor and…let oppressed go free" (Luke 4:18)?
The real work happens when the patrons leave Kalinga.First, everyone is to leave having been treated or cared for. Barring absolutely no one, no matter the person's background, condition, life history, or category, the community of Kalinga is meant to offer everyone who walks through the doors personal encounters with the living Word, with our loving Father. In fact, there is a wall-sized rendition of Rembrandt's Return of the Prodigal Son prominently displayed behind the main counter for all to be reminded of this love. Then, the point is for the patrons to carry that love and kindness out to the streets.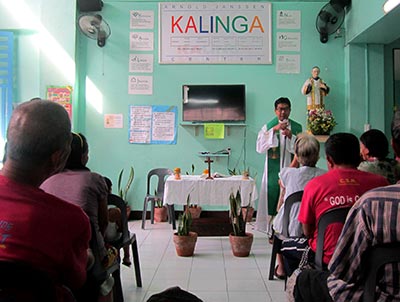 As the patrons are cared for, once they receive the dignified service of Kalinga, they are then missioned to "go out" and care for others: in their turn, they are to seek out and care for the last, the lost, and the least."This is the call of all of us," Fr. Flavie explains. "It is the mission we all received as baptized disciples of Christ."
Reflecting on what it means to be a part of the community at Kalinga and to see it grow, Fr. Flavie offers a smile. "I am constantly reminding myself—and others here [at Kalinga]—that this is mission, not just work. This is the mission of Christ, to go out and heal the wounded, to find the lost, and to care for the last."
The author, Luke Henkel, studied philosophy and theology at Divine Word College in Epworth, Iowa, as a brother candidate for the Divine Word Missionaries.In 2015 he entered the SVD novitiate in Techny, Illinois, and professed temporary vows in August, 2016 as a brother. His path has since taken him to the Philippines, where he is pursuing lay mission work at the Kalinga Center. He currently works as a lay partner at Kalinga, teaching English, catechism and meditation.