Arnold Janssen Catholic Mission Foundation
An Alternative Learning System
---
The statistics can seem devastating: Out of over one hundred million people in the Philippines, roughly 35 percent of adults have graduated high school, roughly 10 percent have successfully completed college, and more than five million Filipinos under 26, a large percentage of whom are indigenous, have not received higher than a grade-school education. There might seem to be no answer to this overwhelming educational predicament.
Yet, Divine Word Missionary Fr. Jerome Marquez, SVD, has been working on the solution since 1996 providing an alternative learning system for illiterate and indigenous Filipinos—not based on mainstream education, but on faith, Gospel living and the Church. This program, founded in 2002 by Fr. Jerome as the Arnold Janssen Catholic Mission Foundation, is modeled after the nationwide Alternative Learning System, or ALS. This system provides a non-formal, student-centered education of personal discovery in non-classroom settings, such as community halls, shelters, libraries or town halls.
The Arnold Janssen Mission Foundation is now the largest non-government organization focused on education in the Philippines. Different from the government's ALS program, the SVD-run ALS aims primarily at connecting the beneficiaries back to God, their own faith, and their own communities. Many of these men and women, according to Fr. Jerome, "often have no way of finding God." As such, this ALS is a "new way of being a Catholic school," with the faith community and Gospel values at the core. The final goal is to help graduates gain their dignity, and to be able to provide responsibly for society. It is this sense of community and focus on spiritual development that provides the support and the motivation for ALS graduates to thrive.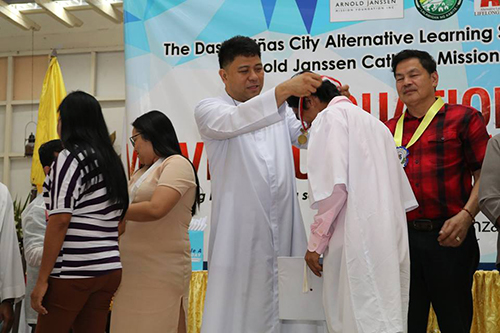 "Our God is a God of relationship. God wants us to be involved with each other." This is one of Fr. Jerome's oft-quoted lines and a deep conviction at the base of his commitment to provide education for those most in need. It is our missionary call, he says, to reach out to those who don't have educational opportunities and as such may feel alienated from society, the workforce, the Church, and even from their own destinies. Education, as he says, is the most important work of missionaries. It is education that leads to transformation from poverty, sin, and ignorance. "This is precisely our work here as Divine Word Missionaries."
The Arnold Janssen Mission Foundation ALS began as a single-structure enterprise in the smoke-filled air and crowded quarters of Smokey Mountain, an infamous slum area just northwest of Metro Manila. Since then it has spread throughout the entire central region of the Philippines. Currently, 117 ALS centers across the three major islands of the country serve more than 4,000 students. Since the foundation of AJCMF-ALS, dozens of graduates have gone on to become successful in all walks of life. There are ALS graduates working as professors, culinary professionals, farmers, even dancers and motivational speakers. In March of 2018, more than three hundred passed the high school exam and joined the ranks as successful ALS beneficiaries who are now providing for society. As one of the first ALS graduates from the earlier years, Leticia Reyes is proud of her own story. Born and raised on Smokey Mountain, her one dream was that her own children would not be scavengers of garbage as she was. She saw this to completion by finishing ALS shortly before her own daughter's high school graduation—all begun so Ma'am Reyes could help her daughter answer her homework questions! Come what may, she said, her children would never have to eat old food, or pick from the dirt and scrum of Smokey Mountain for their livelihood.
In Fr. Jerome's view, "Our God wants us to be liberated, integrated, and happy." His current work involves advocacy to promote ALS, and at every chance he is speaking about the program, even in ordinary Sunday homilies and at the table over dinner with his SVD confreres. His current goal and wish is for more of everyone to get involved with this mission of communitarian-based alternative education. "We need more people everywhere to cooperate: Sisters, lay partners, other SVDs and other religious orders, benefactors, and curriculum planners."
For more information about ALS and to learn about how to support this program, visit Arnold Janssen Catholic Mission Foundation or contact Fr. Jerome Marquez, SVD, directly at Sacred Heart Parish Shrine in Quezon City, Manila, via Facebook or the parish website.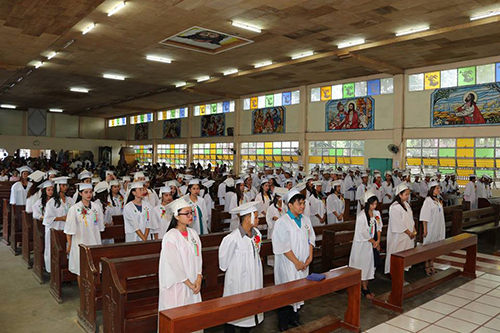 The author, Luke Henkel, studied philosophy and theology at Divine Word College in Epworth, Iowa, as a brother candidate for the Divine Word Missionaries. In 2015 he entered the SVD novitiate in Techny, Illinois, and professed temporary vows in August, 2016 as a brother. His path has since taken him to the Philippines, where he is pursuing lay mission work at the Kalinga Center. He currently works as a lay partner at Kalinga, teaching English, catechism and meditation.