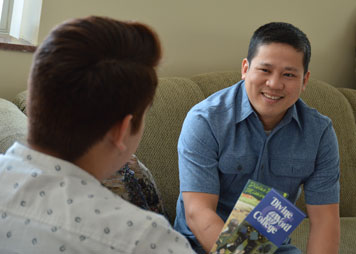 On his vocation as a missionary brother:
"It appeared to me that the brother leads a life in a simple way, in their own professions, doing their own jobs, more focused on their tasks and their ministries."
Bro. DuyLinh Tran, SVD
Vocation Director
ltran@dwci.edu
---
DuyLinh Tran didn't plan to become a Divine Word Missionary brother when he enrolled in Divine Word College (DWC) in 1999. He thought the natural progression for anyone who was interested in the Society of the Divine Word (SVD) was to become a priest.
"In fact, I didn't know anything about being a brother," he said.

After meeting others who have followed that path, and seeing that it was a good fit for him, he decided to become a brother. Since then, he has graduated from DWC, earned his master's in social work from Loyola University in Chicago and spent two years on mission in West Africa. Brother DuyLinh, SVD professed his final vows in September 2012 and is now a member of the Vocation Office.

"I helped with vocation work in the summers before," he said. "So I have some experience with that, and I kind of enjoyed that, too."

Born in 1977 in Dong Nai Province, southeast of Saigon, Brother DuyLinh came to the U.S. in 1997 to enroll at Wichita State University, in Kansas. The following summer, he attended the Marion Days festival in Carthage, Missouri, where he met his cousin, Brother Vinh Trinh, SVD, who raised his awareness of the SVD. A short time later, after being contacted by a vocation director, Brother DuyLinh went to DWC for a Come-and-See visit in the fall of 1998.

"I saw the school, the people and it impressed me," DuyLinh said. "I thought about it for a few more months and I decided to come and study."

He enrolled in January 1999 and pursued a degree in philosophy. He also met and talked with Brothers Dennis Newton, Wayne Till and Kevin Diederich as well as his cousin, Brother Vinh about their choice in religious life.

"It appeared to me that the brother leads a life in a simple way, in their own professions, doing their own jobs, more focused on their tasks and their ministries," he said.

Graduating in May, 2004, he continued to discern his path during his novitiate year, when he made his final decision to become a brother. He professed his first vows that August and enrolled at Loyola University in Chicago to pursue a master's degree in social work while working with HIV-AIDS patients. After receiving his master's in December, 2007, he went on to earn a certificate in Pastoral Studies, then entered the Cross Cultural Training Program (CTP). He was sent to the West African nation of Togo for two years, where he spent his time in bush regions, working in vaccination and nutrition program as well as providing help and comfort for victims of HIV-AIDS.

He returned to the U.S. in May, 2012, professed his final vows in September and was assigned to the Vocation Office, based at Divine Word College.

"I'm looking forward to being an SVD brother with the vocation work and see how that goes," he said. "I firmly believe that the brother identity is not defined by a word, but by how we live."