Descendant of Catholic saint discerning his own call
A deep devotion to the Catholic faith is so engrained in Kim Hoa Pham that you could say it's in his blood. He and his family are descendants of a Vietnamese martyr named St. Andrew Nguyen Kim Thong, who was sent into exile in 1855 after he refused to deny his Catholic faith. During the long and rigorous walk, he succumbed to the elements and died. He was canonized by Pope John Paul II.
As a child, Kim attended Mass regularly with his parents and four siblings. They dutifully studied scriptures and catechism. He was an altar server, he read at Mass and attended youth events. He also visited the poor. "Growing up, when I volunteered and met with the poor, I wanted to bring God to them and give them more faith and hope," he said.
One day when he was serving at Mass, Kim started to feel that God may be calling him to religious life. As the years passed, he continued to consider a religious vocation and stayed connected to his faith.
In 2017, his family moved from Vietnam to Houston, Texas. During the first few years, Kim held various jobs. He worked as a kitchen assistant and waiter at a Vietnamese restaurant before learning to drive and expanding his options. Kim says he served as a "sidekick" of sorts for his parents at that time. He was able to secure jobs for himself and his parents at an air conditioning company 30 minutes from their new home. He signed up for classes to learn English said it was nearly impossible to absorb the lessons and stay alert after long days of physical labor.
Meanwhile, his feelings about religious life persisted.
At first, Kim says he thought about being a diocesan priest. He had learned about the Society of the Divine Word from his uncle, who was an SVD candidate. As he grew up, Kim said the intercultural and missionary aspects of the religious order began to intrigue him.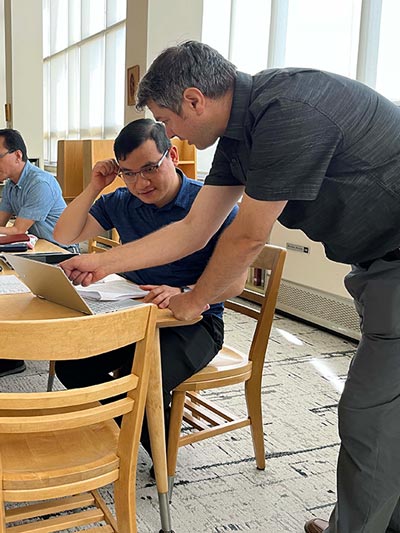 "Today, the world still desperately needs missionaries. The mission is not easy and there will always be challenges," he said. "However, the examples of missionaries and martyrs have always made me care and want to live to the fullest for Jesus and for others.
When Kim arrived at DWC, he was worried about his ability to learn English. After taking a few classes, he started to catch on to the language. He's getting more and more comfortable talking with native English speakers and holding conversations in class.
Kim said he's grateful for the chance to study at Divine Word College where he's able to expand his knowledge and deepen his faith.