As the Divine Word College community was welcoming new SVD candidates to the formation program, some former students were taking the next steps in their own paths.
Following graduation from DWC in May, Hoang Huy Nguyen and Quoc Dinh Nguyen joined the year-long novitiate program in Techny, Illinois this summer. They'll spend time praying, learning about the Society of the Divine Word and continuing their discernment over the next 12 months. This formation step allows candidates time for daily reflection, as well as extended periods of silence at retreats before they decide whether they will commit themselves by taking vows with the religious order.
Having completed their own novitiate year, six other DWC graduates professed first vows as Divine Word Missionaries on July 30. Hoang Duy Khanh (John) Do, Wisno Elie, Tuan Hoang Nguyen, Truong An Duc (John) Nguyen, Friday Onoja and Tung Cao Vu will continue their educations and their religious formation for the priesthood at the Divine Word Theologate and Catholic Theological Union.

"I felt called to be here after professing my First Vows. It was a great experience for me, and it gave me a sense of certainty with joy and the assurance that my life is no longer mine but God's," Friday said. "I will take this joy and confidence with me as I begin my theological study at Catholic Theological Union in Chicago."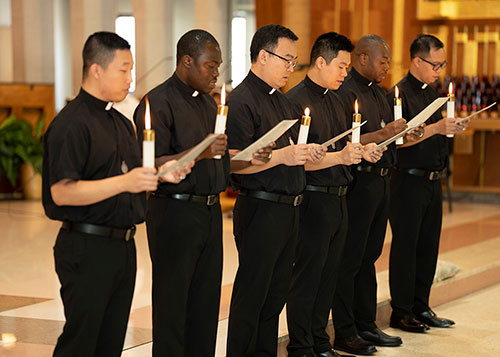 On Sept. 17, three men professed their perpetual vows as Divine Word Missionaries: Edwin (Manie) Manuel, Quang Ngoc Pham and Jorge Humberto Zetino-Salazar.
Please keep all of the SVD candidates in your prayers as they courageously respond to God's call and consider where He's asking them to serve. Please also pray for our formators who walk this path alongside the candidates, guiding and accompanying them on their journeys.
"I believe that with God on our side, we will reach the shore," Friday said. "Let us continue to pray with and for one another."