Feeding the flock
Fr. Chinh Phan, SVD was born and raised in Vietnam. In 1996, he relocated to Epworth, Iowa to attend Divine Word College and enter religious formation with Divine Word Missionaries. After graduation, he attended the Divine Word Theologate in Chicago and later participated in the Cross-Cultural Training Program (CTP) in Paraguay. In 2008, Fr. Chinh was ordained and assigned back to Paraguay where he has served since then.
When he arrived back in Paraguay after ordination, Fr. Chinh was assigned to an affluent parish. Despite the members of the church community having prosperity, he noticed that there were other groups in the area that were less fortunate, including homeless children, the hospitalized and indigenous people. Fr. Chinh helped develop the first parish program in Paraguay for feeding people in need. Soon, the parishioners got involved in the effort and started helping him prepare and distribute food.
When he was relocated to a different parish, Fr. Chinh said he was disappointed to learn that the priest who took over at the first church discontinued the meal service that he worked so hard to establish. Despite his frustrations, he had to focus on his new assignment and this one was at a low-income parish. Again, he looked for ways to increase access to food in the community. By this time, he realized that great ideas and hard work are not enough to accomplish major change. It takes resources and the ability to gather them. He led a fundraising effort to build a kitchen and convinced five wealthy families to each donate one cow so they'd have meat to serve. Over time and with the help of many parishioners, the church developed a successful food pantry that provided much-needed meals for people living in poverty. Later on, they even delivered meals to families in need. After leaving that site, Fr. Chinh was again disheartened to learn that all of his efforts were stopped by the new parish priest but he also realized that he needed to move forward and focus on his next ministry.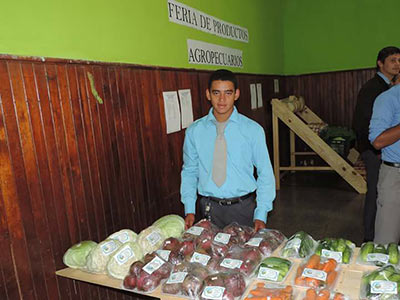 "I've learned that you have to come to serve," he said. "No matter what talent you have, whatever you can do, it is helpful."
Most recently, Fr. Chinh was assigned to a third location in Paraguay. This time he was sent to a Technical School owned by the Society of the Divine Word (SVD). For a short time, he worked in school administration. Then about six months ago, he started managing the farm on the campus. Growing up in Vietnam, Fr. Chinh loved gardening and growing things. Today, he's in charge of a farm that includes 100 acres of corn, 450 acres of soybeans, large vegetable gardens, chickens, pigs and cows. The high school students who attend the boarding school live on the vegetables and animals that are raised on the farm. They also learn about how to work the land and tend to the livestock, adding a very practical component to their education.
"I love it," Fr. Chinh said. "When I was in Vietnam, I planted veggies and rice. It makes me happy. It's my vocation as a priest and these are the needs of the Society."
Less than half of the students at the school come from two-parent homes. Fr. Chinh said caring for these young people presents many challenges but it is worth the hard work.
"Many ex-students come back to the school and say they are thankful for the school and thankful for the (SVD) because many of them go to college and become engineers," he said.
In addition to providing food for the students and staff at the boarding school, Fr. Chinh said the farm helps to financially support other SVD mission projects in the area.