Trusting God's Plan
---
When Maxwell Wullar was born in Ghana, his parents gave him the name Etornam, which means, "God has responded to me." That name has taken on a new meaning as he has lived his life, developed his faith and responded to his own call from God to become a Divine Word Missionary Priest.

Who me? A priest?
As a boy, Fr. Maxwell dreamed of being a pilot. His dad, who died when he was just seven, wanted him to be a lawyer.
So, he did what most kids do – he went to school and hoped to figure it all out. He enrolled at a school and arranged to stay at a boarding house. He had no interest in the minor seminary that was associated with the school, but quickly learned that the prefect there knew his mother. The priest offered to look after him, so Fr. Maxwell switched his living arrangements and moved into the seminary, even though he had no intention of pursuing religious life.
As time passed, he listened to priests and bishops who shared about their experiences. Fr. Maxwell eventually told his mother that he was starting to consider whether he was being called to the priesthood. She told him to pray about it and he did. He said he prayed more during that time than he has ever prayed in his life.
He was still discerning his call and thinking about being a diocesan priest when a friend told him more about Divine Word Missionaries and their way of life.
"I started feeling attracted to the religious missionary life when he started sharing his knowledge of the SVD, telling me that they're missionary priests who are ready to go anywhere they're needed and that they live in community – that part especially got me," he said. "To my young mind, it was really attractive to live in a community and be with people with whom you share everything and always have people around you."
His sister was reluctant. She worried that her bright brother was walking away from a potentially lucrative career and that their family wouldn't be able to provide for their mother as she aged without him contributing financially. "My reasoning was, well, if it's God who is calling me, He will provide, He will make sure that my siblings are able to provide for her and thankfully, He has done that."
One step at a time
The path to priesthood isn't a short one. Fr. Maxwell spent three years studying philosophy in his native Ghana, followed by a year in novitiate. Then he moved to the Democratic Republic of Congo, where he spent four years learning French and undertaking his theology studies.
Next, he spent two years in Chile learning Spanish and participating in the Overseas Training Program. It was an experience he enjoyed and helped him discover a passion for education. Then, Fr. Maxwell returned to Congo for his final year of theology during which he took his final vows and was ordained a deacon. After 11 years of preparation, Fr. Maxwell was ordained a Divine Word Missionary Priest in July 2012 back home in Ghana with his family there to witness the momentous occasion.
A man with a plan
With some new language skills and a desire to jump right into education, Fr. Maxwell submitted his top three locations to his superiors, hoping to be assigned to Brazil but offering Chile and Japan as alternatives if his first choice wasn't possible. He was sent back to Chile.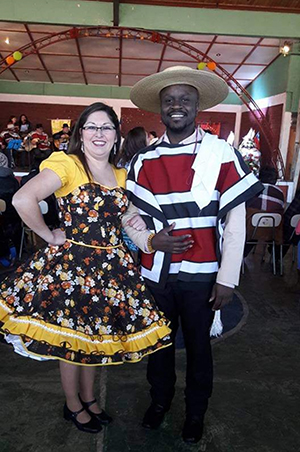 Fr. Maxwell in traditional Clean attire while learning the National Dance Cueca.
He also asked to work in education. The provincial assigned him to work as an associate pastor at a parish in Los Angeles, Chile. The Provincial told him that he could go to university and study education or philosophy after completing three years at the parish. But after his third year, he was asked if he could hold off his plans for a bit longer.
"I said, 'Well, I'm an SVD. I came here to work, so if the province needs me to do something else, I accept,"' he recalls.
So, in 2017 he delayed his plans and took over as parish pastor in the same place he had been working.
About two years later, Fr. Maxwell started thinking again about his desire to teach at the college level. That's when he received a surprising call from Rome. It was one of the General Councilors, a confrere who had served as a Provincial Councilor while Fr. Maxwell was in Congo. He asked if Fr. Maxwell would be interested in becoming the English Secretary in the Generalate.
"Well, as I've always said, I'm an SVD; I'm ready to go where I'm needed," he said. "So, if that's what they say is needed now, I'm open."
With very little time to prepare and a heavy heart, Fr. Maxwell left the parish he had come to love in Chile and traveled to Rome to start work as the English Secretary in the Generalate. Since March 2019, he's been serving in that role.
He and the Spanish Secretary work as assistants to the Secretary General in treating the correspondence that the General Council receives, processing it and bringing items to the General Council's attention, when needed. He also sits in on meetings and redacts the English letters of the Superior General and his Council so he can communicate important information back to the "English-speaking" provinces. In addition to those responsibilities, Fr. Maxwell helps in translations when the need arises, oversees the internal website for the Generalate and performs other secretarial/clerical duties.
"I've come to love my congregation more through my exposure to this office because most information goes through us," he said. "I have come to realize how well structured and well organized our Society is. We're in a good place."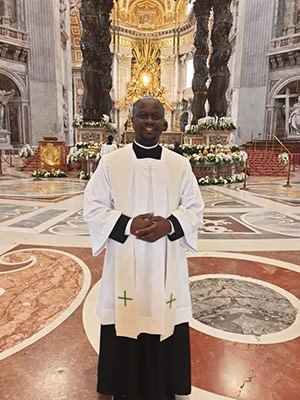 Patience pays off
After his first year at the Generalate, Fr. Maxwell realized that if he made some sacrifices, he may be able to go after his dream of being an educator while also doing his work. He really wanted to study Islamology but his Arabic lessons would be at the same time as General Council meetings, so that option was out. Instead, he looked at philosophy. He calls it his first love. He asked permission to pursue a philosophy licentiate, which is like a master's degree but with the license to teach in a pontifical Catholic University. His focus is on practical philosophy with an emphasis on matters of peace and justice.
From the beginning of July until the end of September, Fr. Maxwell has been in New York serving as an intern at VIVAT International, a Non-Governmental Organization (NGO) committed to working with children, women, girls, indigenous people and marginalized communities on a variety of issues that impact human dignity. Through advocacy in the United Nations, VIVAT works in 120 countries to promote and uphold human rights. It was founded in 2000 by the Society of the Divine Word and the Missionary Sisters Servants of the Holy Spirit (SSpS).
Fr. Maxwell even had the opportunity to make a statement at a United Nations session about sustainable development in Africa this summer.
"I've always had God's hand in my life, in my family's life," he said. "And somehow that has made a lot of sense to me that when I leave things in His hands, He does them in His own way. And they usually turn out for the best. It's difficult sometimes to accept that things are not going my way. But I ended up realizing that He's got me. I think He's got all of us. But He's kind of a gentleman – he doesn't impose too much. So when you allow Him, He will direct you and He will take you where He would like you to be and it's usually a very good place."
It seems that for Fr. Maxwell "Etornam," God has, indeed, responded.