Khawaja or Falata, I am here!
Father Shiju Paul, SVD is the first Divine Word Missionary to serve in South Sudan since the original mission there was evacuated in 2016 in the midst of that country's civil war.
Three Divine Word pioneers established that mission in March 2012, less than a year after South Sudan won its independence from Sudan. The three missionaries settled in Holy Family Parish in Lainya, a village about 30 miles north of the Uganda border, and were eventually joined by two more confreres.
At the end of 2013, civil war broke out in the young nation. In May 2016 Holy Spirit Missionary Sister Veronika Terézia Racková SSpS was shot by soldiers while driving an ambulance in Yei. She died of her injuries four days later. Hostilities reached Lainya in July 2016. After soldiers occupied the Holy Family compound for four days, killing a local man who had sought shelter there, the South Sudan mission team was evacuated to Kenya.
Four members of that team have relocated to Uganda to look after the thousands of South Sudanese refugees now living in the Bidi Bidi Refugee Settlement.
Fr. Paul also looks after refugees. Working with Jesuit Refugee Service, he cares for refugees from Sudan's civil war now living in refugee camps in South Sudan. Here he discusses the challenges he faces.
By Shiju Paul SVD

Children and adults scream, "Khawaja." It means a foreigner! Some on the Jesuit Refugee Service staff call me "Falata" because of my dark brown skin. Falatas are nomadic Muslims of Arab tribes who rear vast herds of cattle and move across a wide territory in Chad, southern Sudan and South Sudan's Upper Nile state.
In 2011, South Sudan gained its independence from Sudan, ending Africa's longest-running civil war. Two years later South Sudan's own civil war began. Today South Sudan ranks behind Syria, Venezuela and Afghanistan in the number of refugees: 2.2 million, most of whom have fled to neighboring Uganda.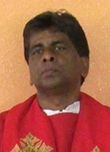 Fr. Shiju Paul, SVD
Since April 2021, I have lived in Maban County in the Upper Nile State of South Sudan. It borders the Blue Nile State of Sudan to the east. Ethnic Mabanese people make up a significant majority of Maban's population.
The Blue Nile State in Sudan is rich with fertile soil and minerals. It is into this state that the Blue Nile River enters Sudan. Historically, everyone wanted a share of Blue Nile's rich agricultural and grazing fields; mineral resources such as gold and chrome; and various natural resources such as trees and Nile water. Frequent conflicts to control these resources between the indigenous tribes of Blue Nile and others can be traced back well before 1956 when Sudan became an independent country.
Source of Conflict
After the country's independence, these resources fed the political elites of the north with revenues, hydroelectric power and industrial-scale gold mining. The socioeconomic development of the indigenous tribes was ignored. The Khartoum government encouraged new groups of Arab origins to occupy and settle this fertile land to exploit its natural and mineral resources. As a result, the Sudan People's Liberation Movement/Army was formed in 1983 to counteract such exploitation. Sudanese armed forces regularly carried out aerial bombing and shelling of rebel positions and civilian villages, resulting in the collapse of social services and health and education. Residents were forced to flee to neighboring countries. Nearly 800,000 people lived in the Blue Nile region before the conflict. Now only 40,000 to 60,000 live there.
In December 2013, civil war in South Sudan erupted when tensions within the ruling Sudan People's Liberation Movement led to the outbreak of armed conflict between the SPLM and the opposition movement that became known as the SPLM-IO ("in opposition").
Refugee Camps and Divisions
There are currently four major refugee camps in South Sudan's Maban County. They are Kaya, Batil, Gendirasa and Doro. They host more than 141,500 refugees. Even though all these refugees hail from Blue Nile State, the camp dwellers carry their bitter ethnic divisions, and that has created a huge gulf between those in Doro camp and those living in the other three camps.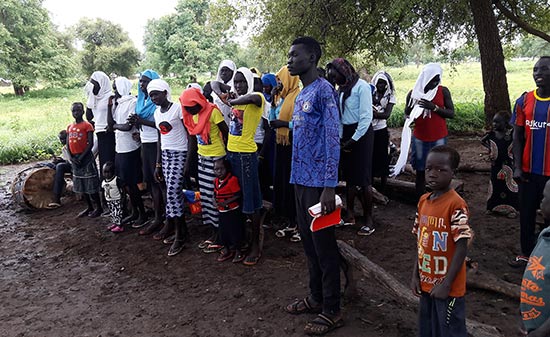 The majority arrived in 2011 and rapidly outnumbered the Mabanese host community. As a result, there has been sporadic violence between the refugees and the host community over competition for limited resources: trees for firewood, grazing land for livestock and land for farming. Access to employment has been another source of conflict.
In 2019, a vast crowd of youth forcefully entered the United Nations High Commissioner for Refugees compound and those of 14 other aid agencies in Maban. That resulted in looting and arson and the destruction of vehicles, structures and lifesaving supplies including medicines. It began as a protest over NGO resources benefitting only the refugees, NGO hiring practices and lack of employment opportunities for the local community. Today there are various proxy militia groups operating both in the camps and in the local community that are supported by government factions on both sides of the border.
It is in this extremely challenging and complicated environment the Jesuit Refugee Service is working. The agency provides psychosocial care and education. Most refugees are Muslims. JRS conducts various psychosocial programs in the camps for youth, women and men through home visitation. For young babies with physical challenges, regular physiotherapy is provided. Every refugee has stories of multiple losses and trauma. Therefore, providing care, compassion and support is an area where I am fully involved during the weekdays.
Coming to South Sudan
After spending four years at Divine Word Theologate in Chicago, I responded to the call from our general leadership by joining Jesuit Refugee Service. Subsequently I was sent to South Sudan where the ongoing conflicts are a multifaceted reality that takes on new dimensions because of the unresolved and unaddressed ethnic tensions.
We are two priests in JRS Maban. My companion priest is a Jesuit from Kenya who has been here for a year. I work in the camps during the week and render sacramental works during the weekends. I accompany the psychosocial team to the camps as they conduct various programs for men, women and youth. These programs run for seven to eight weeks with one module per week per group.
Those group sessions are safe spaces where participants can share their experiences and struggles. We provide an atmosphere in which participants can tell their stories of gender-based violence, pain and struggles. Women go through a lot. They have been traumatized deeply while fleeing through areas controlled by the rebels or by the military. In the camps they walk miles to get firewood on a wooden carrying pole that rests on their shoulders. They need the firewood to provide cooked food for children and the elderly.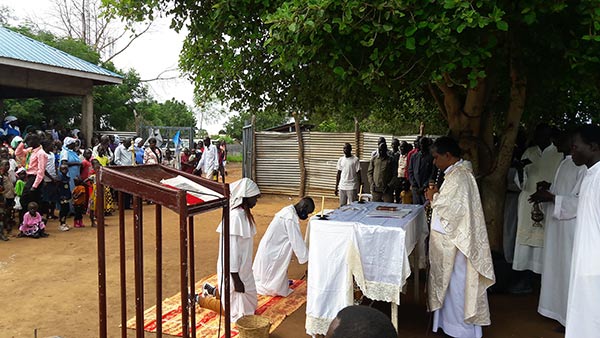 Two months ago, I joined the JRS IT team. We teach basic computer literacy skills to the youth in the camps. The team transports the necessary laptops, generator and other accessories in a pickup truck to the sites and caters to three groups a day for approximately three months. Those who successfully complete the program receive JRS-issued certificates in basic computer literacy.
Another major commitment of JRS is providing education opportunities for children and adults. It includes a teacher training program conducted at Arrupe Learning Center at the JRS compound itself.
Pastoral Weekend Work
I do pastoral and sacramental work during the weekends. The Catholic communities in the surrounding areas have been without a parish priest for many years because of the ongoing conflicts. The main church building was built of simple brick and mortar by early Comboni missionaries. It has survived wars and floods. Other centers are constructed using poles and grass or tents. This area falls under the Archdiocese of Khartoum. There are more than 55 centers scattered all over the area, and they are often not accessible due to floods and conflicts.
Most of the pastoral outreach is made possible through the catechists who stay in the villages and at the main center. They are the ones instrumental in keeping the Christian communities together and progressing in their faith. Above all, the presence of religious priests gives the host community a deep sense of hope they are not forsaken. It gives a unique identity to JRS as a faith-based organization different from other NGOs active in the area.
The presence of priests in JRS teams has given the teams protection and safety during times of conflict and violence. We have had no major damages to our property or injuries to our personnel. The pastoral program is fully integrated into the wider vision of JRS. As a Catholic organization, inspired by the compassion and love of Jesus for the poor and excluded, JRS commits to accompany, serve and advocate for the rights of the refugees and other forcibly displaced persons.
Religious personnel are held in esteem as a source of guidance for the community. We are present with the community at all major life events, from birth to death, and in their formational and educational journey. Our biggest challenge is to provide ongoing human and catechetical formation programs for the catechists and leaders.
Except for the Bible and a hymn book, there is nothing much available in the locally spoken Mabanese language. Most resources are in Arabic (all catechists are trained in this language). It adds extra struggle in our pastoral accompaniment as everything must be done through translators.
*This article is courtesy of the Divine Word Missionaries Mission Center in Techny, IL.