Missionary brother gave his life to save others in WWII
---
In 1999, Pope John Paul II beatified 108 Polish martyrs who were killed during World War II. Four of them were vowed members of the Society of the Divine Word: Blessed Fr. Ludwik Mzyk SVD (1905-1940), Blessed Fr. Alojzy Liguda, SVD (1898-1942), Blessed Fr. Stanisław Kubista, SVD (1898-1940) and Blessed Bro. Grzegorz (Gregory) Bolesław Frąckowiak, SVD (1911-1943). In honor of Religious Brothers Day on May 1, this is the story of Bro. Grzegorz's life and heroic death.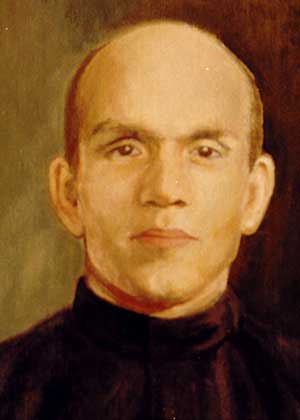 Boleslaw Frackowiak was born in Łowęcice, Poland on July 18, 1911. He was raised in a deeply religious family and was one of 12 children. While his parents looked to him for help on the family farm, Boleslaw preferred to play. He was known to say masses, preach, and even mold little crosses and figurines of saints from clay for his friends. The young boy was also an active altar server at his parish. As he grew older, he grew in faith and began to feel a call to religious life.
Religious formation
Boleslaw was admitted to Górna Grupa, near Grudziądz, where the Divine Word Missionaries had their postulancy and the novitiate for religious brothers. After finishing his first year, Boleslaw took the religious name Grzegorz (Gregory) in September 1930.
He started working in the printing press, where he learned bookbinding. Grzegorz was described as a zealous novice and a diligent worker. Those who knew him remembered him as a smiling, helpful person at the press. He was always quick to volunteer his skills in the sacristy. Grzegorz pitched in wherever he was needed, working in the kitchen and caring for the poor who came to the house.
According to accounts documented by the Society of the Divine Word, Grzegorz was anxiously awaiting the day that he would take perpetual vows. He said, "By this act, not only in the depth of my heart, but also formally, I will be fully a member of the Society and I will be dedicated to its ideals." He took his perpetual vows on September 8th, 1938. Before the celebration, Novice Master Fr. Jan Giczel described him as a "faultless monk."
War time
During World War II, the Gestapo organized an internment camp for all priests in the region, including members of the SVD community. Religious brothers were eventually released, but Bro. Grzegorz stayed to help the internees. Then in February 1940, the priests were sent to the concentration camp and Bro. Grzegorz left. After staying briefly with his brother, he returned to the town of his birth. There, he started a number of underground efforts to keep faith alive in the community during the difficult war times. Bro. Grzegorz worked with his parish priest to teach religion to children and even prepared some of them for First Communion. He also visited the sick and elderly. When the Gestapo eventually arrested the parish priest, Bro. Grzegorz took it upon himself to protect the Blessed Sacrament, which the political police scattered from the ciborium. He collected the hosts and hid with them inside the organist's flat until the next day when he distributed Holy Communion. A true missionary, he even went on to baptize a few children in the following days.
German officials in Jarocin took notice of Bro. Grzegorz's experience in bookbinding and ordered him to take up a job in the printing press. He started working with others to print an underground newspaper called "For you, Poland," hoping to keep people's spirits up. At the advice of Fr. Paul Kickzka, SVD, he decided to distance himself from the secret editorial but a year later, the Gestapo discovered the publication. The missionary brother realized that others who were still involved with the newspaper had families who needed them. He wasn't about to let them take the blame if he could take their place.
Fr. Paul Kickzka later wrote, "He could simply disappear but he did not want to. He asked me whether he could offer himself up for the arrested in Jarocin, though he had nothing to do with the illegal leaflets for a year. I told him that if he felt strong enough to do it, it would be a heroic act."
Bro. Grzegorz reportedly went to confession and Holy Communion, then the next day, he was put in prison. He asked the other prisoners who were arrested for involvement in the publication to shift the guilt on him. They had to have their story straight if his plan was going to work.
While in jail, fellow prisoners reported that Bro. Grzegorz lead common prayers of the rosary. According to accounts from the time, the Nazis treated him cruelly when they discovered a holy medal sewn in his hat and realized his connections with clergy. He was interrogated several times, primarily about the leaflets. He offered the names of two people who had already confessed but refused to provide more information. He was beaten and tortured for his resistance and also for his religious identity. In a letter to his brother, Bro. Grzegorz cautioned that their uncle should be careful since he was also implicated. "I took the blame on myself. I do not care if I am killed. I am alone. He has a wife and children," he wrote.
Memorialized as a martyr
Eventually, Bro. Grzegorz was transferred to Dresden prison and sentenced to death. Just hours before he was killed, he wrote a letter to his family:
"I write this letter to you, my dearest, for the last time in this worthless life and in this valley of tears. When you receive it I will be dead because today on Wednesday, May 5th, 1943 at 6.15 p.m. I will be decapitated. Say "Eternal rest" in my intention, please. I will depart in five hours but you do not cry but pray for my soul and for the souls of our beloved. I am going to greet the Father and all my relatives. I am not sure whether you should tell our Mother that I was decapitated or simply that I died. Do what you think is right. I can tell you that my conscience is clear... I greet you all and will wait for you at our Father's house. I greet all brothers in Bruczków and all my friends. God bless you. Be good Catholics. Forgive me everything, please. I am very sorry for my beloved old Mother. God be with you. See you in heaven. Please, give my cassock back to Bruczków after the war."
Bro. Grzegorz was beheaded just a few hours later. By accepting responsibility for the publication, others who were involved were released by the Nazis and their lives were spared. During the Beatification Mass of Bro. Grzegorz and the other 107 Polish martyrs killed in WWII, Pope John Paul II said, "In the group of Blessed there are religious brothers and sisters who persevered in the service of charity and in offering their torments for their neighbor." Truly these men and women followed in the footsteps of Christ when they laid down their lives for others.
------------------------------------------------------------------------------------------------
"If we rejoice today for the beatification of 108 martyrs, clergy and lay people, we do so above all because they bear witness to the victory of Christ, the gift which restores hope. As we carry out this solemn act, there is in a way rekindled in us the certainty that, independently of the circumstances, we can achieve complete victory in all things through the One who has loved us (cf. Rom 8:37). The blessed martyrs cry to our hearts: Believe in God who is love! Believe in him in good times and bad! Awaken hope! May it produce in you the fruit of fidelity to God in every trial!"
- Pope John Paul II in his homily during the Beatification Mass on June 13, 1999
-------------------------------------------------------------------------------------------------
Editor's Note: This article was written based on information about Blessed Bro. Grzegorz Bolesław Frąckowiak, SVD, from the Society of the Divine Word's Curia.