Adapting to a Changing World
---
A lot has changed for Divine Word Missionary Brothers since 1954 when Bro. Stephen Pardy, SVD started his formation journey with the order. Back then, Mass was still celebrated in Latin. The approximately 400 men preparing for missionary life at the Society of the Divine Word's (SVD) seminary in Techny, Illinois were trained in a rigid, disciplined manner. Most brotherhood candidates learned a trade before setting off for mission assignments in developing nations. Bro. Stephen apprenticed as a baker, trained as a clerical worker and later served as a porter for the house. "By the time we were through our in-house formation, we had never gone anywhere, we never left the place, we were trained to go to the missions; it was like a factory production. During our training years we came down an assembly line and arriving at the end we were issued a Cassock and a nice black suit, a roman collar and then wrapped in plastic and shipped off to our assigned mission. On arrival the plastic peeled away in the tropics, the cassock and suit became green with mold, the collar gave us a rash and we were faced with a whole new world. Where was the monastery; where were the disciplinary rules and regulations?" These were the Pre-Vatican II years and the mission focus (and consequent training) was different then. Today, candidates for the brotherhood obtain college degrees in a field of their interest before receiving their first assignments. Bro. Stephen said despite the drastic shift he's witnessed in the role of religious brothers through the years, one thing has remained constant: their goal is to carry out the Gospel through their work.
World travels
After taking vows, Bro. Stephen received his first assignment and it did not disappoint. He was assigned to Rome for four years during the Second Vatican Council and was actually in St. Peter's Basilica on the day the Council opened. He assisted SVD representatives who were attending the council in a variety of ways. He even entered the conclave during the Papal election following the death of Pope John XXIII. One of the cardinals had physical limitations and required assistance to get inside, so Bro. Stephen was asked to help him. To show his gratitude, the cardinal gave the young brother a ticket to the coronation of Pope Paul VI, which was the last papal coronation.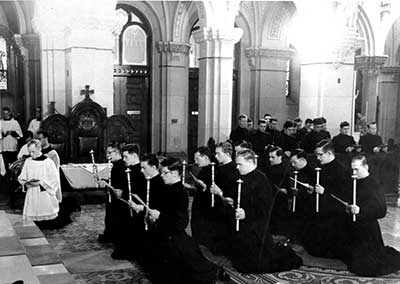 Bro. Stephen's next assignment was in Papua New Guinea, where he served for the next 25 years. At first, he worked as a customs agent for the mission. The previous agent, Fr. Joseph Wallachy, SVD, had died in a plane crash. There weren't many roads in the country then, so he worked to clear supplies that came in for the missions and arranged air transportation to deliver them to the various outstations. Three years later, he was asked to take over the province's finances as well. He was named Provincial Treasurer and soon realized he needed an academic foundation in order to thrive in this new role. So Bro. Stephen traveled to Epworth, Iowa to live at Divine Word College Seminary. He took a few classes at DWC while also attending Loras College in the nearby city of Dubuque and earning his undergraduate degree in accounting.
He returned to Papua New Guinea better prepared to handle the province's finances. Then Bro. Stephen taught at a Catholic high school operated by the Society of the Divine Word for two years. Later, he spent several years as financial administrator for the Wewak Diocese before returning to the role of Provincial Treasurer again.
Here, there, everywhere!
In 1990, Bro. Stephen returned to the United States to work as the Provincial Treasurer in California. His accounting degree continued to pay off three years later when he moved to England to work as Provincial Treasurer there. Simultaneously, he did the same thing in Australia when their treasurer was on sabbatical. He spent just over a year bouncing back and forth between England and Australia while getting very familiar with air travel.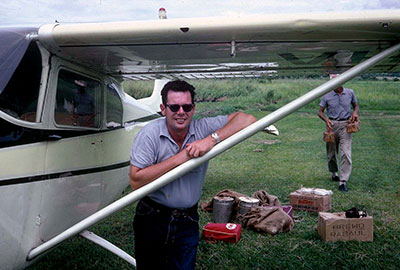 In 1996, Bro. Stephen returned to the United States to work at the Chicago Province Finance Office where he duplicated an accounting system he established for other provinces. That work took him about four years before he was transferred back to California. He was then invited to be the development director at Wordnet Productions, a Catholic television ministry founded by Divine Word Missionary Fr. Michael Manning, SVD. Bro. Stephen even took a departure from finance to help create on-air content for the production company.
A new approach
Today, nearly all missionary brothers earn college degrees prior to professing vows. They also have an opportunity to work on a mission assignment overseas to get a feel for the lifestyle, assess the local needs and, actually ensure that it will be a good fit for both themselves and the people they hope to help.
"They go out and later on they might go back to the same country but they get an idea about what's needed. It really is a wonderful program," Bro. Stephen said.
Part of the reason for these changes is actually the result of a success of sorts. The host countries had truly benefited from all the efforts offered but now no longer needed missionaries to do what the trainees could now do themselves. Communities had their own local mechanics, construction workers and other laborers. Times have certainly changed, and Bro. Stephen says it's up to the order to assess what's needed and educate young missionaries accordingly.
"It's a challenge and it's up to us to change and adapt to a whole new world," he said.
Since he left Papua New Guinea, Bro. Stephen said the country continued to develop its economy, infrastructure and school systems. Divine Word Missionaries played an important role in establishing a local Catholic community there, which has flourished. Today, Papua New Guineans have their own growing number of Bishops and clergy working with foreign missionaries sharing God's word in the country.
"To have been part of it; to have been able to watch that growth of the proverbial mustard seed was a real gift and tremendously satisfying," he said. "It was a treat and an honor to have been there. The whole experience of my life has been watching the SVD at work and what it has accomplished in different parts of the world by God's good grace."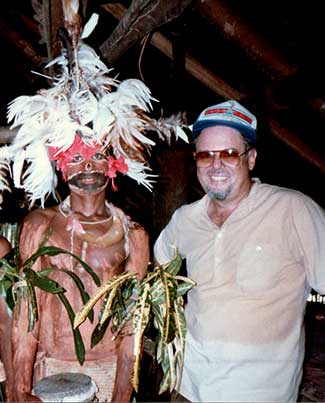 Now retired, Bro. Stephen said as he reflects back on his life as a Divine Word Missionary Brother that he doesn't have any regrets about his life path. Often times in his life, he said people asked him why he didn't become a priest. The answer is simple – that wasn't his calling.
"You've got to do what makes you happy," he said. "If you take on a vocation because someone else wants it or it's an idealized version and you don't understand it, you're not necessarily going to be happy and you're not necessarily going to be successful. And that's true in any field."