Old School Fix-It Brother
---
Bro. Hoc Mai, SVD, is old school.
Presented with opportunities by the SVD to pursue virtually any field of interest—art, technology, teaching, administration, the list goes on and on—his can-do attitude gravitated toward manual labor and developing the dexterous skills of the "fix-it man."
"I love the old way, the old Brother in the old days," he said. "It just struck me when I watched a movie about Brothers in the old days at Techny, where they did a lot of farming, maybe get some technical training, do this and that. I love that."
Bro. Hoc has returned to his alma mater, Divine Word College, where he is doing landscaping and maintenance work while studying auto mechanics at nearby Northeast Iowa Community College.
Born in 1988, in Binh Thuan, Vietnam, he studied English in Singapore for a time before coming to the U.S. in 2008. Living with an uncle in Dayton, Ohio, he studied math at a community college before meeting then-vocation director, Fr. Trung Mai, SVD, who introduced him to the Society of the Divine Word. After a Come-And-See visit in 2009, he enrolled in Divine Word College in January 2010.
Encouraged by his family, he set his mind on the priesthood. But during the summer following his sophomore year, he worked at the SVD house at Bordentown, New Jersey, where he was touched by the care, generosity and kindness of the SVD Brothers there, especially the late-Brother Pat Hogan, SVD.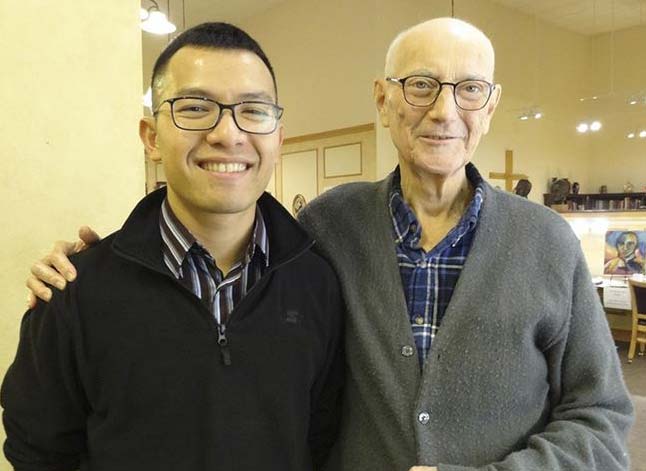 "Then in 2013, I had the opportunity to work with Fr. Mike Hutchins at the Divine Word Farm near Weldon, Iowa," he said. "I liked working with my hands and I liked nature. I enjoyed the work, so I think God calls me to a different path, to be a Brother."
The following two summers, Bro. Hoc pursued his interest by working with Bro. Vinh Trinh, SVD, director of maintenance at DWC.Then, graduating with a BA in Philosophy and a minor in Cross-cultural Studies in 2015, he went on to the SVD Novitiate at Techny and professed his First Vows the following year. After a year studying Theology at Catholic Theological Union in Chicago, he requested the move back to DWC.
Today, he attends classes at NICC during the week and puts his training to work at DWC, helping to maintain college vehicles while gaining more hands-on maintenance experience working with Bro. Vinh and his assistant, Bro. Daniel Yunck, SVD. Bro. Hoc's plan is to complete his studies for an associate's degree in auto mechanics and then take another series of courses in diesel mechanics. At that point he will complete the paperwork for the Cross-cultural Training Program (CTP), and hopes to work on mission under the supervision of an SVD Brother.
Finding one's place in the world is always challenging, but step-by-step, Bro. Hoc is tracing a path toward his goal of service to others.
"I'm grateful to God, the SVD, and my family for all their support and prayers," he said. "I think that Divine Word College really has helped me to explore, to discover my passion, my gift and how I might be able to prepare myself to serve the Society, serve God and the Church."