Not only to evangelize, but to BE evangelized
---
We, as Divine Word Missionaries, take upon ourselves the mission of Christ to make the goodness and kindness of God visible in the lives of the people we serve. In order to fulfill that call, we are formally prepared for ministry in a graduate academic institution for theological studies. In addition, we participate in a Cross-Cultural Training Program (CTP) to further discern our call as missionaries. The program puts us in touch with the reality of mission and allows us to experience mission first hand.
I arrived in Brazil in July of 2017, and after my Portuguese language studies, I was missioned to the Amazon Region in the northern part of the country—to the Diocese of Humaitá. Our Divine Word Missionaries' community there was made up of four SVDs from Germany, Indonesia, India, and me from Togo. For Divine Word Missionaries, interculturality is fundamental in our community life and it is a gift and a witness that we also can offer the world and the Church.
We have two parishes with 78 communities in the Diocese of Humaitá. In the Amazon, the parish is defined as a community of communities. While one of our parishes has a few communities, the other one has 70 communities. I was the youth chaplain in these two parishes and also the vocation director for the diocese.
You can only get there by boat!
Access to the 70 communities of the mission area is by boat. Each community is visited by our team four times a year. Our team included an SVD priest, a Franciscan sister, two lay partners and me. We traveled along the Madeira River and into three large lakes. During the rainy season, we are able to reach all the communities by a big boat, but during the summer when the water level is low, we leave the larger boat at the lake's entrance and travel by a small boat inside the lakes. These boat trips were not easy because of the sun's heat, mosquitoes, and crocodiles. The trip from the city to the furthest outstation is about 15 hours.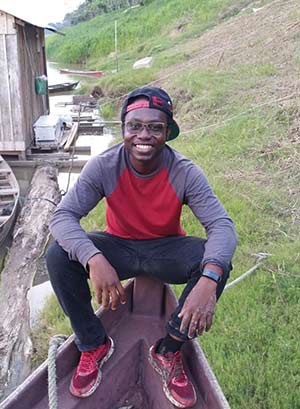 Our day began with morning prayer and breakfast before visiting the communities. The social life of the people in these communities (outstations) is quite different from those in the city. Their lifestyle is very simple. Most of them are farmers and gold miners. During the rainy season (winter) most men work on the farm, and in the dry season (summer) they work on the river looking for gold. Life is not that easy for most of them. They face many challenges such as poverty, depression, child abuse, violence inside the families, prostitution, drug addiction and alcoholism.
During our visits, we get involved in people's lives and engage in friendly conversations with the people of the villages. They are always anxious and happy to see us, and whenever we get to their community, they express such hope and happiness by offering a warm welcome. Being with the people, I could see how much they cared for us; I could even go so far as to say that they really love the missionaries that come to visit them. I felt their love and I felt at home in their communities.
The goal of our visits was not only to provide faith formation and to celebrate Mass, but also to strengthen the people's bond as a faith community that exists among all the baptized. Through our baptism we are all brothers and sisters in Christ and a community of faith allows us to experience the love of Christ.
Most of the communities have small chapels, but in a few places, faith formation and Mass take place in an open area under the trees or in a house. After Mass, I spent time with the youth for faith sharing. Some communities did not have youth groups, so I initiated them.
I listened to all the young people, without exception. For instance, I remember visiting one community and talking with a young seventeen year old girl, who was not a Christian. She told me that nobody in her family was Christian. I began our conversation, not with the intention to convert her, but to know a little bit about her story. In the middle of our conversation, I asked her if she wanted to spend some time with us since I was going to have a gathering with the youth. She agreed to join us and listen to my talk. After the meeting, she told me that she wanted to know more about Christianity. During my subsequent visits, this girl decided to enter the catechism class and was baptized, becoming the first person in her family to be a Christian.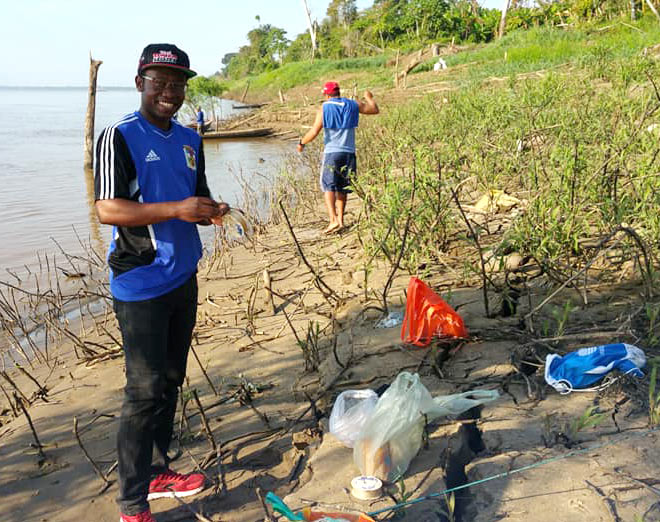 I went to the Amazon not only to evangelize, but to also be evangelized by the people there. My time in Brazil taught me that being a missionary is not only about preaching the gospel, but the best way of being missionary is through the way I live my life. Many told me that my joy and presence made them learn more about what it truly means to be a Christian. The love of Christ impels me to join my brothers and sisters in building the kingdom of God on earth.
Seminarian Akizou Kamina, SVD, was born in 1987 in Togo to a family with 3 children and entered formation with the Divine Word Missionaries in 2010.After completing his BA in Philosophy in Togo, he came to the USA in 2013 to study English at Divine Word College. One year later, he entered the SVD novitiate in Techny, Illinois, and First Vows in 2015. After two years of theology studies at Catholic Theological Union in Chicago, Akizou participated in the Cross-Cultural Training Program (CTP)for the Divine Word Missionaries by spending two years in Brazil. Akizou returned to CTU to complete his seminary studies in preparation for his priesthood ordination in May 2021.