An Historic Journey
---
He has a place in the history of Divine Word College. Fr. Joe Tri Vu, SVD, returned to his alma mater to preside at the Lunar New Year Mass, on Saturday, February 21, 2015, as part of DWC's 50th Anniversary celebration. But many in the pews may not have known of his accomplishments or the milestone marked by his arrival at DWC along with 16 other Vietnamese refugees, in 1975.

Fr. Joe Tri was born near Hai Phong, in 1953. Shortly thereafter, his devout-Catholic parents—who favored the idea of one of their sons becoming a priest—moved the family near Saigon. The Vietnam War was raging when he entered a local congregation and later became one of its teachers. He was instructing a class on April 30, 1975, when Saigon fell to the Communists.

"There was a lot of uncertainty in the area as troops from the north moved in, there was a lot of fear," he said. "A group of us got into a boat to go to a nearby island where we hoped we would be safe."

But they were turned away and sent back to Saigon. Enroute, the boat's owner decided to follow an American ship, which eventually led them to an American base in Thailand. After three months, they were airlifted to a refugee camp at Fort Chaffee, Arkansas, where they began a search for a sponsor and a place to learn English. Aided by a Vietnamese Dominican priest, who had served as a U.S. military chaplain and an SVD from the Southern Province, they found out about an SVD program to sponsor seminarians.
A few months later, in mid October, 1975, Fr. Joe Tri and 16 of his fellow seminarians arrived at DWC.

"It was challenging. We would get lost in the community," he said of their early days. "The college at that time was filled with all kinds of activity. Suddenly, we just appeared and we could not imagine what it was about."

A few of the young men knew some English, but they all needed to learn the language. Fortunately, on the faculty was Bro. Pat Hogan, SVD, who taught linguistics and Asian Studies, and previously taught at a university in Taiwan. At the time, he was developing English-learning courses for a group of Vietnamese students who arrived in Dubuque. His work laid the foundation for the college's well-established English as Second Language (ESL) program.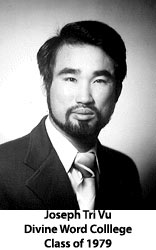 Meanwhile, as the young men settled in, so did culture shock and homesickness. To ease their loneliness, a few months after their arrival, Bro. Pat helped organize the first Lunar New Year celebration, in the dining room of DWC, in early 1976 (Lunar New Year was Jan. 31 that year).

"Bro. Patrick Hogan knew that Lunar New Year is one of Asia's greatest celebrations," Fr. Joe Tri said. "We had a small celebration, only 17 of us, some of the Vietnamese families living in Dubuque, a few priests and brothers, with the students and faculty here and a few local families."

Two decades later, the popularity of the celebration grew so much that it had to be moved from the dining room to the gymnasium and it became one of the hottest tickets around.

In 1979, Fr. Joe Tri began to feel an obligation to support his family in Vietnam by leaving the seminary. Instead, they encouraged him to continue on his path to religious life. After talking with Bro. Pat, who was his spiritual advisor, he decided to join the SVD. Graduating the next year, he entered the Novitiate at Bay St. Louis, Miss. where he professed his First Vows in 1981. Ordained on March 16, 1985, he became the first Vietnamese to become a Divine Word Missionary priest.
His first assignment was to the Philippines, where he became the chaplain at a refugee camp in Bataan, ministering to a large number of Vietnamese refugees. In 1990, he was called back to join the formation team at DWC. Within a short time, he was named Dean of Students.

"When I first came to DWC, there was a very small group of foreign students, the student body was mostly Americans, with some from Mexico and a couple African Americans," he said. "When I returned in 1990, it was almost the other way around. We had a small group of Anglo-Saxons but the number of the students from Asia increased, especially Vietnamese."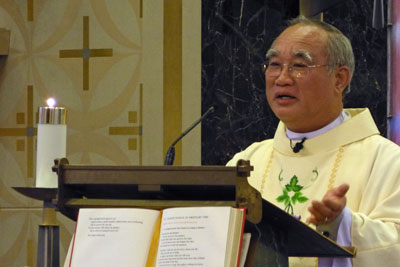 That trend has continued, with the college enrollment including students from more than 20 countries.

"That is a pretty good sign, reflecting the nature of the church," he said. "We talk about the internationality, the multicultural missionary. Right here, we reflect that, it's a good sign."

Meanwhile, in the early 1990s, a religious congregation in Vietnam approached the SVD Generalate in Rome about joining the society. To that end, Fr. Joe Tri occasionally traveled to Vietnam to serve as translator. In 1996, when he finished his second term as Dean of Students, he was asked to return to Vietnam to help with the formation of the new seminarians. He has remained in Vietnam, which is now recognized as an SVD province. Fr. Joe Tri is based near Nha Trang, and travels to formation centers in Saigon and Dalat as well as area parishes run by the SVD.
"I'm happy and very grateful that the work we started in Vietnam is developing so well," he said. "We have a good number of vocations and our missionary work is appreciated by the local church and people."

Fr. Joe Tri is a part of DWC and SVD history. He was in the vanguard of a growing number of Vietnamese vocations and his arrival and that of the other Vietnamese seminarians led to the establishment of the college's ESL program and the biggest celebration on the college calendar—the annual Lunar New Year celebration. Fr. Joe Tri is the first Vietnamese to be ordained an SVD priest and DWC's first Vietnamese Dean of Students. When organizing the events to commemorate the 50thAnniversary, the college was thrilled that he was willing to return and celebrate the Lunar New Year Mass.

"It was an honor for me to be invited to say Mass," he said, though he didn't know what to think about being considered an "historic" figure. "I never thought about it. It's a nice feeling, yes. It is a blessing, a gift that somehow I received."