Reluctant Answer to the Call
---
In 2008, while singing in a choir, watching a friend be ordained, a tear rolled from the corner of his eye. After many years avoiding the quiet times when he felt God's call—resisting the relationship he had always felt with Him—Paul Aquino said it was time to reconnect.
"In that moment I thought, 'I haven't talked to You for maybe four or five years," recalled now-Father Paul Aquino, SVD. "'I guess it's time for us to talk.'"
At that point in time, he had been out of Christ the King Seminary in the Philippines for 12 years, pursuing his first love as a musician and teacher. He was sure, if he responded to God's call, that career would end, giving way to the sacramental life of a cleric and the dictates of his superiors.
He was in for a wonderful surprise.
Born and raised in San Nicolas, Pangasinan, Philippines, in high school he enjoyed going to villages for Bible sharing. In 1991, he entered the seminary in the SVD Northern Province of the Philippines, advancing to Christ the King where he earned a BA in philosophy (in 1995).
But in 1996, he left the seminary to pursue psychology in a master's program, concentrating on child and family development. A lifelong lover of music, in 1999 he started taking voice lessons. Before completing his master's thesis, he switched to music, earning a bachelor's degree in voice, in 2006.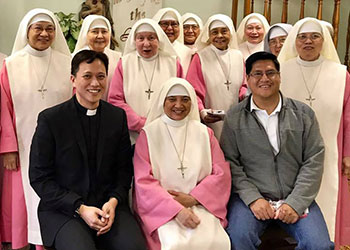 Fr. Paul constantly found ways to apply his talents. Early on, he worked with special needs children, in a pre-school and at a counseling clinic. As his musical talents revealed themselves, he taught voice and gave piano lessons, directed a choir and returned to Christ the King to work with seminarians and assist with liturgical music. After earning his degree in music, he lined up more work teaching, directing choirs and performing.
Then he attend his friend's ordination.
Since leaving the seminary, he found that he dreaded quiet times when he felt the presence of God, fearing that He wanted him to leave his music for more priestly duties. He asked that God reveal His will by helping him come to the United States to complete his formation.
A citizen of the Philippines and fourteen years out of seminary, that was not easy. Over time, little miracles occurred, sprinkled with the occasional challenge. Immediately welcomed back, some SVDs encouraged his move to the states, while others thought he should stay in the Philippines. But then the pieces started to fall in place—visa approvals, unexpected encouragement and cooperation, and the wonderful support of family and friends to help him pay for his move to the U.S.
"It's very clear that God was really calling me," Fr. Paul said, "so what else can I do but go."
Arriving in Chicago in 2010, his greatest surprise came when he found out that he would not have to leave behind his love of music.
After serving as accompanist at a Mass at the Theologate, Fr. Derek Simons, SVD, complimented him on his performance and suggested that he request his superiors allow him to pursue music as his ministry.
"I told him I didn't think they would allow me to do that," Fr. Paul recalled. "But Fr. Derek said he convinced the SVD in the 1970s to allow him to study film." Today, Fr. Derek Simon is an award-winning writer and producer, based at Techny.
Following his Cross-Cultural Training Program (CTP) in Australia in 2013, he completed his studies and was ordained on May 28, 2016. Much to his delight, he has been assigned to the Southern Province, initially to teach music among other subjects. He has since accepted an interim assignment to Divine Word College to direct liturgical music until the end of the 2017-2018 academic year.
"I said 'yes' to God's call knowing that serving God is about denying yourself and taking up your cross," he said. "I said goodbye to music, but when you give up for God, He will pay you back ten-hundred fold."