Growing in my religious vocation
---
I am excited to be invited to share with you a bit about my vocation story and how I felt God calling me to be a missionary. I am the youngest of Nadir and Natal's four children. I was born and raised in Guarapuava, in the southern part of Brazil. My mother and grandmother were very active in our parish community and they always took us children with them to church activities, particularly to prayer group and catechism classes. Thus we had the grace to grow in the bosom of the Church.
My first recollection of thinking about a religious vocation was as a child when I met a Divine Word Missionary by the name of Fr. Zdzislaw. I used to say that when I grew up, I wanted to be a priest like him. As a teenager, I participated in Missionary Childhood and Adolescence in my community and also in other pastoral activities. As I continued to be involved in many parish activities, the desire to dedicate not only my weekends, but my whole life to the mission of the Church, grew in me.
When I was fifteen, a team of Divine Word Missionaries and Holy Spirit Missionary Sisters visited my school and talked about the joy they felt about their missionary lives. At the end of their sharing, they invited those who wanted to know more about the missionary charism to attend discernment encounters with the congregations. I accepted the invitation, took part in the discernment retreat, and I identified with the charism of the Divine Word Missionaries, especially in regard to the joy the SVD members felt and their mission to go out into the world to spread the Good News to all people.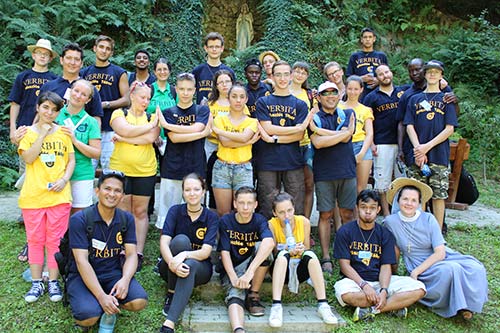 After finishing high school, I joined the Society of the Divine Word in 2009. I completed by postulancy and Philosophy studies in the state of Paraná. The novitiate and my first vows were in Juquiá, followed by two years Theology in São Paulo. Since January 2016, I have been in the Cross-Cultural Training Program in Hungary.
If you ask me, the first thing I felt when I got here to Hungary was cold! When I arrived at the Budapest airport, it was winter and the temperature of -7. It was a little shocking, but soon I was warmed by the welcome of the confreres (my fellow Divine Word Missionaries) who were waiting for me. They greeted me with a traditional Hungarian welcome: "ISTEN HOZOTT," that is to say, "God brought you."
The first challenge I had was the issue of language since Hungarian is a very difficult language to learn because there is no other related language. I began my studies in an intensive language school. I was a little afraid of not being able to speak and express myself, but the Holy Spirit and the community helped me a lot in studying and learning this difficult, but beautiful language.
Since February of last year, I am serving in an SVD parish in eastern Hungary, in the small town of Vasvár with very dear and welcoming people. Here I work in youth ministry and also at a school as a catechist. Throughout the summer we have the "missionary camps" where we meet children and young people. These camps are good opportunities for the young people to be with other young people and grow closer to God. They are also able to get to know new cultures through the sharing and witness of SVD missionaries from different cultures, like me from Brazil.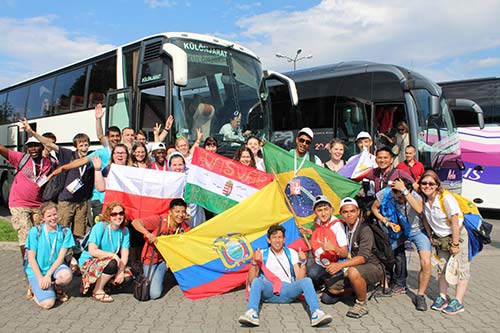 The challenges, joys, pastoral ministry, community life and prayer that I live here in Hungary have all helped me to grow in my religious vocation and to trust in God. It is one thing to think of mission being for all people when I am in the comfort of my own culture and language. But being in another country and personally experiencing mission to others has matured my vision of my vocation. I am grateful to God for calling me and sending me to this beautiful mission.
Director's Note: Marco will return to Brazil after his OPT experience in Hungary, complete his final two years of theology, profess perpetual vows as a Divine Word Missionary and be ordained to the priesthood in 2020.