Almost Heaven, West Virginia
---
The famous American singer-songwriter John Denver wrote the famous song "Take Me Home, Country Roads," which begins with the lyrics, "Almost heaven, West Virginia." Before this Spring Break, no one from our group had visited West Virginia, and all of us were excited to experience what inspired John Denver many years before. Our trip to West Virginia lived up to our expectations; it was an eventful, exciting, and spiritual moment for all of us. This was in large part due to the coordination of Fr. Thien Nguyen, SVD and Fr. John Tran, SVD, as well as the parishioners at St. Thomas Catholic Church in Gassaway, West Virginia. While serving at St. Thomas Catholic Church, we all had the opportunity to serve in a variety of ways and to do other fun and exciting activities during our free time.

We began our journey to West Virginia at daybreak the Saturday before Spring Break. We desired to feel God's presence and have His blessing for this new experience, so we began by praying the Liturgy of the Hours together. After we prayed together, we enjoyed the beauty of God's creation as we looked out our windows. We also grew in our friendships with each other as we traveled for several hours. During our trips to and from Gassaway, West Virginia, we also stopped by Our Lady of Lavang Catholic Church in Cincinnati, Ohio. While there, we spent time with Fr. Chau Pham, SVD. Fr. Chau was very hospitable by giving us a tour of the church and sharing what he does in his ministry with us. It was apparent to us that Fr. Chau took great pride in his ministry. We were able to get some much-needed rest and continued on our journey.
It took us four hours to drive from Cincinnati, Ohio to Gassaway, West Virginia. When we arrived at St. Thomas Catholic Church, we marveled at the breathtaking beauty of the mountains and the many trees that surrounded it. The church fit in well with its surroundings; it was an old stone church with an old-time church bell that rang before Mass. After we got out of the car, we were introduced to the parishioners who were gathered in the parish hall. They were all welcoming and made us feel as though we were part of their family. During Mass, they were very open in their worship and said "Amen" without hesitation. The rest of our first day was calm and restful, and it continued to be that way throughout the rest of our trip. We met with Fr. Thien and Fr. John who shared with us about their ministry. One of the things we surprised to discover was that, though they lived in the country, there wasn't a garden at the church. However, there was a nearby lake, where Fr. Thien caught a few fish while we were there, and a few stores where we could buy anything else that we needed.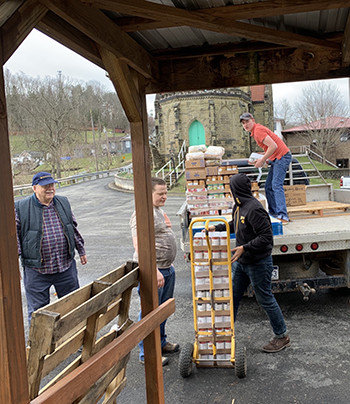 The next day, we began the week and were able to stay busy doing a variety of tasks. We started each day with Morning Prayer. We then had Mass, which was sometimes in the morning and sometimes in the evening. We also took turns with reading and sharing a reflection with each other and a few parishioners of the church. Fr. Thien and Fr. John were very supportive and showed a concern for our spiritual formation. We also enjoyed doing the work they asked us to do. Fr. Kesner, Sam, and Omar helped by cleaning out the basement of the church, organizing items at the thrift shop Act Two, and organizing and handing out food at the church's food pantry. Meanwhile, Justin helped Fr. Thien build several shelves and also helped to organize and hand out food at the food pantry. Throughout our ministry, we saw God in those we worked with and served.
Besides our ministerial work, we had the opportunity to enjoy ourselves on this trip. We visited the historic New River Gorge Bridge, the Creation Museum, the Ark Encounter, the world's largest truck stop, and crossed the famous John A. Roebling Suspension bridge. We were even invited to visit a parishioner's country home, which had a graveyard with a beautiful statue of Mother Mary. We are grateful for all of these experiences and now understand why West Virginia is "almost heaven."