The Arnoldus Family: A trio of religious congregations
More than a century ago, a German priest named Arnold Janssen sought to devote himself to the universal mission of the Church. After years of teaching natural sciences and mathematics at a secondary school, he left his teaching career behind to develop a magazine that he filled with stories about missionary activities. While his intentions were good and pure, the timing was less than ideal for building mission support.
The German Chancellor unleashed an anti-Church campaign known as the "Kulturkampf," which included a series of anti-Catholic laws. The Church was facing so many challenges in this time that the local archbishop didn't exactly support Janssen's efforts. In fact, he dismissed the idea entirely, but that didn't deter Janssen. Determined to continue his pursuit of worldwide missionary service, he looked outside the borders of his home country. Janssen emigrated to the Netherlands and settled in Steyl, Holland. By 1875, he was inaugurating a Mission House there and inviting others to join him. He established a missionary congregation named the Society of the Divine Word. He would go on to found two additional religious orders with similar purposes and in 2003, this mission-minded priest was canonized by St. Pope John Paul II.

Society of the Divine Word
(also known as SVD or Divine Word Missionaries)
Founded in 1875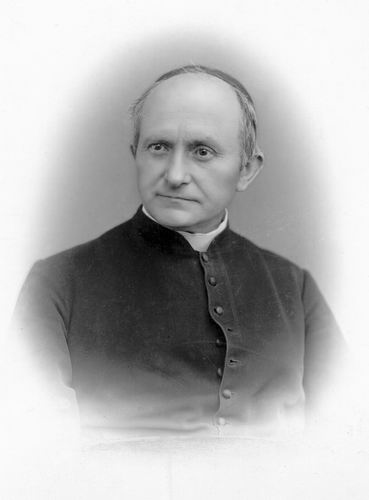 After setting up the Mission House in Steyl, St. Arnold started sending his missionaries to countries around the world. The first two left for China in 1879. One of them was Joseph Freinademetz, who ended up devoting nearly his entire life to the Chinese people. Like Janssen, he too was canonized by St. Pope John Paul II in 2003.
In 1895, Bro. Wendelin Meyer, SVD was the first Divine Word Missionary to arrive in the United States and others followed shortly after him. They established a technical school for orphaned boys just north of Chicago and it became known as "Techny." Today, this property is the SVD headquarters for much of North America.
Nearly 6,000 Divine Word Missionary Priests and Brothers are active in about 80 countries around the world today. The Society of the Divine Word is the largest international missionary congregation in the Catholic Church and continues to serve the poor, marginalized and disadvantaged.
Missionary Sisters Servants of the Holy Spirit (also known as SSpS or simply as Holy Spirit Sisters)
Founded in 1889
As missionary work expanded, the devoted women volunteers at the Mission House, including Blessed Maria Helena Stollenwerk, grew eager to serve the mission as religious sisters. Recognizing the faithful, selfless service they freely offered and the important role women could play in missionary outreach, St. Arnold founded the mission congregation of the Missionary Sisters Servants of the Holy Spirit (SSpS) on December 8, 1889. The first sisters left for Argentina in 1895. Today there are about 3,800 SSpS sisters.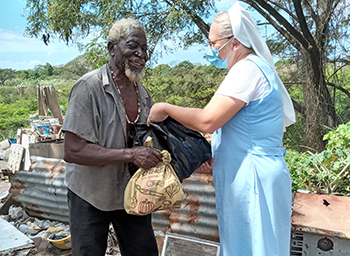 Holy Spirit Adoration Sisters (also known as the Pink Sisters or SSpSAP)
Founded in 1896
Back at Steyl, in 1896, Janssen selected some of the religious sisters to form a cloistered branch and founded the Sister-Servants of the Holy Spirit of Perpetual Adoration (SSpSAP). These sisters devote themselves to prayer and perpetual adoration for the missions and for the other two active missionary congregations. The cloistered order has more than 400 members today.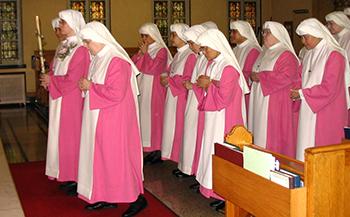 A family United
By the grace of God, the three congregations founded by St. Arnold continue to thrive. Each one has a unique charism but they share a common mission focus.
"The superiors of both congregations often encourage mutual exchange and collaboration," said Divine Word College Seminary Rector Fr. Thang Hoang, SVD. "Since we have much in common, we naturally gravitate toward each other in ministry as well as in community living."
The Holy Spirit Sisters and Divine Word Missionaries often establish mission houses that are close in proximity to combine their efforts at mission sites. Since the Pink Sisters are a contemplative order, their physical interactions with the other members of the Arnoldus Family are limited, but they exchange newsletters and mutual prayers. Divine Word Missionary priests often volunteer to serve as chaplain for the Pink Sisters.
Sr. Aprilia Untarto, SSpS, currently serves as the Counselor at Divine Word College in Epworth, Iowa. The primary goal of the seminary college is help young men discover if God is calling them to religious life as a Divine Word Missionary priest or brother. She said working at the school feels like working with her brothers and sisters.
"I think it is a part of who we are as St. Arnold's sons and daughters. We know and are proud that we are one family and we have a common mission," she said. "We focus on what St. Arnold asked us to do, 'may the heart of Jesus live in the hearts of all.'"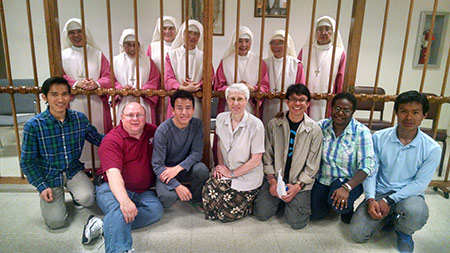 In the United States, the three congregations established a Joint Immigration Venture to promote justice for immigrants and refugees. The Holy Spirit Sisters and Divine Word Missionaries serve as active workers for the initiative and the Pink Sisters support them through prayer.
"Fr. Arnold Janssen intentionally established our congregations as brothers and sisters and co-workers," Fr. Thang said. "The interculturality of these congregations is the main factor that keeps us connected."