Ministering among Native Americans
By Fr. Herman Manuel, SVD
---
Fr. Herman Manuel, SVD lives in Lakeside, California, where he ministers to the Catholic Native American communities, including the Barona, Sycuan and Viejas Reservations. He cares for the pastoral, religious, spiritual, educational, financial and overall wellbeing of the St. Kateri Tekakwitha Parish.
In 1987 St. John Paul II told the native peoples of America, "The cultural oppression, the injustices, the disruption of your life and your traditional societies must be acknowledged." On Wednesday, the 28th of October, 2020, this was finally accomplished through a Divine Word Missionaries Mission in San Diego Diocese. For the first time in their long history, a Native American tribe of San Diego—the Kumeyaays—spoke of the atrocities and abuses that they experienced from the Catholic Church and the State of California. I am grateful to have been able to be a bridge between the Diocese and my Kumeyaay parishioners to make this acknowledgement possible.
It took many years to earn their trust and for them to begin telling me about their past, their families, their culture and traditions, and their relationship with God (Meyahaa). Now they are more open. When I asked two of my parishioners to share their stories at a Diocesan conference held online to air the wrongs done by the Church against blacks and Indians they said, "yes." These are their stories.
Judy Oyos-Robinson is from the Mesa Grande reservation in the back country of San Diego County. Born of a white mother and an Indian father, who were later separated, she grew up deeply rooted in both her faith and her native traditions. She spoke of the extreme prejudice she experienced in the cities during her formative years. She was called a "wild Indian" by her teacher and the views taught in the "white man's history books" were very different from those taught by her father at the reservation back home. The Kumeyaay history is passed down orally and contains both the stories and the living spirit of the people.
Their tradition also speaks of how the Kumayaay helped Fr. Serra build the California Missions. At that time, they experienced mistreatment and abuse both from the Church and the State of California, whose first governor put a bounty on the head of Indians, saying, "The only good Indian is a dead Indian." Until very recently the Church has discouraged native culture. Many Kumayaay hold mixed feelings about newly sainted Junipero Serra. But while acknowledging the wrongs done, Judy's faith has helped her to overcome these. She says, "I would kiss his hands if he was alive today."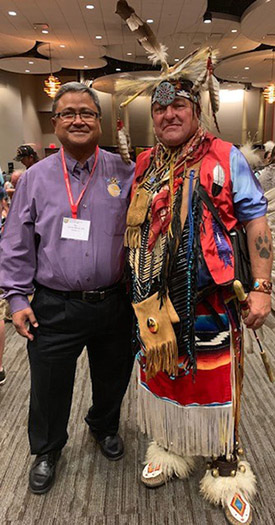 Phyllis Van Wanseele (74) is a member of the Barona Band of Mission Indians. Her father is from the neighboring Viejas Band, but, like all in their tradition, she considers every member of the two reservations her family and calls them by family names—children, grandchildren, brothers, sisters, cousins, aunts and uncles.
In her memory of her childhood, three images stand out—shoes, cleanliness and English. Like all the Indian children she ran about the reservation barefoot. But when the time came for her go away to school her mother said, "Now you must wear shoes and always be clean because the white people think we are dirty." Her father told her, "Now you have to forget our language; to survive you need to learn English."
These experiences left her in a state of inner conflict—why remain a Catholic? The Church's attitude toward her gay son added to her discouragement. But it was the love and acceptance of Jesus—he didn't discriminate against people because of race, culture, disability or gender—that led her to choose to be a true Native American Catholic. She says that this choice was vindicated in the canonization of Kateri Tekakwitha in 2012. She says, "Now I am a Catholic and Native American. I have chosen to fuse the two together as part of my identity."
Pandemic Crisis in Native America
Being a Pastor in a Native American Parish, my ministry sometimes extends beyond the parish boundaries to other Reservations. I'm often asked to celebrate Mass, hear confessions and officiate funeral Masses in Indian Reservations outside of our parish.
One of the challenges I faced was how to reach our people through social media during the COVID-19 pandemic. The Tribal Government of Barona and its IT Department came to my rescue. They helped me create a Facebook account and learn to livestream Masses on an iPhone. It was nerve-racking since I didn't have any experience with things like this, but as time passed, I got to be a pro. Through the livestreamed Masses, we have been able to reach our parishioners in Barona, Viejas and Sycuan, as well as people in other tribes outside of California.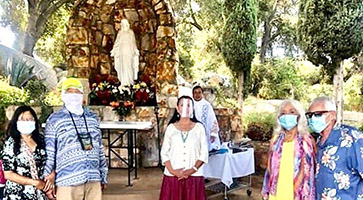 I have celebrated two unforgettable funerals during this pandemic crisis. In both cases, it was painful because there were burials but no funeral Masses. The first was for a lady who lived a wholesome 98 years of life with her family.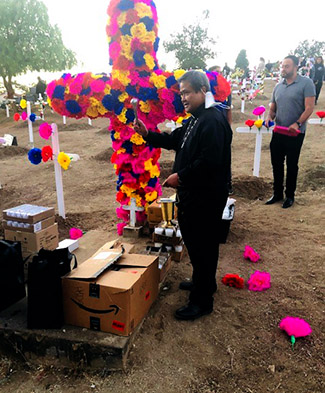 However, looking at the time allotted for the service, which was only 30 minutes and only 10 people were allowed to attend, she should have had a more decent funeral. She should have had a full Mass with eulogies from her family and friends. The COVID-19 pandemic deprived everybody in the community the opportunity to bid her a more proper goodbye.
The other burial was held in the reservation and it was very painful because it was for a young man who suffered a sudden death. To my surprise, about 200 to 300 people showed up. At first, I was worried because the crowd exceeded the number of people allowed at gatherings. But then I remembered what one of the Native American elders once told me, "The laws outside of the reservation do not apply inside." The Native Americans also consider one another relatives, whether they are related by blood or not. I saw five police cars nearby and when I realized that the authorities seemed to approve of what was happening, I felt relieved. Still, deep inside I was worried about catching the virus. After the funeral, I had lunch with the attendees. As soon as I got home, I washed all of my clothes immediately and took a long shower.
As I reflect on things, I realize that being a missionary is also risking your life for the glory of God. We should never fear the challenges we encounter, because it is through those challenges that God is very much present in our lives as missionaries. Like the storm that Peter and the apostles encountered on the lake in the Gospel of the 19th Sunday in Ordinary Time, Jesus was there for them. Jesus saved them and so with us, if we are truly dedicated to our mission work. Let us not forget to put our complete trust in God. AMEN.