"I receive much more here than I give." --Fr. Paul Czoch, SVD
---
The thought of spending years on a tropical island in the Caribbean may sound like a dream come true. Long, sunny days spent sipping fruity drinks out of a coconut shell as the ocean waves lap at the soft, sandy beaches – it sounds like paradise.
But that's not the reality for many of the people living on the islands or the SVD missionaries who work in ministry there. In fact, it couldn't be farther from it.
"In truth, Jamaica is a beautiful island," said Fr. Frank Power, SVD. "There are beautiful mountains, you've got beautiful beaches, beautiful vegetation and forests. But that doesn't feed the people."
As the parish priest at Our Lady of Assumption Church in Morant Bay on the island of Jamaica, Fr. Frank sees firsthand how poverty and unemployment impact the Jamaican people.
Unemployment
The island is divided into 14 civic parishes. Fr. Frank's church is in the St. Thomas parish, which is the poorest and most undeveloped on the island. It's made up of roughly 300 square miles and home to about 90,000 people. Just 1 percent of the St. Thomas parish population is Catholic.
Originally from Ireland, Fr. Frank has spent 35 years of his life working in the Caribbean. More than six of those years have been spent on the island of Jamaica.
He said when he first arrived in 1974, he was absolutely struck by the intense heat of the Caribbean. His second impression was of the people and their warm nature.
"The sign of peace at mass could take 15 to 30 minutes as everybody walked all over the church," he said.
Vactioners miss most of the real Jamaica
But the island was not at all what most Americans expect from a Jamaican experience. Fr. Frank said most tourists never see the community that he serves. Instead, travelers get off their planes, are shuttled directly to their resorts and stay in their all-inclusive wonderlands until it's time to return home.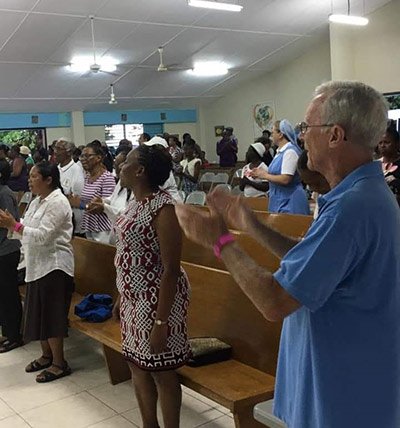 "Because they only go to the resort, they really don't see Jamaica," he said.
"They may meet Jamaican waitresses or Jamaican chambermaids and barmen but that's very superficial."
In the parish of St. Thomas, Fr. Frank said one business after another has closed in recent years, eliminating much-needed jobs. Poverty, crime and a whole host of social difficulties plague the community where he works. The rate of teenage pregnancy is high, as well as the rate of absent fathers.
But Fr. Frank said he firmly believes that the solution is clear – education.
Tragically, one of the biggest issues in the St. Thomas parish is that many mothers can't afford to pay the daily taxi fare to send their children to school. With no school bus system in place, taxis are the only option for transportation. Fr. Frank said when a child misses too many school days, they become ineligible for the Programme of Advancement through Health and Education (PATH), which provides free meals to qualifying students. So even if a parent can scrape together enough money to get their child to school for a few days, he or she may not be able to eat due to prior absences.
"They can't win, it's a no-win situation," he said.
Six years ago, Fr. Frank helped open the first Catholic school ever in the St. Thomas parish. During its first year, just nine children attended but last year, enrollment jumped to 112 students.
"Now there's very few Catholics in the school because the demographic is only 1 percent Catholic anyway so you're not going to get a whole bunch of Catholics in the Catholic school," he said. "But it's saying something about what we're doing that we're getting children of other faiths and other churches to come and join us."
Fr. Frank said he and the other SVDs in the area try to concentrate on the Bible, evangelization, justice, peace and mission animation. There is a lot of outreach to the poor and a tremendous interest from the Jamaican people regarding the Bible and the Word of God.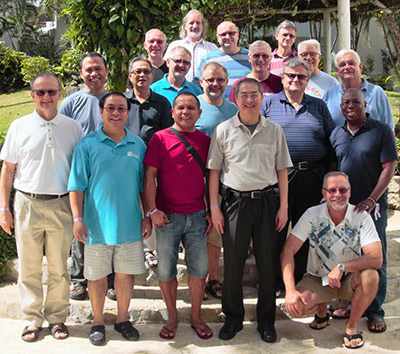 "My dream, if God spare my life, is to open a Catholic high school as well," he said. "We have the drawings on paper, we have the land leased, all we need is the money."
For the past decade, Fr. Paul Czoch, SVD has also been working in the Caribbean. He spent the first nine years in Anguilla and the past year in Tortola, one of the British Virgin Islands. He serves as parish priest to the only two Catholic Churches on the island.
Fr. Paul said when he first arrived in Tortola last year, he was struck by how little the area had recovered from the effects of Hurricanes Irma and Maria, two Category 5 storms that ripped across the island in 2017, leaving widespread destruction and devastation.
Some residents simply fled the area following the storms and others are still dealing with homes, businesses and spirits that were left in ruins. Even two years later, Fr. Paul said he can still feel the sorrow that the island people carry with them. And while it is improving, it's still painful.
The most challenging part of working in the Caribbean for Fr. Paul is that the parishioners come from varied backgrounds and cultures. Many people move from island to island looking for work and as a result, their cultural differences can make living and worshipping together difficult at times.
But Fr. Paul said it is also rewarding to work with and learn from the island's multicultural community.
"I receive much more here than I can give," he said.
In the Jamaican parish where Fr. Frank works, church leaders encourage young people to meet and mingle with youth from other communities or even other islands. He hopes it will help them think outside of themselves and see that the Catholic Church is bigger than their island.