Lack of Electricity Can't Stop DWC Alumnus from Teaching Tech
---
What would you do if you were part of the first Divine Word Missionary group to serve in the Republic of Chad and found yourself without electricity or basic resources?

Well, naturally you'd teach a computer class, right?

That's what Divine Word College Graduate Fr. Huy Tran, SVD did a few years ago as a seminarian during his Cross-Cultural Training Program.

Eager to make a difference and filled with drive and determination, Fr. Huy knew that he wanted to take an approach that would create lasting change in the community. And he was certain that education would be the key.
Undeterred by the conditions, he took an old, dusty 13-inch Toshiba laptop and restored it. Then he transformed his 10-foot by 10-foot office into a classroom.

"We had a little generator so my first class was four students," he said. "Every time they came, they brought a quart of gas to put in the generator and that is how we learned the first course."

It was the first opportunity that his students had to even touch a computer – universities in the region don't have such classes. Fr. Huy set out to achieve an ambitious goal: to teach Microsoft Word, Excel and PowerPoint to his first group of students. Despite discouragement from some people who didn't think it was possible to educate locals about technology, the pupils quickly soaked up the information.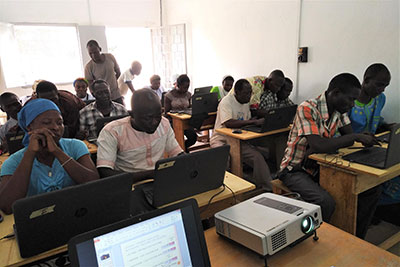 Eight students signed up for the second course and the interest continued to grow. Fr. Huy called his mom in Portland, Ore. and asked her for help. She obliged, sending him a projector and a few more laptops.

After two years, the young seminarian had trained 15 people on computers. Then he went back to Chicago to complete his formation. In 2017, Fr. Huy returned to Chad with his ordination gift money in hand and built a proper computer lab next to the elementary school for fifth and sixth graders in the parish. He stocked it with 15 lap tops and a bigger generator.

The graduates of Fr. Huy's first computer classes took over as the teachers to the young people in the lab, sharing his passion and knowledge for technology with a new generation.
"Before we start anything, we sort of have to reflect on if it's possible to run long term? Because of that, I trained the youth first. I knew that when my two years of formation was up, I would go back to the U.S. to study and not be there," he said. "But without me, they can continue and maybe it would be a foundation for the future. And that's how it's working out right now."

Today, Fr. Huy continues his ministry in Chad by working alongside another pastor as the parish priest. Together they serve 48 mission stations. He also oversees the Catholic elementary school where about 500 children are educated. With the population of Chad growing quickly, he hopes to build a second elementary school in a nearby village to serve students in that area.