Mission meets medical anthropology
---
Fr. Alexander Rödlach is a teacher, a priest, a medical anthropologist – in short, he's a modern-day missionary.
Born in Innsbruck, the capital of the Austrian state of Tyrol, Fr. Rödlach was raised in Landeck, a small town in the heart of the Alps. After his ordination in 1990, he was assigned to work in Zimbabwe for several years.
"My interest in academia and education developed during my evangelization work in Zimbabwe, when I realized that our missionary charism requires from each and every member of the Society of the Divine Word to develop skills that are of use to the local churches and the Society's missionary endeavors," he said. "I felt that anthropology is in line with my talents and interests."
An understanding of anthropology is valuable to anyone working in pastoral ministry, but Fr. Rödlach said it is particularly useful to those serving in socially and culturally diverse settings or in countries with a social and cultural background that is very different from their own.
After leaving Zimbabwe, Fr. Rödlach studied cultural anthropology in the United States. First he earned an MA in Anthropology at the Catholic University of America in Washington, D.C. Then he went on to earn a PhD in Anthropology, as well as a Certificate in African Studies, at the University of Florida in Gainesville, Florida. After graduating, he worked in the editorial department of the Divine Word Missionaries' Anthropos Institute in Sankt Augustin, Germany before accepting a full-time teaching position at Creighton University in Omaha, Nebraska where he continues to work today. He teaches primarily courses on public health, global health, needs assessment, and program evaluation.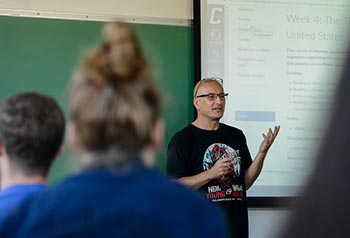 "In my courses and research with students, I extensively draw on Catholic Social Teaching, particularly Liberation Theology, to emphasize the importance of moral frameworks and values for a sociocultural analysis of health, health care and health policy," he said.
Fr. Rödlach's research focuses on themes at the intersection of religion and health, drawing on his identities as a religious and missionary, as well as an anthropologist.
Since 2019, he has served as Chairperson of the Department of Cultural and Social Studies at Creighton, which houses ten academic programs, has 18 full-time faculty members and approximately 230 majors. He also has secondary appointments in Psychiatry and Medical Humanities.
Most SVD formation programs include some level of anthropology education to help prepare men seeking religious life as a Divine Word Missionary Priest or Brother before they immerse themselves in new cultures. Fr. Rödlach said that's because a basic education in philosophy and theology doesn't provide sufficient preparation for missionaries to be effective in sharing the Word of God and accompanying the faithful to live the Gospel message in line with their own cultural traditions, values, and ways of life.
"Anthropology provides the missionary with the knowledge, expertise, and skills to effectively connect with, understand, and share the Gospel message with individuals and groups entrusted to his care," he said.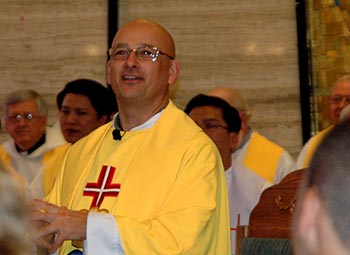 Some Divine Word Missionaries, like Fr. Rödlach, are trained to teach students who are preparing for a different path than religious life.
"Through my teaching and mentorship, I not only assist them to be competent in their future professional life but also help them to understand that their personal and professional life should be informed by their conscience, which for some is in line with the Gospel," he said. "Further, as an academic, I also interact with other anthropologists, which, when they realize that I am also a priest, often results in conversations about faith."
For several years, Fr. Alex has served as a member of the Intercultural Resource Team of the Divine Word Missionaries. In this role, he has helped develop resources that foster interculturality both in the Society of the Divine Word and in the mission. Recently he gave a workshop for members of the Divine Word Missionaries who started their missionary service in Europe. He has also given presentations on the importance of understanding local cultures and ways of life for missionaries.