The Pre-Novitiate program at Divine Word College is the next step in the personal faith journey taken by young men like Christian Castro. It takes their decision-making—their "discernment"—to the next level. Is God calling them to religious life as a Divine Word Missionary?
"Discerning is a whole life commitment, even after you become a priest," he said. "Right now, in terms of my spiritual work, I think I'm trying to get to know myself, trying to get to know my Catholic faith"
Since childhood, growing up in Morelia, Michoacan, Mexico, Christian wanted to be a priest. After his family immigrated to the U.S. in 2004, settling in San Diego, California, he went to school and graduated college with a degree in psychology with a minor in counseling. His parish priest was an SVD, and Christian talked to him for a year about the priesthood. Finally, he decided to act on his childhood dream. He met with an SVD vocation director, Fr. Anthony Nguyen, SVD, who organized a Come-And-See visit to Divine Word College in the fall of 2015. He enrolled the following January.
"My Come-and-See turned into a 'Come-and-Stay,' he said with a smile.
But after taking his first classes in philosophy and theology, he discovered that he didn't know as much about his faith as he thought he did. Living in a small community at Arkfeld House, is proving to be an important step on his journey of understanding. The young men there are in the Pre-Novitiate program are either going to graduate soon or, like Christian, already have a college degree and are in the Associate Program.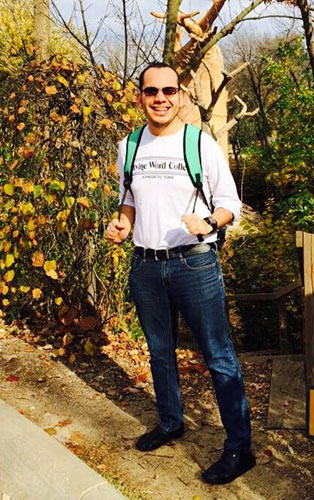 "We have prayer in the morning, we share meals, we do Bible sharing, different priests come and talk about the different areas, like poverty, chastity, and what it's like to be a missionary in the 21st Century," he said. "It has been a great adventure to share my faith with my brothers."
But though they all may be different individuals, they all share in the same discernment struggle—whether or not to take the next step on their faith journey, and apply to the SVD Novitiate, at Techny.
"So there are challenges, but I feel that every person is born for a mission," he said. "I want to apply. At this moment, my heart, my mind and soul is in the Novitiate."