Fresh from taking his First Vows, heading to a new home at the Theologate and studies in the classrooms of CTU, Zach Smith was a little concerned he wouldn't have enough time for prayer.
"I was afraid I would lose the relationship I found with God during my year at the Novitiate because I would be so busy studying," he said. "But, I really haven't had any problems."
Studious and insightful, Zach's faith journey took many turns before arriving at this point where prayer has become such an important part of his life. Growing up in the Detroit area, he attended Catholic schools. Going on several retreats, he developed a fondness for the peace he found in personal reflection.
With a deep desire to help others, he entered the University of Pittsburg to study medical research. He found work in medical labs and was even trained as an EMT. During one emergency call, an elderly woman, who claimed she was having a heart attack, appeared to be fine on the way to the hospital. All she wanted to do was talk to him. And all he did was listen.
"She told me, ''Thank you for listening, no one ever listens to me,'" Zach recalled. "I thought maybe I could so something more like that. Help people by listening to them."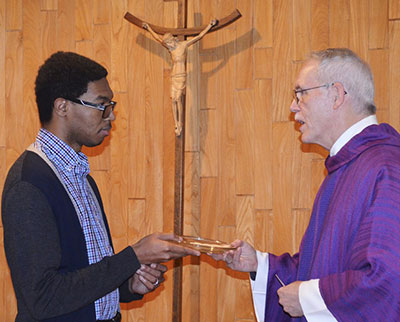 A short time later, he went on a personal retreat and decided to give religious life a chance. He was contacted by several communities, but Vocation Director Fr. Adam MacDonald, SVD, was the first to ask if he could meet with him. Enrolling at DWC in January 2012, he graduated in the spring of 2015. After being accepted into the SVD Novitiate at Techny, he spent a year in deep reflection and prayer about his path to religious life.
"The Novitiate was challenging. Sometimes the hardest person to be with is yourself," he said. "There's a lot of alone time and time for personal growth."
Professing his First Vows in August, 2016, he left the Novitiate for his new residence at the Theologate. Now settled in and taking classes, his prayer time is rich and varied. In fact, he has found yet another avenue for prayer.
"The benefit of being at CTU is, a lot of the work itself can be prayerful, if you let it," he said. "A lot of it is reflective. How do you integrate it into your life? How does it affect your ministry?"
From internal reflection to external application, Zach Smith has found plenty of time for prayer.