The life of Brother Rodney Bowers, SVD, is about growth—taking on challenges and looking for more.
He began his career as a teacher of theology at Divine Word College. He went on to become the first brother to be elected rector of its SVD community and then became the first brother to be novice master at the SVD Novitiate in Chicago.

After being elected to two, three-year terms as rector, in 2008, he was asked to become novice director at the SVD Novitiate in Chicago. He continues there today, drawing on his experience as discerning student, novice, teacher, formator and rector.

"The different things that I've done have helped me with this job, but it's such a privilege and joy to walk with these guys as they discern their vocation," he said. "I can tell each guy, 'You will be stretched and you will be challenged, but trust the Society if it feels that you're capable of doing a particular kind of ministry."

He should know. Bro. Rodney speaks from experience.
"I really feel that this was what God wanted me to do with my life," he said. "I have met some extraordinary people and have had some extraordinary experiences, opportunities for ministry and as a brother especially, I have been very grateful."

Born on a farm in southeastern Iowa, he began thinking about religious life in high school and discovered the Society of the Divine Word (SVD) at a college fair.
After paying a visit to DWC, he enrolled in the fall of 1979, with an eye on the priesthood. That soon changed as he met a number of brothers at DWC who were involved in many different ministries, from teaching to maintenance to administration.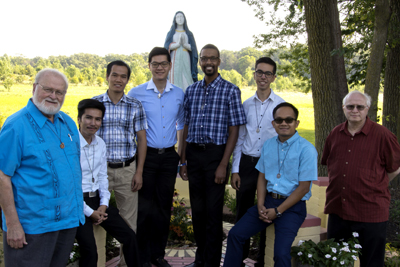 Graduating in 1983, he went to novitiate and professed his First Vows the next year. His first assignment was a two-year stint at an African-American Catholic high school, Holy Rosary Institute, in Lafayette, Louisiana while living and doing parish work at St. Joseph Catholic Church in Maurice, Louisiana. Returning to school, he earned a master's degree in Theology in 1989 from Catholic Theological Union in Chicago and he was assigned to DWC. After professing his Perpetual Vows in 1990, he wore many hats over the next twelve years—teacher, committee member, formator, associate dean of students and others. Then, in 2002, the priests and brothers at DWC elected him rector.
As a brother, I had to get special permission from the Vatican to be rector," he said. "It was a wonderful experience and I learned a lot—made a few mistakes along the way, but it was a great experience, serving in leadership."