Counseling ministry reaches people on the margins
As a clinical psychologist, Fr. Sam Cunningham, SVD has worked with a lot of people, including undocumented immigrants, refugees, members of the LGBT community and more than 600 sex offenders, to name just a few. It's all part of his work in the counseling ministry.
"I see this as a priestly ministry," he says.
Divine Word Missionary Priests and Brothers serve the poor and marginalized around the world by working to bring them healing, hope and dignity. Members of the religious order use their gifts and talents in a number of ways. Providing professional counseling services is just one of them.
Mission minded
Fr. Sam started to feel a missionary calling when he was just a boy. He was drawn to the idea of going to faraway places, immersing himself in other cultures and ministering to people who society deems as less than worthy.
His eighth grade teacher told him about her uncle who was a Divine Word Missionary and helped connect him with members of the religious order. She also taught him about Our Lady of Guadalupe, igniting a lifelong affection for Latin America.
Fr. Sam attended a high school seminary in East Troy, Wisconsin that was operated by the Society of the Divine Word (SVD). Next he continued his spiritual formation and academic studies at Divine Word College in Epworth, Iowa. Fr. Sam, who went by his given name Lloyd back then, jumped at an opportunity to spend six weeks in Mexico. The experience further fueled his fascination with Latin America. Once he was back at school, he joined an instructor for regular visits to a Hispanic community about an hour away from the campus, which allowed him to practice his Spanish skills. Fr. Sam earned a bachelor's degree in English Literature from the college before double majoring at Catholic Theological Union in Chicago, Illinois where he earned both an M.Div. in Theology with Mission Specialization and an M.A. in Mission Theology.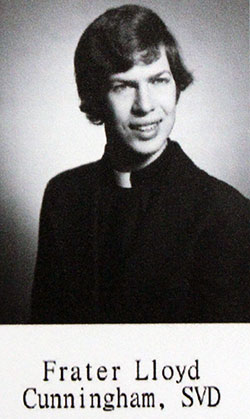 Science and psychology
During his academic studies and spiritual formation with the SVD, Fr. Sam went to Paraguay briefly for overseas training. After his priestly ordination in 1981, he did vocation work for a few years before being assigned to Paraguay again, where he lived and served in several capacities for seven years. While there, he met a social psychologist who helped him recognize a need for clinical psychologists, so he started pursuing further education.
Fr. Sam added to his list of diplomas by earning an M.A. in Marriage and Family Therapy and a Psy.D. in Clinical Psychology from Adler University in Chicago. Then he did a post-doctoral residency with a prison specialty at Dreikurs Mental Health Clinic in Chicago.
It may not be the most common path for a priest, but Fr. Sam is no ordinary priest and the Society of the Divine Word is no ordinary religious order. It's founder, after all, was a mathematician. The SVDs have a long history of valuing science, encouraging members to study areas of their personal interest and finding ways to use their God-given gifts to help others.
"Theology can have as a basis, philosophy. But it can also have as a basis, social sciences," Fr. Sam said. "And I'm more of the strain of social sciences than philosophy."
Counseling the underserved
Fr. Sam quickly realized that Spanish-speakers in Chicago had limited access to counseling services. For several years, he operated a private practice while also working with sex offenders.
"I look upon it as working with the marginalized because sex offenders are definitely a marginalized group," he said. "And then there are also Spanish-speaking sex offenders and some of them are undocumented."
Fr. Sam said society tends to focus on the victims of sexual violence and the need to provide counseling services for them but it's important to address the root cause of the issue, too.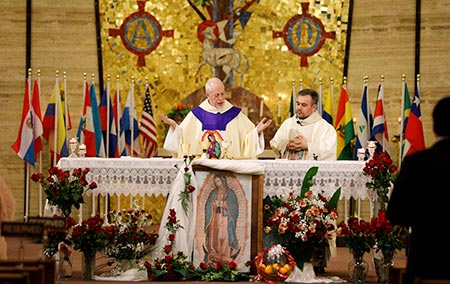 "The thing is, if you want to stop sex offenses, you can't just work with the victims, you have to work with the perpetrators," he said. "And there's very few people working with Spanish-speaking sex offenders."
While in Chicago, Fr. Sam spent eight years directing the Liturgy Committee that organized weekly Sunday liturgies for the Archdiocese Gay and Lesbian Outreach (AGLO). More than 200 people attended the Sunday services.
As time went on, Fr. Sam was assigned to work at a parish in Indiana where he got connected with the local center for nonviolence. He worked with perpetrators of domestic violence, ran a private practice and taught for the master's program at a university in Fort Wayne. Next he moved to Indianapolis to help with a lay leadership program that was providing programming in a number of languages. His language skills were in high demand. A year later, Fr. Sam took over as the head of the Hispanic Office before moving onto a role with Catholic Charities. He served as a psychologist for the Archdiocese of Indianapolis and also as the supervisor for clinicians in Bloomington, Indiana.
Education is key
Since 2017, Fr. Sam has been back at his alma mater working as an instructor at Divine Word College in Iowa. He teaches courses that are social-justice oriented and heavily influenced by his theology.
When he's not in the classroom, Fr. Sam is working with individual patients at his private practice or facilitating a Sex Offender Treatment Program. He teaches offenders to have empathy for victims. In order to do that, he said the perpetrator also needs to receive empathy.
"It's about teaching boundaries but also what's important is to feel for other people and understand that you can hurt other people. They need to understand that they are people, they are created in God's image and they are loved, as well. They've made a very, very bad decision which was hurtful and sinful," Fr. Sam said.
In his work with clients in the private practice, Fr. Sam said some faith-filled people are more comfortable speaking with a priest than a mental health professional who's a layperson. Others resist the idea of working with a priest, so he's careful to be clear about which capacity he's working in each time he has a session.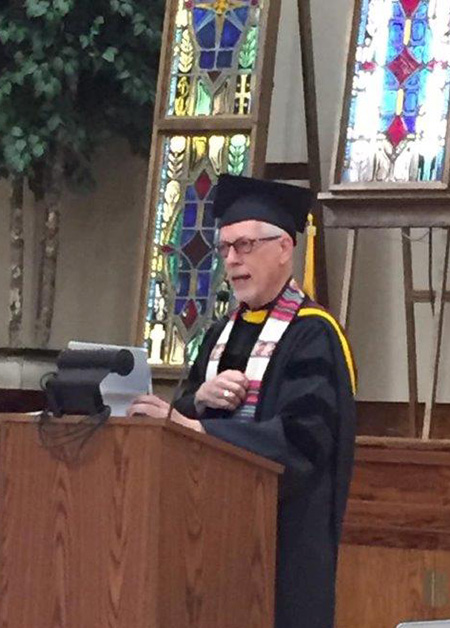 "I don't have to talk about God to give God-centered focus or action. I believe that if it's good psychology, it's good theology. If it's good theology, it's good psychology," he said. "They're all working for the same end, for the health of the human person and the betterment of the human person."
After 40 years as a Divine Word Missionary priest, Fr. Sam is happy to have an opportunity to be part of the education and formation of young discerners at Divine Word College. His main goal as an instructor is simple. "To teach my students to love themselves so they can love others and to use the gifts that they have," he said.

Click here to read about Fr. Martin Padovani, SVD, another Divine Word Missionary Priest who works in the counseling ministry and was recently honored for his work.