SVD priest goes from formator to student
---
While only about 4 percent of the Indonesian population is Catholic, Fr. Kornelius Nikolaus Nika, SVD grew up in a village where nearly everyone was Catholic. His local parish was built by German Divine Word Missionaries. The last SVD priest to serve as pastor before diocesan priests started running the parish was a Spanish priest who encouraged Fr. Kornelius to be a missionary.
When he was a child, Fr. Kornelius said his family was very involved in church activities. His father was particularly committed to his faith.
Around the age of 12, he reports feeling a call to religious life after an SVD seminarian visited his school and shared his missionary experiences.
"It made me think, that could be me," he recalls.
From 1986 to 1990, Fr. Kornelius attended minor seminary. Next, he entered the SVD novitiate. To complete his formation, he studied at a major seminary in Ledalero, Maumere, Indonesia from 1992 to 1998. He was ordained on September 30, 1998.
In June 1999, Fr. Kornelius relocated to Argentina to begin his first overseas mission assignment. He initially wanted to go to the country because he was interested in learning Spanish. He also knew that Argentina played a significant role in the Society of the Divine Word's history, because it was the second place that founder St. Arnold Janssen, SVD sent missionaries.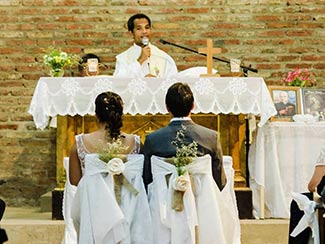 Looking back, he says learning the language proved to be one of his greatest missionary challenges. Adjusting to the changing seasons and altitude was also difficult, particularly when he worked in Jujuy, located in Argentina's remote northwest.
For the first year, Fr. Kornelius worked as a parish priest and tried to acclimate to the new culture.
"The parishioners were very committed and dedicated in their mission as lay people," he said. "Many of them worked in the church and parish as volunteers and collaborated with me on efforts for the church."
From 2000 to 2012, he served as a parish priest in various communities and says he found the Argentinian people to be open and easy to relate to. He was happy to know that he was able to leave a mark on the community in some way.
"The greatest joy during my mission work has been working in the parishes because there are people who are able to continue the ideas proposed, even after I have left," he said.
In 2012, he moved to Chile for a year to take a course for formators. It prepared him to serve the SVD Southern Province of Argentina from 2013 to 2019, when he worked as a formator at the seminary and as the Overseas Training Program director. He lived in the formation house and helped prepare seminarians for the next step in their journeys to religious life.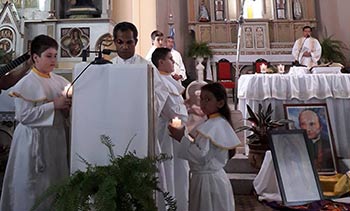 In January, Fr. Kornelius traveled to Epworth, Iowa to study English at Divine Word College. In October, he wrapped up his coursework and finished his program. As he reflected back on his experience at the school, he said he learned a lot more than just English. The seminarians Fr. Kornelius guides in Argentina come from a variety of cultural backgrounds, so living among the diverse DWC community was a valuable experience.
"Teamwork is exemplified here," he said. "I have many feelings in my heart."
Fr. Kornelius admits he's a little sad to see his time at Divine Word College come to a close but he's grateful for the experience. He's thankful for all who dedicate their lives to DWC – the teachers, benefactors, and students who in some way have helped him study English. He's also eager to return to Argentina and continue his work with young people seeking lives of service to God, the church, the Society and to the World.