---
Wherever Divine Word Missionaries go, there is always a chance they will meet someone they knew at a place on the other side of the world. It happens often at Divine Word College. Father Sonny DeClass, SVD, chaplain at DWC, traveled to O'Hare International Airport last summer to pick up two young men he knew while on mission as a parish priest and formator in Angola.
"Fr. Sonny, do you remember? The world is my parish!" said Frater Joao Pinda Neto, SVD, reminding him of an often-repeated saying among SVD. Joao and Frater Pedro Saveia, SVD, were heading to DWC to study English, and were excited about renewing their friendship with their former formator.
"When I saw him I was very happy because I miss him," Pedro said. "He was a good guy, nice guy, I know about him very well."
The story of their friendship began in 2011, and in a way, the two young fraters are following a path that Fr. Sonny took more than a decade earlier.
Fr. Sonny's story
Born in Indonesia, he joined the SVD on his home island of Flores where he began his studies and professed his First Vows. In 1999, he traveled to DWC to study English, later completing his education in Chicago, was ordained in 2005 and assigned to Angola.
"Since I was in high school, I was really attracted to being a missionary in Africa after seeing a movie, 'God Must Be Crazy," he said of the 1980 comedy set in Botswana. "It's really a funny movie and I thought Africa would really be interesting."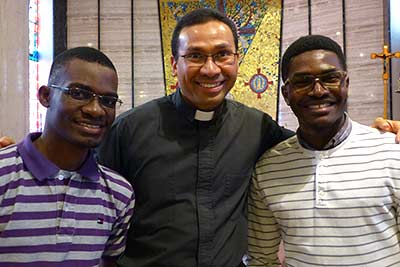 In 2008, after dealing with immigration issues and studying Portuguese, he traveled to Lunda, in northeastern Angola, to take over a large mission—40 stations, or communities, the farthest of which was 150 kilometers from his base and took eight to nine hours to reach over rugged dirt roads by car.
"They don't speak Portuguese there, they speak the local language called Chokwe, so I had learn it to say Mass and to communicate with them," he said.
But the land and people were beautiful.
"It is very green with a lot of rivers," Fr. Sonny said. "And the people are very kind, very peaceful, very joyful people, even though their life conditions were really poor."
Three years later, he traveled to the capital city of Luanda to become an assistant pastor of a huge parish and a formator at an SVD house where 20-30 seminarians like Joao and Pedro lived while attending minor seminary.
"Fr. Sonny was a good man when I lived with him, very humble," Joao said. "He's a good worker, many people in Angola like him, he give a good testimony for Angolan people."
Both young men worked closely with Fr. Sonny when they celebrated Mass, preparing the altar, cleaning up and setting up the sound system. He actually assisted at three central station houses, with the largest located at the seminary. On Sunday it drew 5000 people and needed that sound system.
"On Sunday we had three masses," Fr. Sonny said. "The other two were 2000 and 3000 people."
Joao and Pedro graduated from the minor seminary in 2012 and Fr. Sonny left Angola to come to DWC the next year. Then came the news earlier this year that two Angolan seminarians were coming to the college. Like Fr. Sonny, they will study English, then move on to complete their studies at CTU.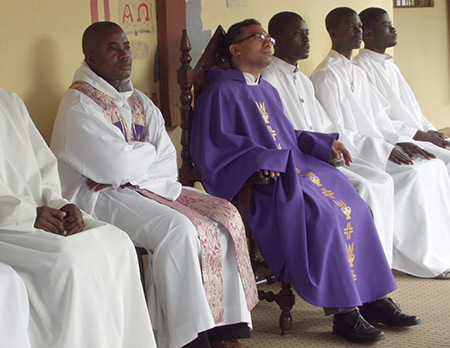 That popular saying among SVD, 'The world is my parish," rings true.
"I think it is certainly joyful to meet those who I met before," Fr. Sonny said. "And it gives me hope for the future, someone following in my footsteps, people that I knew as young seminarians, now they are part of me as my brothers."