"There have been ups and downs, but in the end, I know it was the right decision for me and I couldn't be happier."
---
Growing up, young Ron Fratzke of Jesup, Iowa, figured out early what he wanted to do with his life…sort of.
"I wanted to do something in terms of service within the church," he said. "What I hadn't figured out was if that meant being a diocesan priest or religious brother or a missionary."

There were a number of SVDs from his area, but it was his parish priest who suggested he check out the seminary just an hour's drive east of his hometown. So, after graduating high school in 1980, he enrolled in Divine Word College, and though Epworth was about the same size as Jesup, the number students from other countries really caught his attention.

"Being from a small town and never being with people from so many different cultures," he said, "the multicultural living was the main attraction for me at Divine Word."

That exposure to people from other parts of the world may have been life changing.

Today, Bro. Ron Fratzke, SVD, is working in Thailand, teaching in a school, ministering to children afflicted with HIV-AIDS, and is in a leadership role of his SVD community made up of 12 other Divine Word Missionaries. Their work is quite meaningful. Despite the fact that the vast majority of the people they interact with every day are Buddhists, the work of these Catholic missionaries is welcomed.
"People always tell us that we're so much different from other foreigners, we don't just come and go, or take advantage of Thai people," Bro.Ron said. "They see that we are there to be with them, to help them in their daily lives and they appreciate that and accept us."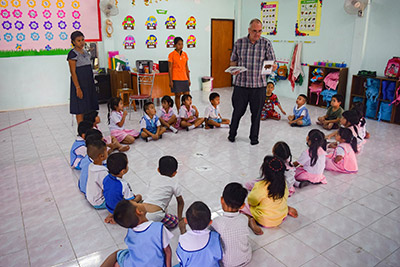 But his personal journey from small-town college student to international missionary was not a straight line. There were a number of turning points between Epworth, Iowa and his home today in Nong Bua Lamphu, Thailand. Few were more significant than his decision to join the SVD Brotherhood.

There were several brothers at DWC who were great role models for him. Bro. Leonard Bauer, SVD, was a mainstay in the Business and in Development offices, Bro. Henry Oeser, SVD, was an engineer and head of Maintenance and Bro. Dennis Newton, SVD, held a number of prominent positions at DWC and within the Chicago Province.

"They showed me that you could do more things as a brother than you could as a priest," Bro. Ron said. "You could really dedicate yourself to a greater variety of things as a brother."

Graduating in 1984 with a degree in Sociology, he attended the one-year Novitiate at Bay St. Louis, Mississippi. After professing his First Vows, he stayed another year working with Bro. Dennis, who was treasurer for the Chicago Province. Then he moved on to the high-school seminary at East Troy, Wisconsin where he was assistant dean of students for two years, followed by another two-year stint in the same position at DWC, where he professed his Perpetual Vows in 1990. In July of that year, he headed overseas.

"I was in Australia for 12 years and did different jobs," Bro. Ron said. "I was Prefect for the Theologians for three years and later I was Formation Director for Seminarians—the first brother to do that."

He also held positions as Formation Director for the Brother Formation and was on the Provincial Council. His travel time increased significantly when he became Secretary for Brothers in the Asia Pacific Zone, which took him to perhaps a dozen countries throughout the region, from New Zealand to the Philippines and India to Japan.

In 1999, seeking a break from administration and formation work, he was granted a trip to the SVD retreat center at Nemi, outside Rome. But on the way, he stopped off at Thailand for three months to check in on Bro. James Wilkens, SVD, and Bro. Damien Lunders, SVD, who pioneered the SVD mission there.

"I never made it to Nemi because they asked me to stay and help out," Bro. Ron said. "Those three months turned into 13 years."

Today, he teaches English in the morning at a public high school of fourteen-thousand students. In the afternoon, he handles the day-to-day operations of their SVD house—everything from paying bills to buying food and preparing meals. He also works with some of the neediest students in the school, finding funds to provide them with a mid-day meal.

One of the most important ministries for his SVD community is working with children afflicted with HIV-AIDS, many of whom have been abandoned by their families because their parents died of the disease.

"All of the kids that we have were born with HIV and came to us when they were 12 or 13 years old," Bro. Ron said. "Now some of them are 19 or 20 years old."

The SVDs give them a place to stay and help them with their medications, which are provided by the government. They also give them some level of additional training so that they can find jobs to support themselves after they are out of high school.

Was this life as an SVD what he envisioned those many years ago, growing up in Jesup, Iowa? He certainly is serving the church, and as teacher, administrator, cook and caretaker, his life certainly isn't dull.

"I really enjoy it because I get a lot of variety," he said. "There have been ups and downs, but in the end, I know it was the right decision for me and I couldn't be happier."