The Desire to Serve
---
His college advisor challenged young Anthony Duc Le to answer a simple question: Why do you want to be a doctor? If the answer was good enough, he would give Anthony a very good recommendation for medical school. It took a while before he came to a conclusion that would change his life.
"I realized that I really didn't want to be a doctor because I really wasn't interested in medicine," said Fr. Anthony Duc Le, SVD of that turning point in his life. "I was only interested in the effect of being a doctor; how a doctor can help poor people, serve people, but the means of helping and serving—medicine—I wasn't really interested in."
So, after graduating in 1998 from the University of California at Berkeley with a double major in Biochemistry and Asian Studies, he enrolled in Divine Word College and later became an ordained member of the Society of the Divine Word (SVD). Over the last decade, he has experienced missionary life in Vietnam and Thailand, helping young heroin addicts kick their habit, providing a sense of community for lonely migrant workers, and enriching the lives of HIV/AIDS victims. Fr. Anthony is now entering a new phase in his ministry—he will go back to school to become an educator promoting inter-faith understanding and conflict resolution.
Born in 1975, in Nha Trang in central Vietnam, Fr. Anthony came to the U.S. in 1985, settling with his family in Costa Mesa, California. He enrolled at Cal Berkeley and entered the pre-med program, but his additional interest in Asian Studies led him to the SVD.
"At that time I often went on to various Asian forums that discussed Asian issues and culture," he said. "When I was on a Vietnamese forum, I came across an advertisement from the SVD at Divine Word College, which said that this school had 75 percent Vietnamese population and it was a college seminary."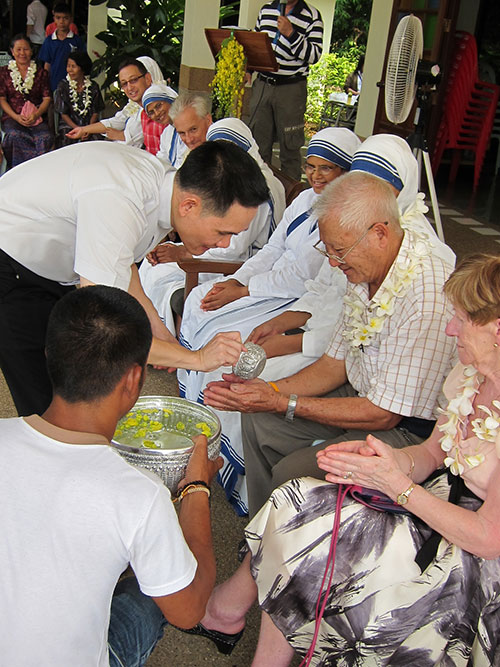 He asked for more information and was later contacted by a vocation director, Fr. Gus Wall, SVD, who maintained regular contact with him throughout his time at Berkeley.
"He came every now and then. It was always very relaxed. He shared with me about religious life and the SVDs, but he never pressured me to join," Fr. Anthony said. Former DWC President Fr. Mike Hutchins even paid him a visit. "He had a chance to go to a meeting in San Francisco and he dropped by to see me. I asked myself, 'Why were these SVDs sticking with me even though I'm indecisive?'"
Then came his pivotal decision to switch from medicine and he made a Come-and-See visit to DWC in the spring of 1998, just before he graduated from Berkeley. That fall, he enrolled in DWC as an associate, taking a year of foundation courses in theology and philosophy. Then it was on to the Novitiate in Techny in 1999. After his First Vows the next year, he began his studies at Catholic Theological Union (CTU). From 2002 to 2004, he entered the Cross-cultural Training Program (CTP) and went to Vietnam where, along with a group of religious, he worked in an underground program to help young heroin addicts detox.
"After detox, we would take them on a retreat to see if they wanted to go on further," he said. "We'd take them up to the rural countryside where we had huts in a cashew orchard where they could stay with us. We tried to help them spiritually and emotionally, and get them into routines to help them overcome their addition."
Returning to CTU to complete his studies, he was ordained in 2006 and was assigned to Nong Bua Lam Phu, a northeastern province in Thailand, to be pastor of St. Michael the Archangel parish. The church along with a treatment center had been built by Brother Damien Lunders, SVD, who started an HIV/AIDS ministry there more than a decade ago.
"The church is surrounded by the Mother of Perpetual Help Center, which is run by the SVD," Fr. Anthony said. "There is also a hospice program for adults with HIV, and an orphanage, which was also built by Bro. Damien, and now staffed by the sisters of Mother Theresa's congregation."
While Bro. Damien's work focused on caring for those afflicted with HIV through prevention programs, nutrition, education, and medicine, Fr. Anthony focused on the spiritual and social aspects of the disease. His pastoral efforts aimed to bring people together—those with HIV/AIDS and those who were not infected. That wasn't happening in many places, where the uninfected feared those with the disease.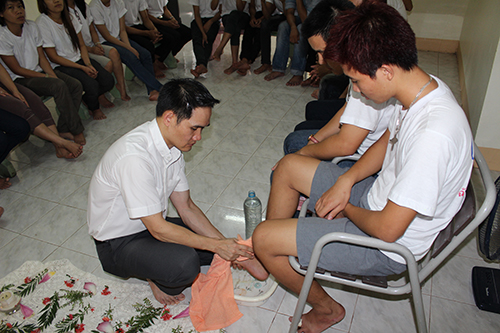 At first, many would not even go to Mass at St. Michael's for fear of being infected. Gradually, through the Mass and by organizing activities for kids, youth groups and adults, the people came together. Teens with HIV/AIDS would take part in the Mass—side by side with those uninfected—doing the readings, serving at the altar and singing. After Mass they would study the Bible, work on life skills or have marriage preparation classes together.
"People with and without HIV were very accepting of one another and there was never any sign of being afraid of one another, especially among the youth," Fr. Anthony said. "They cook together, eat together and play together. Even in the summer, we have a kids program and Buddhist kids came to study English, math, science, sports and engaged in various activities. They all play and have fun together."
His work went beyond St. Michael, often taking him 50 to 200 kilometers away from his home parish. During these trips, part of his ministry, besides saying Mass, was to work with migrant workers, who were primarily Vietnamese. Often they were young people who were far away from home and family.
"I helped them retain their faith life, their moral life, and their social life," he said. "They are on their own, they don't go to church, they are not familiar with the language, and they work illegally and can be arrested at any time. I felt that they should be able to go to church, have group support, and sing and dance, so I created activities that helped them in these areas."
Early this year, Fr. Anthony returned to the U.S. for a few months on home leave before he begins a new chapter in his missionary life. He will attend Assumption University in Bangkok for three years, beginning in May, to pursue a doctorate in Comparative World Religions. The goal is to become an educator, which coupled with his years on mission, should position him to take an active role in conflict resolution.
"In Asia we have a lot of issues with misunderstanding each other's religion, and sometimes you have conflicts that arise from these religious misunderstandings," he said. "So as a missionary, it would be helpful if I can engage in this kind of work."
Looking back, he says he made the right decision after his college advisor posed that critical question.
"I find that the things that I ended up doing are even more creative, more rewarding and more fun than what I thought I would be doing," he said. "I think being an SVD really creates opportunities to do things that you like to do in life. I have much more freedom to serve in ways that I never really expected. It's really rewarding and meaningful."