Be patient. . . .and pray more
---
Hoang Tran says each young man needs to be patient as he decides if God is calling him to religious life as a Divine Word Missionary. There will be wonderful times when the call will be strong and clear, but there will also be challenging times of struggle and indecision.
"I think you should be patient because our faith is not always up, sometimes it will be down," he said. "Be patient and pray."
Born in Bien Hoa, Vietnam, Hoang and his family immigrated to San Jose, California in 2010. He happened to watch a DVD about Divine Word College and decided to give religious life a chance. After being contacted by a vocation director, Fr. Trung Mai, SVD, he attended a Come-And-See visit that fall and enrolled the following January. He graduated with an associate's degree in Interdisciplinary Studies in 2015.
As he completes his studies for a bachelor's degree in Information Technology at the University of Dubuque, he entered the Pre-Novitiate program and moved from the main building to Arkfeld House, joining other young men who are deciding if they will continue on a path to religious life.
"I really like it because we have some activities that I never did while I was in the main building, like morning prayer, night prayer and Bible sharing," he said. "We also have silence at night. It's very quiet, so I can calm my heart and listen to God once more."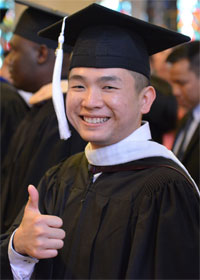 Taking classes off campus has posed a challenge, however. Hoang doesn't have as much contact with his brother candidates in the Pre-Novitiate, which has been hard at times, knowing that he is missing out on some of the social aspects of this part of his formation. Then he realizes that everything happens for a reason, and this challenge will help him grow in his vocation.
"That is God's plan—he wants you to do something, so you accept it, you experience it, learn something from it, and then you get over it," he said. "So, I just try my best, because I believe that God wants me to learn something from any situation."
Perhaps that is why Hoang says that patience and prayer are the keys to discernment.
"The more you pray the more you can feel God calling you," he said. "So be patient and pray more."