Out of Love for his Dad
---
Out of love for his dad, Bau Nguyen turned his car around. He did not want to go to the special Mass celebrated by a priest who would talk about religious life with the Society of the Divine Word—but out of love and respect for his dad, he did. That was eleven years ago. Professing perpetual vows in September and ordained a deacon in October, he will become Fr. Bau Nguyen, SVD, in May 2019.
"My father just wanted me to check it out and I have come to see that I have something to offer in service to the Kingdom of God," he said. "My gift is myself and my desire to serve the people and I am open to any kind of service I am able to provide them."
Born in Vietnam in 1989, Deacon Bau came to the U.S. with his family in 2002 and settled in Orange County, California, where every year, the SVD celebrate a Mass of Thanksgiving. In 2007, Fr. Trung Mai, SVD, a vocation director at the time, celebrated the Mass his father wanted him to attend. Fr. Trung made an impression. After a Come-and-See visit to Divine Word College, Bau enrolled in January 2008.
"I loved it at Divine Word College," he said. "That was a special time for me, getting together with guys, playing sports, that helped me to stay with the SVD until I encountered my vocation through prayer."
During his third year, through prayer and meditation, his vocational call became clearer. By the time he graduated in 2012, he was ready to enter the SVD Novitiate to spend a year focused on his call to religious life as a Divine Word Missionary. A powerful moment occurred as he filled out the application to take First Vows.
"Sitting down thinking about my life, the people around me, the Society, my family, and the people that I am going to serve," he said. "Do I fit in? Do I have something to offer?"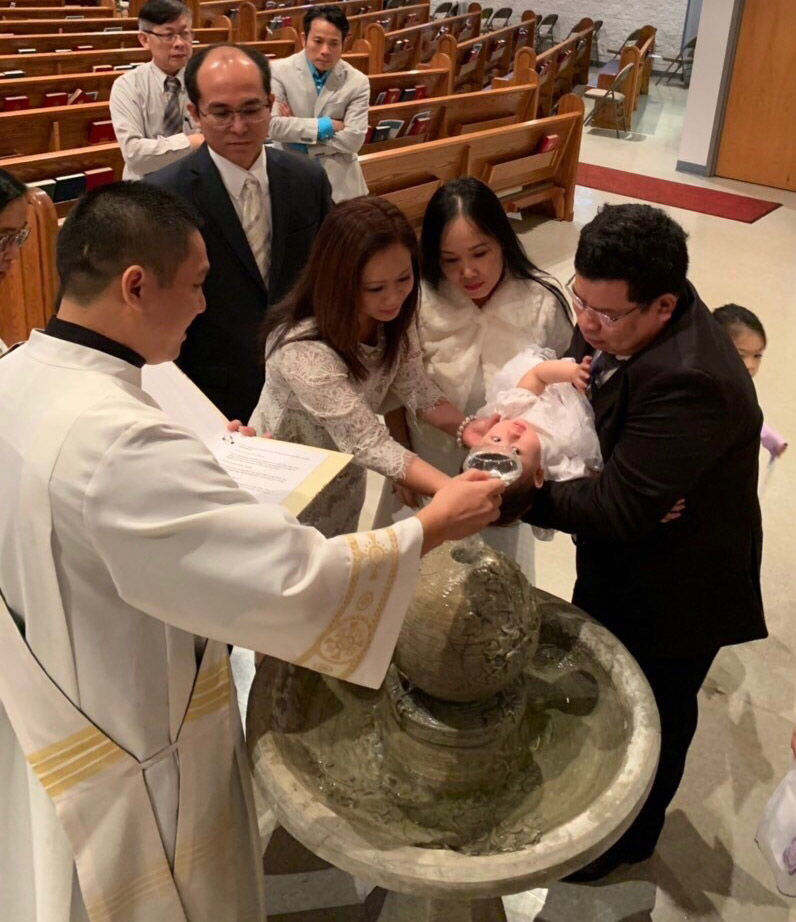 He would find out. Professing his First Vows in 2013, he moved to the SVD Theologate where he lived in community with classmates and other SVDs, while studying at Catholic Theological Union (CTU) and doing ministry. He discovered patient care as a hospital chaplain for a few months in an Omaha, Nebraska hospital during his Clinical Pastoral Education (CPE) program. Then it was two years in the Cross-cultural Training Program (CTP), first to study Spanish in Mexico followed by 16-months, primarily in a parish in Panama City, Panama, where he gained some wonderful insights about patience with youth—they are not always on time—and respect for parishioners.
"Sometimes it means letting them take the lead, they know what is best for their community," he said. "I think if we come in and try to change things, it might not always feel right with the people."
Returning to the States in the summer of 2017, he continued his studies. On September 15, 2018, with 50 members of his family in attendance, he experienced "the happiest moment" in his life as he professed Perpetual Vows as a member of the Divine Word Missionaries. Three weeks later, he was ordained a deacon and assigned to Queenship of Mary parish in Joliet-Glendale Heights, Illinois, where within a month he had preached his first homily and baptized his first baby.
"For me, a deacon is something that allows me to do more ministry," he said. "It's a transition to prepare myself for the ordination to the priesthood."
Which will come in May 2019...and it all happened because eleven years ago, he turned his car around and attended a Mass.
"That Mass was my initial experience with the SVD and I went because of my love for my dad, he just wanted me to check it out," Deacon Bau said. "Since then I never thought about leaving the SVD because this is where I belong."