Lessons from a mission in Mozambique
---
Like people all across the world, Fr. Giang Tien Nguyen, SVD and the other Divine Word Missionaries serving in the southern African nation of Mozambique spent the past year grappling with how to navigate the COVID-19 pandemic.
Fr. Giang said in a way, he felt connected to early Christian communities during this unusual time. People were afraid, including the missionaries. In order to slow the spread of the virus, government officials in Mozambique limited the number of people who could gather. For several months, religious and pastoral activities were restricted. That meant that they, like so many other faithful communities, couldn't join together to celebrate Mass. Eventually, the missionaries found the courage to go out and visit with people in the community one family at a time. They listened to their concerns and reminded them that they weren't alone.
"We couldn't be safe at our mission place while people were out there suffering," Fr. Giang said.
Low tech, high impact
Most people in the region where Fr. Giang has been working do not have internet access. He said it was imperative that the missionaries find another way to reach parishioners, share the Word of God and maintain a sense of community while large gatherings were prohibited. The missionaries contacted the local radio station for help and were fortunate to find an ally. They called the radio station on a cell phone right before they were about to begin a service. Then the station would broadcast the call as Fr. Giang celebrated Mass, allowing anyone with a radio to tune in at home and unite in prayer.
The last time Fr. Giang visited the United States, he bought a few micro-SD cards that he filled with music, the Bible and a film about the life of Jesus. Then he found a radio at the local market that was capable of playing the material on the cards. Young catechists used the simple technology to learn new songs and continue developing their faith.
Later, Fr. Giang sold the memory cards and was able to use the money to purchase radios. The Divine Word Missionaries offered each community a radio for half the price that they paid for it. It wasn't a handout, but it was a quality piece of equipment that they could afford and use in a number of applications.
Beauty in simplicity
For some people who were living busy, tightly-scheduled lives, the pandemic was a reality check about what's important – family, true friendships and community. However, that wasn't the case in Mozambique.
"For us there, it's nothing new because they understand the importance of families and being together," Fr. Giang said. "When I pass through an area, I know how many people are living there because they are sitting together outside in the dirt eating together. And then invite us to eat, even the little that they have."
As a missionary priest working in the area for the past five years, Fr. Giang said he appreciates the culture and way of life. The people live simply. Joy, laughter and contentment come easily to them.
"It's good to plan ahead, it doesn't hurt. But for them, they worry about today. If you look ahead too much, you forget to notice what's important right now," he said.
Fr. Giang finds the people to be very hospitable.
"They're very welcoming even though they may not have a lot. They get to know people, recognize them and really 'see' them," he said.
Most days, villagers wear simple clothing but when there's a feast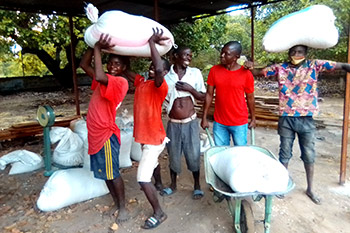 or celebration, everyone dresses in their finest attire. Fr. Giang said they see life as a gift worth honoring.
Like so many Divine Word Missionary priests and brothers, Fr. Giang said the people he's serving have taught him priceless lessons that will stay with him for a lifetime.
"The people have offered me more than I can offer them," he said. "As a missionary, I am learning to be humbled and be the recipient, to be open to the people's richness."