Irish castle formerly used as Divine Word Missionary residence transformed into home for Ukrainian refugees
by Fr. George Agger, SVD
At 10 a.m. on Friday, March 18, our former Student Residence Building at Divine Word, Donamon, home of the SVD Roscommon Consensus, was an empty shell. By 8 p.m. that night, we were ready to receive 100 Ukrainian refugees. A simple YES over our breakfast conversation at our community opened a floodgate of collaboration and community volunteers that converted our empty building into a warm and welcoming home.
The Lions Club of Roscommon, together with the Roscommon County Council spearheaded what can only be described as a miracle transformation. New bedding, curtains etc. converted the empty rooms of the first and second floors. Even the large rooms on the top floor, designed as dormitories, are now in full use. The Roscommon Council staff worked all day bringing our boilers, water systems and heating back online after being idle for about three years. Registration, assignment to rooms and many other practical details are being managed by the wonderful staff of Roscommon County Council and with the many volunteers who continue to come and help every day.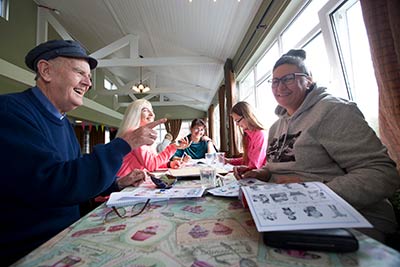 As our kitchen facilities are still inadequate, food is brought in every day, however, the dining rooms are ready with new tables and chairs. Laundry facilities have been put in place and are fully functioning.
At 8 p.m. Friday, March 18, we welcomed the first group of 38 guests from The Ukraine. More have arrived over the past several weeks. At present, we have 70 Ukrainian guests, several children and a few toddlers. We have space for 100, but this would include use of dormitories, which are not ideal for persons, many who are strangers to each other. Many have only met each other for the first time since arriving in Ireland, or even here in Donamon.
What was once our student residence block has been renamed "Donamon Failte (Welcome) Centre," as we extend a "Cead Mile Failte" (old Gaelic greeting: A hundred thousand welcomes) to our guests from The Ukraine.
Fr. George Agger, SVD, first joined the Society of the Divine Word in 1961 at St. David's Late Vocation College in Wales. He did his novitiate and philosophy studies at St. Patrick's Novitiate Donamon, Roscommon in Ireland. Fr. Agger studied theology in Bay St. Louis, Mississippi and later continued his studies at Techny, Illinois, near Chicago, where he was ordained in 1969. He served in the Philippines from 1970-1979. Fr. Agger then went to Ireland, where he worked from 1979 to 1996, serving first in mission animation, then as rector of Divine Word Missionaries in Donamon, Roscommon and then for 10 years as Provincial Superior Ireland. After that, he worked in the Caribbean District from 1997 until 2021 when he retired to Ireland. Today, he serves as Rector at Donamon Castle in Roscommon.