Hospital chaplaincy reveals the real presence of God
Written by Fr. Raymundus B. Wea, SVD
My name is Fr. Raymundus B. Wea SVD and right now, I am a residence priest at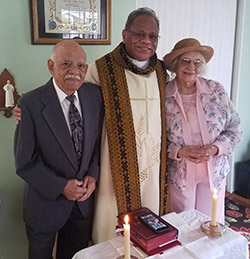 Our Lady of the Sacred Heart Parish in San Diego, California. For 12 years, I have served as a Catholic priest chaplain and am Board Certified by the National Association of Catholic Chaplains for the Diocese of San Diego. I conduct my ministry in several hospitals as assigned to me by the Diocese of San Diego. I came to the United States nearly 40 years ago to serve the Indonesian Catholic Community in southern California. I had no intention of serving any other group in this endeavor. However, a need arose for a priest to help minister in the Catholic hospitals and I was given that assignment. That is how I became a chaplain, educated through a two-year program of Clinical Pastoral Education (CPE) followed by a rigorous process of written and oral examinations before a select committee of a priest chaplain and four lay women chaplains. The day I passed my exam was the day that Society of the Divine Word (SVD) founder St. Arnold Janssen, and our first missionary to China St. Joseph Freinademetz, were canonized.
I was well educated in philosophy and theology during my seminary studies. But working in healthcare was an education experience that changed my ministry and my personal understanding of the role of a priest. When I began working with the sick, I found the real presence of God is an experience. I learned the real presence of God can be experienced not only in prayer or in solemn meditation, but God can be experienced in pain, fear, suffering and even the great loss of death.
This lesson was clear to me one night when I was asked to accompany a family of a deceased patient who wished to see the body of their loved one before the funeral director arrived to claim the body from the hospital morgue. The hospital had trained me to do this service of kindness for those in grief. The family was very moved by the sight of their dear deceased one. As I returned to my home I was anxious and mad. My sleep had been interrupted and it was past midnight. I thought this is not the job for me as a priest.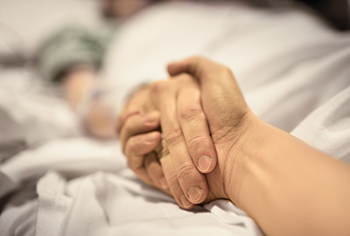 The next day my supervisor asked me, "How did you feel being called at night to the morgue?" I told him, "I felt anxious and mad, I am a Catholic priest. And I don't think it is my job to do it." He looked at me with a very cynical smile, then he continued asking me: "Are you sure Ray, that you are a Catholic priest? Have you ever presided a funeral mass?" I said, "Yeah!" Immediately I remembered the passage from the Book of Genesis 1:27, "God created mankind in his image; in the image of God he created them; male and female." This was my first lesson in how to be with the sick. First of all, as a compassionate person sharing their sorrow. Secondly, providing prayer and blessings as their priest.
In hospital ministry, visits to the sick are often welcomed. Still, rejection can sometimes be the result when a priest enters the room. When I come to the bedside, the patients sometimes ask me, "Am I going to die? Or do you know something that I don't know? Or I don't want to see you. Do you think that you can cure me? I am not in a good mood to have someone from the church. I am not a practicing Catholic." I often felt that I might have a better way of responding to the sick. As I learned more about how sickness impacts people's personalities, I was not as disturbed as I once was and I stopped making judgments about others' views. Accepting others as they are, where they are and who they are is an indication of God's acceptance of their dignity in their time of need.
Every single experience with a patient in the hospital teaches me about suffering, fear, loss, love and faith. As I worked to overcome my own anxiety, anger and sadness, I was able to learn from the patients and their families. They demonstrated and expressed wisdom as they handled their own pain, suffering and loss. They carried their burden with courage, acceptance, love and with numerous expressions of gratefulness to God. I became aware that God dwells in a hospital room and God's presence fills each sick room with healing, blessing and grace. This is a ministry of presence, in which God is revealed to those who suffer and to those who seek comfort. I am thankful for my personal spiritual growth through my hospital chaplaincy. Thank you!!!