Education with a mission
---
Fr. Ruel Flores Lero, SVD says he wasn't just called to be a missionary priest, he feels strongly that God called him to serve as an educator for the Society of the Divine Word. And that's exactly what he's doing today as the President of Holy Name University in the Philippines.
Education has long been considered the core of Christian evangelization. Society of the Divine Word founder St. Arnold Janssen was a teacher and emphasized the importance of a strong academic foundation from the time he started the missionary congregation.
"Catholic education is not only about intellectual and scholastic development," Fr. Ruel said. "It is about the development of the whole person. Hence, Catholic education emphasizes shaping the person in all aspects, especially in his/her spiritual component."
Holy Name University is the only Catholic University in the island Province of Bohol. It offers programs from preschool to graduate school – including preschool, kindergarten, grade school, junior high school, senior high school, 34 college programs and 24 graduate school programs. In order to be engaged in the education ministry, Fr. Ruel said Divine Word Missionaries work to reach children, teens and young adults by teaching Christian values that influence and guide them as they mature.
His journey as an educator started when he took a job teaching speech communication classes at the University of the Philippines Los Baños after earning his bachelor's degree at the school. That's also when he realized that he had a vocation in teaching.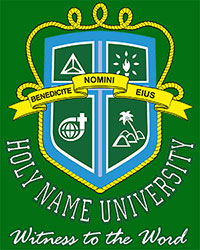 "My choice of applying for the Society of the Divine Word was, in fact, partly because of the possibility of continuing work in education even as a religious missionary," he said.
During his formation, Fr. Ruel continued to stay involved in education. As a second-year theology student at the Divine Word School of Theology, he taught a communication workshop class. Even when he was a regent at the University of San Carolos in Cebu City, Fr. Ruel was working as both a campus minister and a faculty member in Religious Education.
He's worked in a number of educational capacities since then. In addition to his current responsibilities at the university, Fr. Ruel volunteers his pastoral and academic services at local parishes.
"In the Philippines, we label our school apostolate as 'education with a mission' geared towards forming and yielding 'witnesses to the Word,'" Fr. Ruel said.
He believes that Catholic schools share the same features as other schools, but what sets Catholic education apart is the special emphasis on the witness of one's life as an efficacious means not only of evangelization but also of healing and making the world better.
Although Fr. Ruel feels fulfilled in his role, he said it does not come without difficulties. From a religious standpoint, he said it can be challenging to behave and live as a model witness to the Word – as a priest, administrator, individual and Divine Word Missionary. From the secular point of view, the biggest challenge lies in steering the school toward the achievement of its vision, mission and goals in the midst of a variety of demanding and disturbing factors, like regulations, controls and the COVID-19 pandemic, he said.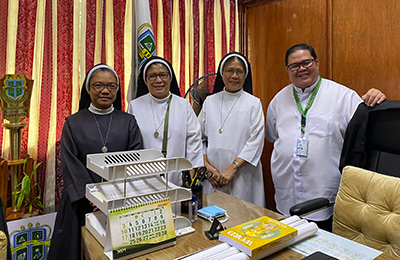 Fortunately, there are rewards in the job, too. The one that fuels him most is when he receives affirmation that the university is headed in the right direction.
Holy Name University is a deregulated higher education institution in the Philippines, meaning it enjoys relative autonomy in its operations as granted and recognized by the Philippine government through the Commission on Higher Education. It distinguishes itself for its pursuit of excellence in instruction, research, and community extension. Its flagship programs are Accountancy, Nursing, Education, Business Administration, and Medical Technology.
The Society of the Divine Word originally opened the school under the name Holy Name College in 1947. Its founder and first director and rector was an American priest named Fr. Alphonse Lesage, SVD. For many years, Holy Name College was under the supervision of the American Divine Word Missionaries until its management was turned over to the Filipino Divine Word Missionaries in the 1970s. In the mid-60s, Holy Name College became Divine Word College of Tagbilaran. When it was granted its university status in 2001, it reverted to its former name and became Holy Name University.