A spiritual awakening
---
The rising sun is a powerful force. Each day, it ascends providing vital warmth and light across the planet.

One morning in 2012, it also had a life-changing effect on a young man struggling to find his place in the world and understand what God was calling him to do with his life.

As the rays peeked out from the horizon in Vietnam during the second day of a three-day retreat, Frt. Tin Vu, SVD, says he reflected on a lesson about recognizing God in nature. It was then that he gained the clarity he needed to confidently pursue life as a priest.

"I spent the whole morning watching the sun rise," he said. "After that I decided to take a chance to look at myself and what I want."

But his call to priesthood was not always so clear.

It started years earlier when he met with an SVD vocation director but ultimately decided to join a diocesan seminary. A few months into the program, he left when he realized that he wasn't prepared to walk away from the friends, family and life he'd always known. His father was dealing with health issues and Frt. Tin wanted to be there to help and support his family.

While working toward a degree in English at university, he went to work in an office at a shoe factory in Dong Nai, hoping it would be a better fit than the seminary. But it was not.

"I felt uncomfortable in the working conditions because (the workers) didn't help each other, they wanted to push the other one down and lift themselves up to get the higher position," he said.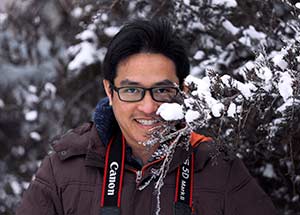 Disappointed, he moved on to a different office job. Again he found the environment unfulfilling and quit after a month.

Feeling lost after graduation, Frt. Tin questioned if perhaps now he was more prepared for religious life. So he started volunteering to help a local priest with construction projects and found a renewed sense of purpose.

"I thought the meaning of my life had to be to honor God," he recalls.

That's when he attended the retreat that lead to his epiphany at sunrise and the realization that a life dedicated to the Lord was indeed the right path for him.

But by then, he said the diocese rejected him as a candidate due to his earlier withdrawal from the seminary.

Soon after, he reconnected with the vocation director he met years earlier from the Society of the Divine Word and everything started to fall into place.
"They didn't make me feel confused or worried about if I was going to fail," he said. "They encouraged me a lot."

Finally, he had found the supportive, nurturing community he desired.
In 2014, he entered the pre-novitiate program in Nha Trang to further discern his vocation. After that, Frt. Tin entered the novitiate in Dalat and on July 13, 2017, he took his first vows.

Today he is studying philosophy at Divine Word College in Epworth, Iowa. The experience of living among people from all over the world at the college is both challenging and rewarding, he says.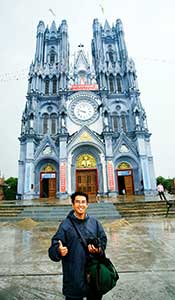 "In the past when I was in Vietnam, I didn't like some people coming from other parts of the country because of their voices and accents and the way they behaved made me a little bit crazy," he admits. "But coming here I found that first I have to accept them and then I have to receive them because we are living in a community. In terms of the world, we are living in a big community and we need to help each other."

"We are a group and we are one Body of Christ, Jesus Christ."
"From the rising of the sun to its setting let the name of the Lord be praised." Psalms 113:3