Mission in the Caribbean reveals island cultures as diverse as inhabitants
---
Originally from the West African country of Togo, Fr. Pierre Anani Tevi-Benissan, SVD has spent nearly all of his time as a Divine Word Missionary priest in the Caribbean. Today, he serves as Vicar General of the St. John's-Basseterre diocese in Antigua, a position he's held since 2012.
Following his ordination in 1997, Fr. Pierre went to Chicago before being sent briefly to St. Kitts and then to Jamaica. He went on to spend nine years at Our Lady of the Assumption in Morant Bay, St. Thomas from 1997 to 2006. Looking to earn his master's degree in marriage and family therapy, Fr. Pierre then moved to San Diego where he attended Alliant International University.
After completing his studies, he was assigned to Antigua, where he's been since 2010. Fr. Pierre said when he first arrived in the Caribbean, he noticed that many residents had misconceptions about Africa.
"As the minority, as the one who was entering another culture, I knew then that I needed to 'remove my shoes,' I needed to put down for a moment my cultural filters in order to see and embrace the beauty of the new culture," he said. "It was a tough challenge but one that needed to be faced."
Fr. Pierre says he quickly learned that, much like Africa, outsiders may view the entire Caribbean as having one culture, but it is really a conglomeration of many cultures. Most islands have a long list of cultures coexisting, including African, Lebanese, Syrian, Dutch, Indian, French, British, Chinese, Portuguese, Japanese and more. The result is a unique cultural heritage that leaves no two islands the same. Even twin island nations like Antigua and Barbuda have cultures that are vastly different from one another. Jamaica is notorious for its casual, easy going culture while people living on Eastern Caribbean islands tend to be more formal, perhaps a reflection of stronger British influence.
What is a Vicar General?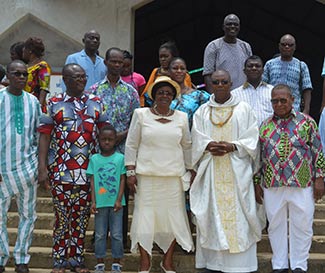 In his role as Vicar General, Fr. Pierre helps the bishop in the administration and governance of the diocese. He possesses the same executive authority which, by right and by Church law, belong to the diocesan bishop. The vicar general can perform all of the same administrative acts as the bishop in the name of the diocesan bishop or according to the mind and will of the diocesan bishop (Cf Canon 475ff).
While this may seem like a fairly straight forward position, Fr. Pierre says in practice, it's more complicated and challenging. Some of his regular responsibilities include writing letters, organizing diocesan meetings and retreats, approving overseas weddings, granting dispensations, and serving as a liaison between the clergy, religious and the bishop.

The diocese of St. John's-Basseterre was created in 1971 and its first Ordinary was a Divine Word Missionary, Bishop Joseph Oliver Bowers, SVD. Since then, several others from the missionary congregation have been invited to minister in the diocese. Fr. Pierre serves on various diocesan commissions, stays informed about happenings in the diocese, processes requests from other dioceses, coordinates diocesan programs, events and meetings, ensures that parishes are staffed when priests go on vacation or take home leave and more. Fr. Pierre also has normal pastoral ministry duties. He serves on the diocesan marriage and family ministry and does counselling. In addition to his long list of other duties, Fr. Pierre is the Chaplain of the Senate of Antigua and Barbuda.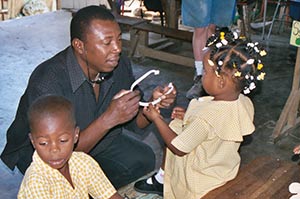 He said it took time for him to really understand and appreciate the cultural diversity, history and unique experiences of the people who live in the Caribbean, but with an open mind, he has gained new insights.
"The Caribbean has been and still is my mission ground. Although, I have been involved in many different pastoral works, my greatest achievement is what I have learned and how those different ministries have shaped and continue to shape my vocation," he said. "I always feel that I receive more than I have given and for that I am eternally grateful and indebted to the people of Jamaica as well as Antigua and Barbuda."
In His Own Words: Fr Pierre's path to the Priesthood
Although I had not been attending mass regularly after my confirmation, every weekend a college friend would invite me to join him for Mass. To his credit, he never stopped inviting me every single Sunday even after I have declined his invitation several times. His persistence paid off when I finally decided to surprise him and go to Mass with him. And that was the turning point for me. After a couple of months, I joined the Knights and Ladies of St. John as a cadet, teamed up with the parish priest to form a Bible study and prayer group for young people. I started reading and picking up collection during Mass. It was around that time that I seriously thought about becoming a priest. My then parish priest helped me as I was discerning my vocation and was my first spiritual director who encouraged me to pursue my vocation. Later, I joined a Charismatic group and during one of our weekend recollections, met an SVD priest, Fr. Bernard Werler, who was the National Vocation Director at the time.